Students stand in solidarity to end world hunger
Related Content
Luisa Banchoff, Online Editor
May 3, 2011
Filed under Student Life
"Buy a t-shirt, get a cupcake!" Senior My-Anh Nguyen calls out to students walking to the cafeteria. She stands behind a table, negotiating with students: if they buy a t-shirt for five dollars, they get a cupcake. But these are not normal class shirts; their bold white words, STOP HUNGER FAST, are part of a student-led effort to experience hunger and donate to worldwide aid.
Nguyen sold t-shirts beginning last week. On Tuesday, May 3, 2011, students donned their shirts to raise awareness about world hunger. Some students decided to fast for 24 hours, from 3 p.m. on Monday to Tuesday, to show their solidarity with the world's hungry.
Nguyen's idea for the fast stems back to her sophomore year, when she first thought of raising money for awareness and leaving a positive mark on the school. Recently, she has raised money for victims of Japan's earthquake through a "ninja assassin" fundraising game. Read more.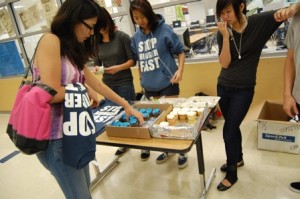 All proceeds from shirt sales will go to the United Nations World Food Programme, which currently provides food and relief to more than 90 million people in over 70 countries.
Although Nguyen does not believe that the money donated will bring about landmark change to solve world hunger, this was not her original intent. She said, "The goal is to establish community here and rally the spirit of the student body."