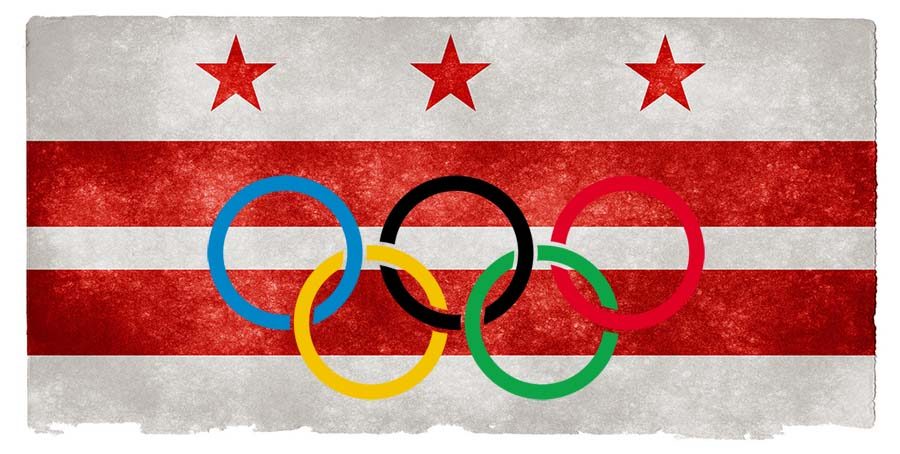 14 Olympic medalists from the DMV
September 16, 2016
In the 2016 Rio Summer Olympics, the United States took home 46 gold medals and 121 medals overall by the closing ceremony. By far the most decorated country of the summer, there were a total of 558 Olympians competing in the games for the United States team. Of those 558 people, 27 of them were from the D.M.V (District of Columbia, Maryland, Virginia), and 14 placed top 3 in their sport.
VIRGINIA: 4 gold, 2 bronze
VIRGINIA ("GINNY") THRASHER (Shooting) – GOLD
Virginia Thrasher is from Springfield, Virginia. She attended West Springfield High School, and was a member of the school's rifle team. According to Thrasher's personal autobiographical blurb on the US Shooting webpage, her love for shooting stemmed from hunting trips with her grandfather when she was younger. The Virginia native was also the first US Olympic competitor to win a gold medal in the 2016 Rio games.
TOWNLEY HAAS (Swimming) – GOLD MEN'S 4x200m FREESTYLE RELAY
Richmond native, Townley Haas, was paired with US Olympians Conor Dwyer, Ryan Lochte and Michael Phelps in the 4x200m relay. The team went on to win the gold with a time of 7:00.66. Haas's split of 1:44.14 was the fastest of all swimmers competing in the event. In the Olympic trials for the 200m relay, Haas finished first by one hundredth of a second, ahead of swimmers like Ryan Lochte and Conor Dwyer. Haas later went on to describe the 200m trial as the best race of his life.
FRANCENA McCORORY (Track) – GOLD WOMEN'S 400m RACE
Francena McCorory was born in Los Angeles, California, but grew up in Hampton, Virginia, and later attended Hampton University for her undergraduate degree in psychology. McCorory still lives in her hometown, and trains with her college coach, Maurice Pierce. She is an American Indoor 400m record holder, as well as a two-time gold medalist from competing in the 400m races of the 2012 and 2016 Olympics.
LASHAWN MERRITT (Track) – GOLD MEN'S 4x400m RELAY, BRONZE MEN'S 400m

Suffolk resident Lashawn Merritt, was born and raised in Portsmouth, Virginia. After graduating Woodrow Wilson High School in 2004, Merritt attended East Carolina University, and went professional shortly after concluding his freshman indoor season. He has competed in the past three Olympic games, and holds four medals: three gold, and one bronze. Merritt won the 400m gold in 2008 by 99-hundredths of a second, which is the largest margin of victory in an Olympic 400m final win since 1896.
DAVID VERBURG (Track and Field) – GOLD MEN'S 4x400m RELAY
David Verburg graduated George Mason University in 2013 with a degree in Sports Management, and is one of the most decorated track and field athletes in the history of the university's track program. He has been selected as an NCAA Division I All-American Track and Field Runner 11 times, and holds times in eight different sporting events that rank in the top five school history. He has three gold medals in the World Championship 4x400m relay competitions, and one gold Olympic medal for the 4x400m relay. The team Verburg raced with in the Rio games included other first-time medalists like Gil Roberts, Tony McQuay, Kyle Clemons and Lashawn Merritt.
REID PRIDDY (Volleyball) – BRONZE MEN'S TOURNAMENT
The Richmond-born volleyball player picked up the sport after moving to Florida and trying it in a summer school PE class at the age of 13. Reid Priddy later played varsity volleyball for his high school in 1994, when his family moved to Arizona. Priddy has played professionally in Italy, Greece, Turkey, and and Russian, winning his first gold at his debut Olympics in 2004. He is eleventh among all men's volleyball scorers, second among US scorers, and has won gold in the 2008 and 2016 Olympics.
MARYLAND: 13 gold, 3 silver, 1 bronze
ANGEL McCOUGHTRY (bball) – GOLD WOMEN'S TOURNAMENT
Angel McCoughtry is a native to Baltimore, but played overseas in Turkey, Slovakia, and Hungary after signing with Istanbul's Fenerbahce in 2011. McCoughtry returned to the United States after her team responded negatively to her relationship with fiancee Brande Elise. After moving back to the states, McCoughtry joined the Women's National Basketball Association (WNBA) and the US Olympic Basketball team. She is a two-time Olympic gold medalist after competing in the 2012 and 2016 basketball games.
JACK CONGER (Swimming) – GOLD MEN'S 4x2000m FREESTYLE RELAY
The Rockville-born Jack Conger attended the Rockville-Montgomery Swim Club when he was young, and then Our Lady of Good-Counsel High School in the DC area later in his life. He broke his high school's oldest swimming record along with other national records, before leaving to attend the University of Texas. Conger went on to attain a gold medal in the 2016 Rio Olympics.
CHASE KALISZ (Swimming) – SILVER MEN'S 400m INDIVIDUAL MEDLEY
Chase Kalisz was born in Bel Air, Maryland in 1994 and shorty started swimming afterwards, starting his career at just 5 years old. In 2012, the year that he graduated high school, Kalisz competed in the Olympic trials, and finished fifth in the 200 Individual Medley (IM) and 6th in the 400 IM, but didn't qualify for the team. He gained notoriety when he started training with Michael Phelps's former coach in 2011, and being declared a "rising IM star" by Phelps himself. In more recent years, Kalisz become the first swimmer to qualify for the Rio Games, and went on to win the silver in men's 400m individual medley.
KATIE LEDECKY (Swimming) – GOLD WOMEN'S; 200m FREESTYLE, 800m FREESTYLE, 400m FREESTYLE, 4x200m FREESTYLE RELAY. SILVER WOMEN'S 4x100m FREESTYLE RELAY
The extremely accomplished swimmer was born in Washington, D.C. but lives in Bethesda, Maryland with her parents. Ledecky's SwimSwam page proudly boasts "Two world records, four world championships, one Olympic gold. All before she passed her driver's license test." She started swimming at five years old, training with the Nation's Capital Swim Club, which she is still dedicated to training with even after winning numerous Olympic medals and national recognitions. In 2016 alone, Ledecky won four golds and one silver.
MICHAEL PHELPS (Swimming) – GOLD MEN'S: 4×200 FREESTYLE RELAY, 200m BUTTERFLY, 4x100m MEDLEY RELAY, 200m INDIVIDUAL MEDLEY. SILVER IN MEN'S 100m BUTTERFLY
With 23 gold, two bronze, and four silver medals spanning over four different Olympic Games and various swimming events, the Maryland native is regarded as the most decorated Olympian of all time. At the close of the 2016 Olympic Games, Phelps officially retired at the age of 31.
AARON RUSSELL (VB) – BRONZE MEN'S TOURNAMENT
Aaron Russell played for his hometown Centennial High school volleyball team in Ellicott City, Maryland. After graduating, Russell helped push Penn State to reach the 2013, 2014 and 2015 NCAA Men's DI-II National Championship tournaments. He was also the leading scorer for the U.S. Men in the final three matches of the 2015 FIVB World Cup which the U.S. then won, and helped them to qualify for the 2016 Olympic Games.
KYLE SNYDER (Wrestling) – GOLD MEN'S FREESTYLE 97kg
Kyle Snyder was born in Olney, Maryland in 1995, and attended Our Lady of Good Counsel where he was made Wrestler of the Year in 2013, and broke multiple school records. Snyder was a 2015 World Champion, and 2016 World Cup champion, in addition to qualifying for the 2016 Olympic wrestling team. He gained his first Olympic medal this year, when he won the gold in men's freestyle 97kg.
D.C.: 1 gold
KEVIN DURANT (basketball) – GOLD MEN'S TOURNAMENT
The basketball star, born in Suitland, Maryland, started his career by joining the PG Jaguars, an Amateur Athletic Union youth basketball team based in Prince George's County, Maryland. In high school he played for the National Christian Academy and Montrose Christian School, as well as the Oak Hill Academy in Virginia. Durant started his NBA career shortly after graduating University of Texas at Austin. He has also played in the 2012 and 2016 Olympic games, where the men's basketball team took home the gold.
D.M.V Olympians, but didn't medal:
VA: Lauren Kieffer (Equestrian), Stefanie Fee (Field Hockey), Matt Miller (Rowing), Carmen Farmer (Rugby), Lucas Kozeniesky (Shooting), Ali Krieger (Soccer), Denis Kudla (Tennis), Byron Robinson (Track and Field)
MD: Ashley Nee (canoe/kayak), Joe Morris (Sailing), Katie Zaferes (Triathlon)
DC: Gary Russell (boxing), Katharine Holmes (Fencing)