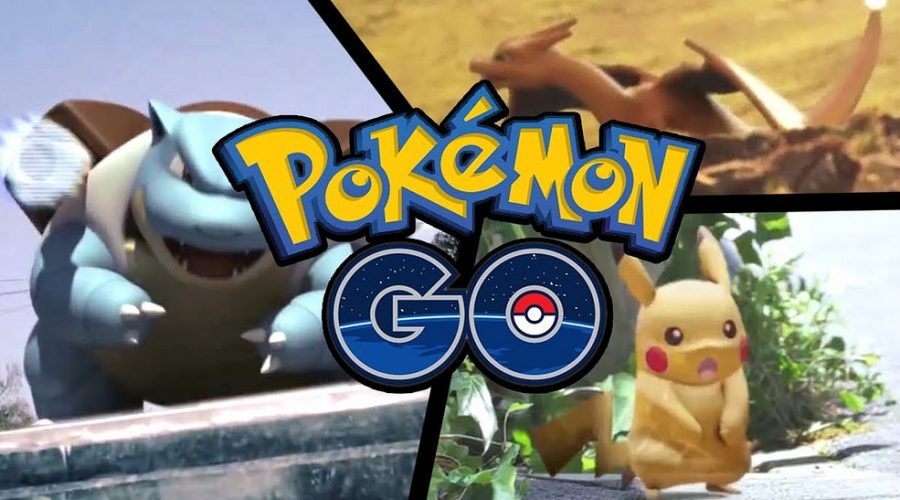 Pokemon Go or no?
September 20, 2016
Card games like war, bridge and poker are all famous rainy day activities, but now there is a card game that has turned into an outdoor phenomenon. Pokémon Go is a free-to-play reality game developed by Niantic. The goal of the game is to, as the motto of the game says, "catch 'em all" and advance to the highest level.
Eating pho every meal for the foreseeable future ?#pokemongoDC pic.twitter.com/08bnmgarBQ

— Kristen Caruana (@kristencaruana) August 3, 2016
Developed from the beloved card game and released in July 2016 features PokéStops, which provide players with items, such as eggs, PokéBalls and potions, all which are items to be used to catch or hatch Pokémon. It also features Pokémon gyms serve as battle locations for team-based matches. Winners of these matches become the controllers of the gym. In the game, players use a mobile device's GPS capability to locate, capture, battle, and train virtual creatures, known as Pokémon.
Pokémon Go was released to mixed reviews. Some critics have praised the game's concept of location-specific game play giving the incentive to be more active and engage in the outdoor world, while others have criticized frequent technical issues apparent at launch. Despite such reviews, it has quickly become a global phenomenon with more than 100 million downloads worldwide. Since its launch, mobile users are spending more time on Pokémon Go than they are spending on Facebook, Twitter, Snapchat or Instagram.
As an added benefit, small businesses, charities and other nonprofits have been using the game to promote themselves. Animals have been adopted from animal shelters, clothes have been donated to homeless shelters, and coffee has been bought from coffee stores because of this game. It has also been praised for getting kids and adults outside.
A Pokemon was caught outside the @KazakhEmbassy ???? just now.))) #PokemonGoDC #PokemonGO pic.twitter.com/4vYULispX5

— Kazakh Embassy D.C. (@KazakhEmbassy) July 23, 2016
A recent Washington Post article chronicled the impact the game has had on the outdoor culture of the historical town of Occoquan. Parents are reading these articles and getting excited about the game. "My 11-year-old has had a great day playing Pokemon," math teacher Ms. Jennifer Scher said. "Within an hour of getting his account set up, he and his buddy were off on a walk around the neighborhood, even in today's horrible heat. He also came along happily when I ran some errands."
Pokémon Go has received bad press as well, with reports of trespassing, irresponsible driving and even injury from kids. Niantic has been sued for damages in many cases. Several places, such as houses of worship, memorials, and worldwide historic sites have been asked to be taken off the Pokémon map where the game is seen as a distraction from the more important messages. "I'm not at all surprised that people are playing while driving and crazy things like that," Ms. Scher said. "I was disappointed though to read about people playing in the Holocaust Museum and places like that. Shame on the people for that, not on the game."
Already Pokémon Go has surpassed Candy Crush as the most popular mobile game ever. Nationwide, administrators, teachers and students are are unsure if they should be concerned about how distracting the game will be once school returns to session. Many students, including sophomore Liam O'Casey, say that the game is a time suck. "Still, I don't see this game interfering with my school work, when the school year starts," O'Casey said. "It really isn't that important to me."
This school year will show us whether Pokémon Go is too distracting for a school environment. "I don't really picture it interfering with most people's life or schoolwork more than other distractions," Ms. Scher said. "Facebook used to be a major distraction for students, and then people moved on to texting and Snapchat and things like that, and I'm guessing this will be similar."