Anna Harpel
January 18, 2018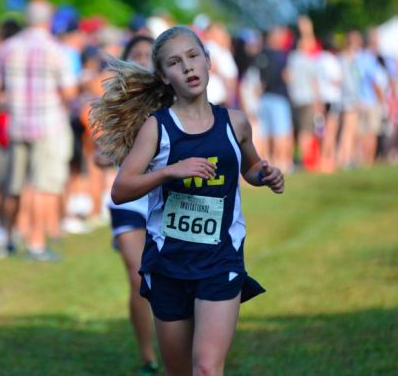 When was your most recent national competition?
July. I competed at the USA Track and Field (USATF) Junior Olympics. I did a 4×800 [relay race].
When did you start running?
I was eight at Girls on the Run.
What have you done to practice or get better at running?
Just a lot of distance running and track.
How would you say that running influences your daily life?
It's a driving factor in what I eat and how much food I get. It pushes me to eat right.
How do you push yourself mentally?
Every runner sets goals for themselves. I just keep in mind those goals if I'm doing it for somebody or for myself.
Who do you run for?
If my family is there. My dad pushes me a lot.
What tips to you have for someone who's trying to become a national competitor?
Just practice a lot. Put everything you have into it. If you really want to reach your potential, you have to push yourself.
What are your hobbies?
I like to read and do yoga.
Who inspires you?
My dad inspires me. He's run marathons, but he's also just someone who really inspires me. Also, my cousin, she had cancer last year. She played field hockey in college. She's a great athlete, and I just think about her. 
Do you want to go into a profession that deals with running?
No. I'd run in college, though.