Hannah Dembosky
January 18, 2018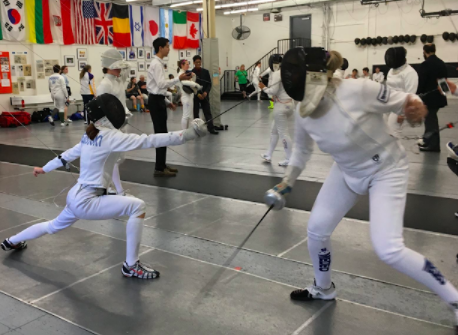 How old are you? What grade are you in?
I'm 16 and a junior.
What is the most recent national level competition you have competed in for fencing? How was that?
The most recent national competition I fenced in was actually this past weekend in Virginia Beach. It didn't go well but I fenced some of the best people I've ever fenced, so it was a great learning experience and was still super fun.
When did you start fencing?
I started fencing when I was seven after watching the U.S. women's saber team sweep the podium in the Beijing Olympics.
What have you done to get better at fencing?
To get better at fencing I've mostly been trying to go to practice as much as possible and compete in as many tournaments as I can. One thing that has really helped me improve is fencing really good and experienced fencers.
How has your sport influenced your daily life?
Fencing has influenced my daily life significantly because I try to practice as many days as possible, which makes me very busy. It also has generally helped me become more focused and motivated because fencing is really as much a mental sport as a physical one, and if you're not focused, you really can't do well.
What tips do you have for aspiring fencers?
For aspiring fencers I'd say just get to practice as many times as you can and go to tournaments with people who are better than you. Challenging yourself by fencing better people really pushes you to improve quickly.
What are some of your hobbies outside of fencing?
Outside of fencing I play violin, am on the W-L debate team, am in Key Club, play violin in the pit orchestra for the musical and am a connect mentor.
Has any person or coach inspired you to work harder?
My coach has really inspired me by pushing me to work harder and encouraging me, and in general all of the really good people I've fenced have inspired me to push myself to improve.
Do you want to go into a profession that deals with fencing?
I don't want to go into a profession involving fencing but plan to continue fencing in and after college.