Margaux Reppert
January 18, 2018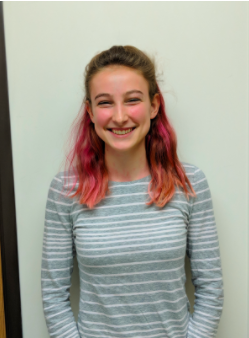 How did you do at Nationals in your race with Anna Harpel and Jenny Gerson?
We did well. We actually got second place for the 4×800 relay, so that was really exciting.
Did you do anything other than the 4×8 there?
Also the 4×4, and in previous competitions I've run the 1500 and the 800.
When did you start running?
When I was nine.
What have you done to practice or get better at your sport?
It just takes a lot of effort. Working out every day and pushing through the setbacks and just taking breaks when you need them.
Mentally, how do you get through a difficult race or a hard run? How do you keep practicing and putting in effort?
I really just have to tell myself that that was one race. There's going to be a lot more races coming up. Getting just a few seconds off is fine, and I can shave them off next time. '
Who has influenced you to run more?
My favorite Olympian is Alison Felix. She's really awesome, and I love to watch her run because she makes it look easy.
How has your sport influenced you're daily life?
Well, it's really time consuming, but you get that good feeling after working out, so you just feel really good for the rest of the day even though it's hard to do.
How do you manage your time?
I definitely get a lot of work done during the day so that you can stay after school until whenever practice is over, which changes, and then you can do stuff after school. Sometimes you have to stay up late or wake up early but you have to get it done.
What tips do you have for amateur athletes or aspiring Junior Olympic athletes?
I think anybody can do it but you have to really put in the effort. You can get better at anything, you just have to put in the time.
What is a personal record (PR) for you or a personal best experience in your sport?
For the 800, which is my main event, it would be 2:29.
What are some of your hobbies?
I'm in Girl Scouts, which is fun.
Has anyone inspired you to work harder?
I have a past coach, Coach Hank, who really helped me start. My high school coach now is Coach Drake, who is also really helpful, because even if you don't have your best day at practice, he's still encouraging.
Do you wish to go into a profession that deals with your sport?
I'm considering maybe going to college and running and seeing how that goes and maybe seeing if I want to continue it as a career, but most likely not, because I want to be a doctor.