Raynie Baker-Rosenburg
January 18, 2018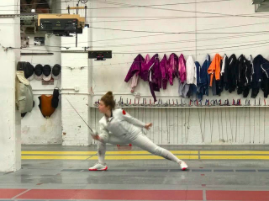 How long have you been fencing?
Eight years, so around second grade.
What competitions do you do?
Cadet, junior, division 1 and division 2 events, which means I compete against people around 15 and up.
What have you done to improve and practice?
I have just really committed myself to trying hard and not giving up. To just keep on going.
Do you have any advice for amateur athletes?
Make sure you balance your school with your sport, and if you're not having some sort of fun, you shouldn't do it.
How do you balance school with your sport?
I try and keep organized with my schedule, and if I have too much homework one night, or a test the next day, I might skip fencing so I can study or catch up on my homework. I also study on the road when I'm traveling or in between bouts at the tournaments.
What's a personal best for you?
My personal best was placing high enough in an event to become nationally rated as a fencer. U.S. Fencing has special rules for competing and it's hard to get rated, so, it was a great moment for me.
What else do you like to do for fun?
I like to read, I really love to draw and I write a lot. I listen to music, and David Bowie's my favorite singer. My favorite show is Peaky Blinders.