Jenny Gerson
January 22, 2018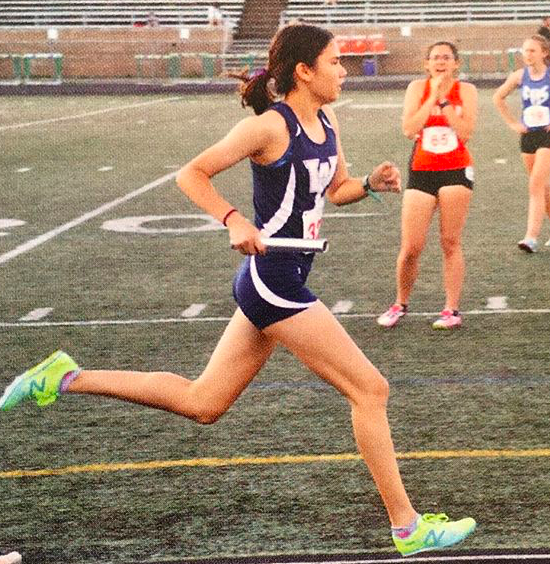 How old are you? What sport do you play/ compete in?
I am 15 years old and compete in track.
What is the highest level competition you have ever competed in?
The highest level competition I've competed in for my club team is Junior Olympics, which is a national meet with three previous qualifying meets. Last year for Washington-Lee our 4x800m relay team made it to States.
When did you start playing your sport?
I started running when I was eight for fun. At the time I played a lot of other sports. Around 5th grade, I started specializing and taking track more seriously.
What have you done to practice or get better at your sport?
I run almost every day, sometimes twice a day. I am on two teams, Washington-Lee and a club (travel) team, after the regular high school season ends I compete with my club team. On top of running I strength train/ lift 2-3 days a week, cross train once a week (pool or bike) and stretch everyday. The little things I try to do such as staying hydrated, eating right and getting enough sleep can have big impacts on performance and help you feel better in general.
How has your sport influenced your daily life?
It's a big time commitment. There are a lot of things I have given up to be able to practice and compete as much as I do. It isn't easy knowing you could be hanging out with friends while having to go to practice or traveling for a meet. During the season, you have to be careful of what you do on a day to day basis so you don't get injured or are able to perform at your best. Over the years I have given up other sports and activities to be able to focus on running.
What tips do you have for amateur athletes? Or aspiring Junior Olympics athletes?
Don't compare yourself to others especially when you are starting a new sport or entering a new level of competition. Comparing yourself makes competing or playing mentally tougher than it already is. Everyone improves at different rates, the fastest person one year might not be the fastest the next.
What is a personal record (PR) for you or a personal best experience in your sport?
One of the best meets I had was last year's outdoor conference meet. I was able to hit a new PR in the 800, qualify for Regionals in all three of my events (800, 4×400, 4X800) and had a really fun time running the 4×400 meter relay.
What are some of your other hobbies?
I enjoy baking and cooking.
Has anyone inspired you to work harder? Who?
My teammates and coaches inspire me to work harder. I don't want to let them down since they put in a lot of time and energy and believe in me even when I don't. When your doing a hard workout having teammates to push you can really make a big difference (thanks Margaux!).
Do you wish to go into a profession that deals with your sport? Do you want to compete in college and beyond?
Running D1 in college has definitely been one of my goals for the past couple of years, so hopefully I am able to compete in college. After college I would like to run as an amateur athlete. There are a lot of great clubs for people coming out of college who want to continue racing but don't necessarily see it as a profession or want to pursue another career. I want to go into sports medicine as a profession, so that would mean helping athletes involved in all sports.