Meghan Goodell
January 22, 2018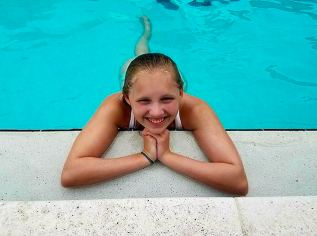 How old are you? What sport do you play/compete in?
I am 15-years-old, and I am a synchronized swimmer.
What is the highest level competition you have ever competed in?
Last July, I competed in Junior Olympic Nationals in Riverside, California.
When did you start playing your sport?
I starting swimming, dance and gymnastics at a very young age and when I was 10, I started a non competitive program because it kinda combines swimming, dance and gymnastics, which I was doing at the time. I started competing in the sport when I was 12.
What have you done to practice or get better at your sport?
I try really hard to make sure I'm productive at practice and not wasting time. I also make sure to stretch at home, so when I get in the pool I'm able to do my routines.
How has your sport influenced your daily life?
Being in synchronized swimming, I practice about 14 hours a week, so I have to have good time management skills to make sure I can get all of my homework done before practice.
What tips do you have for amateur athletes? Or aspiring Junior Olympics (JO) athletes?
For aspiring JO athletes, I would say the most important thing is to make the most out of practice, because for water sports, it can be really difficult to get pool time and I want to make sure I get the most out of the time I'm in the pool.
What is a personal record (PR) for you or a personal best experience in your sport?
The best experience in my sport was definitely going to Junior Olympics. Personally I got my highest scores there, and it was an amazing experience to be able to compete with so many really good athletes.
What are some of your other hobbies?
I play the violin in orchestra, and this fall I joined the cross country team for cross training, and I really liked it.
Has anyone inspired you to work harder? Who?
My teammates inspire me to work harder, because while it's mostly a team sport there are definitely individual aspects to it so when I see them working hard, I want to work hard too.
Do you wish to go into a profession that deals with your sport? Do you want to compete in college and beyond?
I would really like to continue in college, and I think it would be really fun to coach. My coaches have worked really hard to help me get better, and I would really like to do the same for others.