Singing in the Snow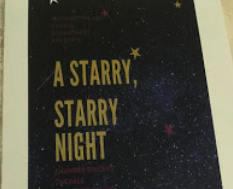 As the lights dim, voices begin to float through the auditorium. The stage is empty of students. Heads turn toward the back of the room to find the voices are coming from the balcony. Twinkle, twinkle, little star they sing, low and high notes weaving together in harmony. The song ends, and the audience bursts into applause. The students beam back at them proudly, waiting for the next song to begin.
The annual winter choral concert was held on December 20, with an audience packed with parents and other family members of the singing students. The theme of the concert, "A Starry, Starry Night," was apparent in every song.
"I had an inspiration with a song I've taught previously," Director of Choral Activities Theresa Severin said. "It's called 'Stars', and I thought about other pieces that had that theme and the theme about reaching for the stars or persevering."
The school's three choral groups performed four songs each, all in different styles, but still adhering to the theme.
"You have to find the right pieces that aren't too difficult, [but] challenging enough, that are interesting," Severin said. "I was really lucky to find some beautiful pieces that fit each group."
While the three groups are partially divided based on skill, the students in those groups have different voices and different experience levels. The school's Concert Choir is comprised mostly of freshmen Severin has never taught before.
"I'm still getting acquainted to the Washington-Lee chorus and the way their practices go," freshman Grace Griffin said.
The program for the winter concert included lyrics for every song; however, it was clear that the audience was not supposed to sing along. Movement was also largely incorporated into the performance. Students smiled as they sang while moving from the aisles to the front row to the stage and back again. They seemed to enjoy being in the spotlight and appeared proud of their hard work.
"I like to sing, just the chance to improve my voice and sight reading and things like that," Griffin said. "The idea that you have so many other kids that like the same thing as you, and you can all just connect on that and sing together is really fun."
Preparing for the concert took hard work from students and staff during classes. They did manage, though, to put it together without any additional practices being held outside of school.
"Kids are busy," Severin said. "I actually think kids need some downtime and they need to get their homework done or they need to go to school or they just need to chill out."
Students join chorus to advance their singing ability, and the winter concert comes with the territory. Students of all grade and skill levels sing together during the winter concert, showing what they have learned.
"I actually have some juniors and seniors in [Concert Choir] which I normally don't have, but they're working really hard and learning a new skill, so I'm glad that they took a dive into singing when they hadn't before," Severin said. "It's never too late to start."
Leave a Comment