Favorite Social Media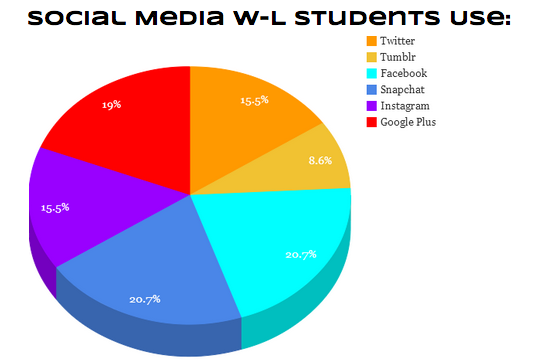 Facebook – Facebook started being popular in 2009. Facebook can be used to share pictures with family and friends that you "friend" online. The user also has the option to chat with one person in a chat room that functions off Facebook. Although the number of Facebook users has been declining in the past two years, twelve out of twenty-one WL students reported having a Facebook account.
Twitter – Twitter is a relatively new media function. Twitter first came into the media circle last year, although it was created in 2006. Twitter is a streaming website where users can create a profile, and then type words or quotes to share with their followers. From the Pope to Game companies, the variety of Twitter users is vast. Statisticbrain.com reported that 554,750,000 people have an active Twitter account. Nine out of twenty-one WL students say they have a Twitter account.
Tumblr – Tumblr is used by younger people on average. This site focuses on reblogging pictures and "gifs" (video clips) and posting them on a users wall. Social-networking.com says that there are around 120 million people on Tumblr. Five out of twenty-one WL students say they have a Tumblr account.
Google Plus – Google Plus (Google+) is a new function for Gmail. Automatically, every person with a Gmail account has a Google+. The two main parts of Google Plus is the photography part, and Google Plus' and "Hangout" feature. Thenextweb.com estimates that Google+ has 1.5 billion photos uploaded each week, with about 540 million users. Eleven out of twenty-one WL students say they have a Google Plus account.
Instagram – Instagram's main function is to take and share pictures. Instagram is an app that iPhone users can download onto their phone. After the user uses the camera on their phone to take a picture, they can filter the picture with different color tints using the Instagram app. Then, the user can upload the new-filtered picture onto a stream holding their pictures, and their friends' pictures. Instagram.com boasts 55 million average pictures shared per day and 16 billion photos shared. Nine out of twenty-one W-L students say they have an Instagram account.
Snapchat – Snapchat is a recent social media invention. Snapchat is a photo messaging app where the user can take a picture or video and send it to a list of recipients. Pictures can also be drawn on and drawings can be added on. The recipient of the image or video can only view the media message once, however before it is deleted from their phone. Twelve out of twenty-one W-L students say they have a Snapchat profile.
THE SOCIAL MEDIA THE MOST W-L STUDENTS USE IS:
Tie between Facebook and Snapchat!
Leave a Comment