Zamperini's unbroken hope
December has always been a popular month to release highly anticipated movies. Sometimes five or more films come out on Christmas Day after advertising months before. Last year, Angelina Jolie's movie Unbroken is predicted to stand out among the many holiday releases and has a chance at getting nominations for the Oscars this February. As Jolie's second directorial effort, Unbroken tells the story of a World War ll soldier who is captured by the enemy and is held as a prisoner of war for two and a half years.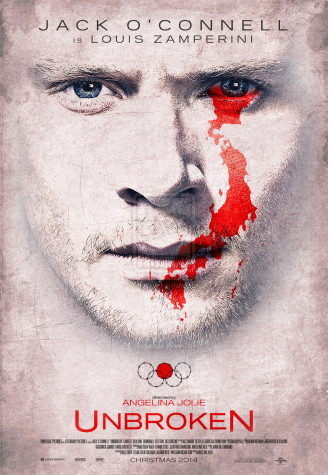 Jolie based her movie off of the 2010 nonfiction book Unbroken: A World War ll Story of Survival, Resilience and Redemption by Laura Hillenbrand. The movie idea had been on Universal Studios' desk for over half a century. Actor Tony Curtis was slated to star in an adaption of Zamperini's memoir Devil at My Heels in 1956, but scheduling conflicts put the story back in the vaults. Since then, countless tries to make the movie have failed until Hillenbrand decided to write a book instead.
Biopics, films that tell the story of a person in history, have been popular over the past couple of years. Among those released in 2014 were The Imitation Game, The Theory of Everything and Get on Up. Some of these movies, like The Theory of Everything, are hits, but most biopics are regarded as mediocre. Jolie, however, hopes to break the mold when it comes to these movies. Despite most movies focusing on World War ll, Unbroken focuses on the individual story of one American soldier, Louis "Louie" Zamperini. "It's different than other World War ll movies because it tells the story of just one person and not the whole war," said sophomore Annabel Campbell. "I think the audience will connect more with that."
Living in Torrance, California, Zamperini did not speak English and was bullied as a kid. He learned how to fight from his father so he could beat up anyone who made fun of him. To keep him out of trouble, Zamperini's brother Pete convinced him to try track during high school. After showing promise, Zamperini trained hard over the summer and was undefeated in every race of his high school career. Zamperini made it to the Olympics in 1936 where he ran the 5000 meter and placed eighth. He later went on to set the national record for the collegiate mile at the University of California.
In 1941, Zamperini enlisted in the Air Force and was deployed to Korea where he became second lieutenant. While searching for a missing plane near Oahu, Hawaii, Zamperini's plane crashed, killing eight of the eleven men on board. The remaining three men, including Zamperini, stayed on a raft surviving on only rainwater and raw fish.
After 47 days at sea, the men were captured by the Japanese navy. Zamperini was taken to a POW camp where he stayed for two and a half years. Much like the concentration camps in Europe, the prisoners were tortured by prison guards and malnourished. Zamperini went from 125 pounds to less than 100 from the lack of meals he received. Somehow surviving these conditions, Zamperini was freed after World War ll ended and came home after years of his family believing he was killed in action.
Most World War ll movies center around Nazis and concentration camps, but Zamperini experienced a part of the war not usually seen. His story inspired Jolie to direct Unbroken not just because of this different angle, but also the journey Zamperini goes through to survive. "The new theme of movies lately has been to focus on one person that seems to have everything against them, said senior Holli Helm. "I think that this will show how powerful movies can be when they show relatable characters that persevere."
Since its release, Unbroken has become the third-biggest Christmas Day debut ever. Additionally, the film had breakout performances by Jack O'Connell, who played Zamperini, and Finn Wittrock, who played Francis 'Mack' McNamara. While Unbroken originally was considered to be a contender for Oscar nominations, the movie has so far been snubbed by the Golden Globes and the Producer's Guild Awards.
Leave a Comment