From researcher to teacher
W-L welcomes physics scholar Dr. Brian Bennett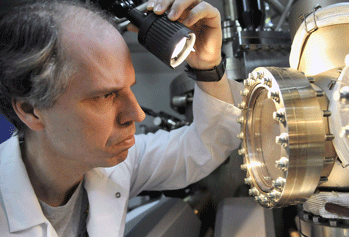 Many teachers begin their careers in education directly out of college. However, for Dr. Brian Bennett, who joined the school's staff during the 2020-2021 school year, this was not the case. Instead, he spent more than 30 years of his career in labs as a physics researcher, beginning when he joined the Air Force Reserve Officers' Training Corps (ROTC) at the Massachusetts Institute of Technology. 
"[Once I graduated from M.I.T.,] I didn't have the typical military experience because I was actually in a research laboratory, and most of the people I worked with were civilian engineers and scientists who were employees of the Air Force," Dr. Bennett said. "Other than wearing the uniform, it really wasn't like most experiences people have. I knew if I stayed in the Air Force, beyond my four year commitment, I wouldn't have been able to keep doing research, since every three or four years you have to move and change jobs. It's ironic, because the reason I left the Air Force is that I really enjoyed my job."
Dr. Bennett then returned to M.I.T. and earned a PhD in Materials Science and Engineering. Afterwards, he went on to be a scientist with the Naval Research Laboratory and the Office of Naval Research, where he stayed for 28 years. 
"I enjoyed it because my job meant something different pretty much every day," Dr. Bennett said. "Sometimes it was tightening bolts and scraping out arsenic, or hard physical work. A lot of other times, though, it was collecting data and then spending time analyzing it… We also would read and write many papers and go to international scientific conferences, so there were a variety of things to do."
According to Dr. Bennett, scientific papers, in which the author's success is measured by the number of citations it receives, were ultimately one of his biggest contributions during his career in research.
"My most impactful work was a paper a colleague and I wrote about electro-optical effects in silicon; it has been cited nearly 3,000 times, and is credited with beginning the field of silicon photonics," Dr. Bennett said. "Essentially, silicon is what kickstarted the electronics revolution in the 1950s, and it's still used in most devices today… electronics involves control of electrons in silicon which is a semiconductor — a material that is more conductive than an insulator but less conductive than a metal. In contrast, silicon photonics involves the control of photons or light." 
The field has taken off in the last decade and is now a billion dollar industry with silicon photonic devices used in most data centers and other applications such as medical devices and  autonomous cars. Dr. Bennett said the reason for its more recent popularity is partially due to electronics no longer following Moore's Law, which meant much smaller transistors and faster computers for over 50 years. 
"Recently, there hasn't been as much development in faster electronics so some applications are switching to silicon photonics, since it's a new option, and citing the paper," Dr. Bennett said. "I wrote it in 1987, so it's been interesting to see it have a greater impact after so many years." 
However, according to Dr. Bennett, his favorite part of his career in research was when he was a supervisor. While working on his own projects he also worked with young people. 
"A main thing I took away from my career as a physics researcher was that they need a lot of good people to be really educated in STEM areas," Dr. Bennett said. "That was one of the reasons I decided to become a teacher, so that hopefully I could help in a way continue that pipeline of people who can do those sorts of jobs and research positions." 
Another factor in his career change was the time he had spent in research.
"After 30 years, I was ready for something different, and I think it would have been the same for me with any other job," Dr. Bennett said. "That's why I came into teaching at a time when a lot of people my age are retiring from it." 
Dr. Bennett completed a career switcher teacher training program at Shenandoah University and then began his teaching career in the Fall of 2020.
"I think the biggest challenge teaching so far was that my first year was all virtual," Dr. Bennett said. "Hopefully this year will be easier, since we'll be in person… I'm really looking forward to having my students in person and getting to know them, as well as my colleagues, better."
Dr. Bennett, who is teaching General Physics, IB Physics Part II and AP Statistics this year, stressed one thing in particular. 
"My favorite part of teaching is getting to show students how science works," Dr. Bennett said. "I don't necessarily need them to walk away having all seven steps of the scientific method memorized for the rest of their life, but [instead] understanding the importance of science, and knowing that it's real." 
Leave a Comment