Washington-Lee Ultimate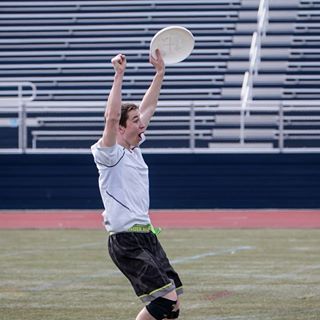 Teamwork, hand-eye coordination, endurance and strategy are all combined into one game: Ultimate Frisbee colloquially known as ultimate. Borrowing running around from soccer, teamwork from football and throwing and catching of baseball, this sport has it all. "The best thing about Ultimate is that it is really fun, the team is great and the coaches are really supportive," said junior Donald Herndon.
Another thing Ultimate has is spirit of the game, which is a rule that dictates that player call the fouls themselves, since there are no referees. Players are required to call their own fouls and decide calls together. "Spirit of the game makes the people who are playing very good people for lack of a better way of explaining it," said head coach Elise Jackson, an English teacher at the school."Because of spirit of the game the people that end up playing [ultimate] make the sport so great." Coach Jackson was named high school coach of the year by USA Ultimate.
Ever since its intramural founding in 1967 by Joel Silver, Ultimate has grown into a sport with leagues, national and world championships, and even events televised by ESPN. "It's fun to join; it is a really relaxed environment where anyone can have fun," said Herndon. "I joined last year with no skill at all and I was still able to have a lot of fun."
Coach Jackson encourages new people to join the team. "We've created an advertisement where if you attend three practices, you get a frisbee, and by that time people are usually hooked," she said. A poll during Generals Period showed that very few people know the school has a frisbee team. "Most people think of frisbee as a hippie sport played in the 1970s and don't know that it can be played competitively," said Jackson.
The school's team was started last year by math teacher David Soles. It is technically a club because there are two parts to it; the learning part, where members are taught how to play the game, and a competitive team for people that are really interested. This group plays in the Youth Ultimate League of Arlington (YULA) then goes to a state championship tournament at the end of each school year.
In its first year, the school's team took fifth in state championships, the top three teams of which advance to Regional in South Carolina. Two of these three teams were Yorktown and H-B Woodlawn; the third was from Newport News. "I expect us to do better this year because a lot of the guys that were on the team last year are still on the team this year and we are all getting better as a team," said Herndon. "We're getting better at working together and getting better individually because Ultimate is a very inclusive sport. It's fun for everybody and it doesn't really matter who you are or what your skill level is."
Ultimate can be played in and after high school as well. Arlington resident and Washington-Lee graduate Molly Roy plays for the team elite Washington, D.C.-based women's club team Scandal which won nationals and got to take third in world championships at  Lecco, Italy. She started playing freshman year of college at Dartmouth after playing soccer her whole life. "I'd heard of Ultimate but I thought it was like capture the flag; just something people did for fun at camp," said Roy. "A lot of my friends that I met during orientation started playing [Ultimate] so I said okay, I guess I'll try this, and I just totally fell in love with it."
Roy played all four years and was captain of her team senior year. "I thought [that after college] that was it because I really didn't know much about club," said Roy. "When I moved here a girl on the [Scandal Ultimate] team told me I should try out. At first I was uneasy because I just left my college team, but then I went to a practice and I was like this is great."
As mentioned earlier, Roy made the Scandal Ultimate team and went on to upset a rival Ultimate team that had won the National Championships seven years in a row. From here, her team went to World Championships and took third place. She has been on the Ultimate team for five years. When Roy was asked what made frisbee a great sport she had the same response as many people that were previously interviewed. "Definitely the culture, the people and the inclusive environment."
Students can join the school's Ultimate club by attending practices at Quincy Park on Tuesday and Thursdays. The team does not have cuts and will take students regardless of previous Ultimate experience.
View Comments (1)