STUDENT ATHLETES
Wake up at 4 a.m., go to swim from 4:30 a.m. to 6:30 a.m. come back from 4 -6 p.m. in the afternoon. This is the training schedule of freshman Jaya Kambhampaty.
Kambhampaty has numerous records with the elite summer swim team Chesterbrook, with his most important being a the Northern Virginia Swimming League's (NVSL) record in the 13-14 boys 50 meter backstroke event.
He started swimming at age four when the primary goal of his training was teaching him how to swim. At age six he went into the Chesterbrook developmental program. "I swam on the relays once and the occasional A-meet," said Kambhampaty. "This is where I really started to love swimming. I was alright, I wasn't anything special until I was ten when my coach suggested that I join winter swim so I could get stronger and cultivate any sort of meager talent I might of had."
Kambhampaty listened to his coach's advice and joined Machine Aquatics. "[Machine Aquatics] was a lot more intense:  it was a lot more serious because its in the winter club circuit, which is a lot more competitive," said Kambhampaty. "Swimming is very peaceful. My mom used to joke that the reason I love it so much is because underwater I can't hear her yelling at me."
Kambhampaty stated numerous times the reason he keeps on training as hard as he does is because he loves the sport. His favorite part about the swimming season is every summer because three of his most committed teammates swim on a relay team with him. He currently holds two NVSL records with this relay team.
"I've always thought the relay to be the pinnacle of swimming achievement," said Khambhampaty. "Four guys, four spirits come together as one for the accomplishment of a common goal. Victory. To be a part of that team, that is one of the greatest feelings in our sport."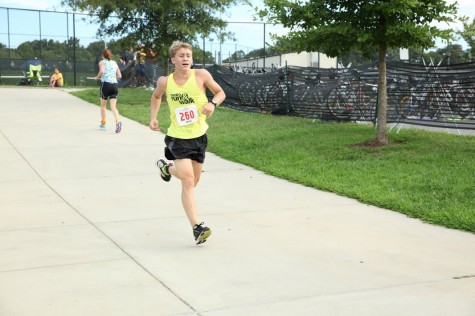 One  mile swim, 22.3 mile bike, 6.2 mile run. This is an Olympic triathlon, a favorite among many distance triathletes around the world including senior Noah Kennedy.
Kennedy has completed numerous Olympic triathlon's with his personal record of 2:26.22.  To get this time, Kennedy ran a 41:02 10-kilometer run, which alone is in the 70 percentile of all 17 year old's who have raced a 10-kilometer,  not taking into account he swam a 27 minute mile swim and a 22.3 mile bike ride averaging about 20 m.p.h.
"I decided to do triathlons because my dad has always been really into big distance events," said Kennedy "He ran a bunch of marathons when I was little, including the coast to coast in Africa which is a 37 mile race when I was about ten."
Kennedy's father persuaded him to join the triathlon club in fourth and fifth grade, and later when kennedy was sixteen he asked to do the Reston Triathlon. Kennedy continued doing the annual reston triathlon using his swim and cross-country training over the summer to get him faster.
"I really like being able to push myself for such a long time, I do cross-country and I feel like cross-country's a short distance, I don't like the feeling you get from sprinting for like 18 minutes while triathlons it's more about endurance," said Kennedy.
"I just absolutely love the feeling you get when you've been racing for more than two and a half hours and  your legs are just locked up and you cross the finish line, It's just the best feeling ever."
"I think that everyone should try a triathlon because it's a lot easier than you think it is, since you're changing the event that you're competing in every thirty minutes or hour and you're not going for speed you're going for completion," said Kennedy.
"Triathlons really changed my idea of what I could accomplish," said Kennedy. "It seemed like a really daunting thing at first and then when I did one I was like hey that's not that bad and then I went on to do more."
Leave a Comment