The Black and Red strike again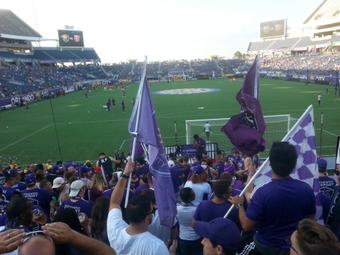 DC United, after beginning their 2015 season on a low note by being eliminated from the CONCACAF Champions League, have picked up three wins in league play and look to be in prime position to find success again in MLS this season.
The United side, which underwent few offseason changes after an excellent 2014 season that saw the team finish atop both the Eastern Conference and their Champions League group, were thoroughly dismantled by Costa Rican outfit LD Alajuelense in their first competitive fixture of the season, their Champions League quarterfinal. The match, the first of a home and home series, was played in Costa Rica and saw the home side's speedy offense score five goals against DC United, who were missing 2014 Goalkeeper of the Year Bill Hamid due to injury.
That game finished 5-2, with DC's pair of goals coming from Fabian Espindola and Steve Birnbaum, and although DC United won their home leg 2-1, that victory did not supply the necessary goals to make up their aggregate deficit, and Alajuelense advanced on a combined score of 6-4.
DC's lackluster performances in both Champions League matches somewhat dampened expectations for their MLS season, especially because a number of starters were unavailable for the home opener against Montreal due to suspension or injury. However, the Black and Red managed a 1-0 victory against a skilled Montreal side, with their lone goal coming from Jairo Arrieta, a 31-year old Costa Rican acquired in the offseason as offensive depth.
This home victory was followed by a dismal performance against DC's archrivals, the New York Red Bulls in which United lost 2-0. However, since that game United has picked up two more 1-0 wins against defending champions Los Angeles Galaxy and expansion team Orlando City, winning both those games via last minute goals.
With those three 1-0 wins, DC now sits in third place in the league with nine points, behind Vancouver and Dallas, despite having scored the third fewest goals so far in the league. As players return from injury and suspension over the next few weeks DC will likely begin to see an increase in scoring, as two players largely absent from DC's starting 11 early in the season have been Fabian Espindola and Luis Silva, the teams lead scorers last season.
Espindola is serving a six game suspension for angrily shoving an assistant referee during the aftermath of a playoff loss against New York last year, while Silva has been recovering from a hamstring injury aggravated by a Vitamin D deficiency. Silva is not yet fit enough to start matches, but did see minutes as a late substitute against Orlando, during which he scored the team's last minute winner. Espindola will return from suspension on April 25 against first place Vancouver. DC's next game is on April 11 versus seventh place New York Red Bulls at RFK Stadium in the District.
Leave a Comment