Nothing but net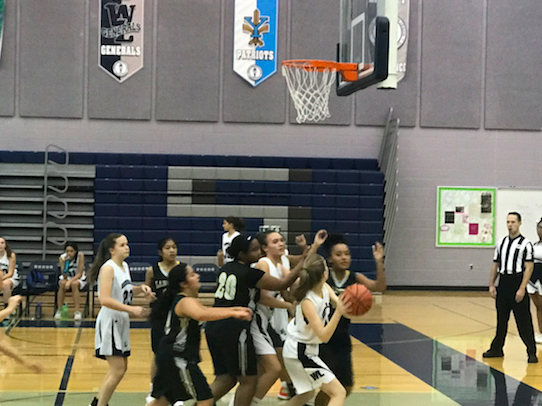 Girls freshman basketball coach Hannah Gombos and her team came into the game against Lee High School with one win and one loss.  
"So far I am very proud of my team's performance this year," Coach Gombos said. Coach Gombos has seen her team adapt to one another from the first quarter of the first game to the final buzzer of the second game.
"I think we will do very well this season as long as we come out out and play every game the way we know how to, " said Coach Gombos.
They won the opening game of the season against Falls Church High School 32-19, and lost to West Potomac High School 31-38.
Throughout the game against Lee High School, the Generals were really tight on defence and played really aggressive. They almost never left a player on the opposition open, and allowed little movement when the opposition would attack.
The Generals would take their defensive tactics all the way up to the final six minutes of the game against Lee, when the opposition would get their first points of the game.
Freshman point guard Mary Pisigan is always reflecting on how to better her game, and in practice she works on her handles, as this helps her a lot more in games. She also focuses on improving her inside shots.
"When the shot goes in and the crowd cheers, I think about how glad I am, the fact that I made it and didn't miss, and then start to think about how I could've made it better," Pisigan said.
Even though Pisigan is her team's leading scorer coming into this game, she still continues to work even harder in games, and that was put into display in the game against Lee.  
"We work a lot on shooting, which really comes into play when you are given the opportunity to score for the team," said freshman post Catia Bonzano.
The team works on plays so that they enhance their teamwork abilities and dribbling. This also enhances leadership skills, as those who run the plays in the team emerge more as captains of the team.
"Even though I am post, when we work on dribbling, it prepares me for in game situations," Catia said. "This makes the team more unified, as we work together throughout the whole practice."
The Generals went on to win the game against Lee High School 34-5, which extended their record to two wins and one loss.
The Freshman team left the court to an applause from the crowd and the junior varsity girls team.
"My best advice for the team this year is to really enjoy their time being on this team and to leave everything out on the court every game," Coach Gombos said. "The win against Lee High School shows the immense progression the girls have went through. "
Leave a Comment