Shirlington's AMC renovations underway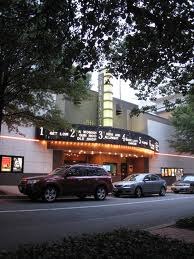 Since it's debut opening in 1995, AMC Loews Shirlington 7 has gone under many renovations, the latest being in 2012. However, the theater will experience it's biggest change to date when it will be closed for renovations this November in an effort to attract new customers. Among the planned upgrades are AMC's red leather recliners, brand new restrooms and a completely revitalized concession area on the first floor.
The project will cost several million dollars and will be used to expand the theater's selection of foods and drinks in hopes of increasing the appeal of the overall experience they will be providing. The theater has applied for an ABC license in order to add a bar that will serve cocktails, wine and beer. They will also be expanding their menu to add more hot foods such as chicken tenders and french fries.
The Courthouse AMC theater went through similar renovations in 2012, being the first theater in the area to provide reclining seats to enhance the moving-going experience. "Since Courthouse went through their renovations the theater has become extremely popular due to the comfort of the seats," senior Elijah Baco said. "It's hard for other theaters to compete with such a new advancement, but I think adding them in the Shirlington theater is the right thing in order to get business booming. I feel like it used to be one of those theaters you always saw but never went to, but now I definitely have a reason to go."
The Shirlington theater previously operated as an art-house and showed independent films, but with this new renovation, it will be rebranded under AMC and is planning to show a mix of independent and mainstream movies.
With new seats the seating capacity will decrease, but it is not expected to have a negative effect on sales. Yet with the decreased seating, the theater will run on a reservation system where customers can purchase their tickets online or at the box office. Customers can choose their desired seats to reserve by utilizing a map of the remaining seats that are available in the theater while purchasing the tickets.
With the addition of the new theater, expect to see a continuous surge of customers on the streets of Shirlington and even more thriving shops and restaurants surrounding it.
View Comments(1)