The Honor Flights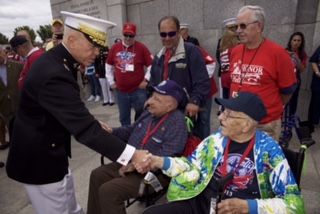 Honor Flights, a non-profit organization, was founded by Jeff Miller in May 2005 as a way to honor retired service members of the United States. Ever since the first six Honor Flights flew out of Springfield, Ohio, the foundation has continued to grow. World War II veteran Pooch Pace said, "Miller did not think it was going to be as big as it turned out to be."
Volunteers of the organization are devoted to transporting as many United States veterans who served in World War II, Korea, and Vietnam as they can. The Honor Flights Network allows veterans to travel at no cost to see memorials located in the District dedicated to many of the respective wars in which they have fought.
This is one of the greatest ways that the United States honors former service members. It was a great experience for Korean War vet Bob Shelly, who made it onto a flight a year after the first flight took off. Shelly later stated that the trip was "one of the highlights" of his life.
These flights are a way to honor the veterans for their many sacrifices and losses; and there were a lot of losses. In World War II alone, there were 420,000 American deaths. During the wars, veterans lost their friends, family members, and colleagues. "It was like I was back in the army with my comrades and it was the greatest joy ever to be thanked by so many people. It changed my belief in the people," said an unnamed soldier. It seems as though it is the least that can be done to give back to the brave men and women.
One of the recent Honor Flights that was held on September 23 made headlines. A group of 140 women made up an entire Honor Flight, making it the first flight solely containing women. For the women, this was huge news. The flight included women who had served in World War II, Korean War, Vietnam War, Desert Storm and more. The women served in the wars, both in the States and overseas; their jobs included being medics, combat nurses, interpreters, and many other important roles.
When the women were greeted from the plane, reports from USA Today stated that the scene was very emotional. "I have never seen so many people who supported us," Dorothy Harris said. "People thanking us for our service. It was like a homecoming. You know, we did not have that when we came home from Vietnam. We did not have that at all. And to see the appreciation people had for us being in the service, it was great." Over the years America has grown to realize just how important our courageous and brave service members really are.
The United States has long been called "The Land of the Free," but it is because of the brave that we are allowed to live our lives the way we please. I, along with many others, are forever grateful for the sacrifices made in order to keep our country's people safe.
Leave a Comment