New direction for One Direction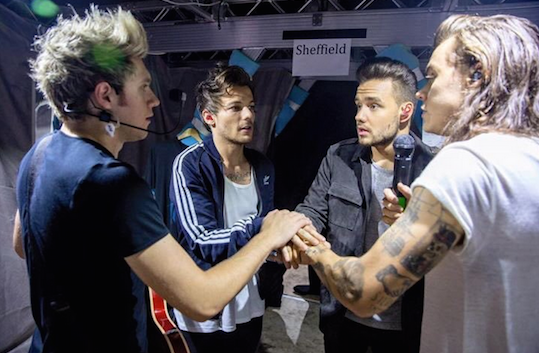 Popular international boyband, One Direction, released their fifth studio album on November 13, coming along way since their 2012 hit, "What Makes You Beautiful." This year has been especially dramatic for One Direction fans, the "Directioners," due to member Zayn Malik's departure from the band to pursue a solo career, leaving members Harry Styles, Louis Tomlinson, Niall Horan and Liam Payne to continue as a quartet. Many assumed that One Direction was coming to an end, but the band continues to be successful.
According to iTunes, Made In The A.M. sold more digital and hard copies than their previous albums, Four, Midnight Memories, Take Me Home and Up All Night. "I preordered the album even though I am not exactly a huge fan," freshman Gina DeLancey said. "The whole Zayn mishap and them taking a break next year got me interested in what they had in store. Now that it is out and I took a listen to the album, it is honestly on repeat, and I cannot stop listening to it."
 "Hey Angel"
"Hey Angel" gave us a taste of what the rest of the album is going to be like with its chill rock-influenced tone. The vocals were very powerful and also quite different in a way, reminding me of something U2 would sing.
 "Drag Me Down"
"Drag Me Down" was the lead single off Made In The A.M. It dropped in the middle of the night and took many Directioners by surprise. The song showed everyone the new sound One Direction was going for. The pop/rock/electronic vibe was very likable and I was instantly hooked. The vocal range towards the end of the song from band member Harry Styles really stood out and made "Drag Me Down" the hit that it is.
"Infinity"
"Infinity" is one of the slower and prettier sounding songs off the album. While listening to it from top to bottom I instantly fell in love with the lyrics, more so rather than the actual music. "Infinity" is not your typical meaningless boyband love song, it is obvious that they are writing from experience and that a lot of heart was put into the making of the song.
 " Perfect"
"Perfect" is one of those songs that you cannot stop listening to. It is a classic pop tune with a modern twist, as in it still consists of all the parts a pop song regularly has, but with unexpected drops along side great guitar and drumming in the background. According to iTunes and Billboard, One Direction's second single from Made In The A.M. dominated the charts within the first day of being released. A couple of lines in the song were very controversial and some suspected that the lyrics were based off Styles' relationship with artist Taylor Swift; "If you like camera's flashing every time we go out, and if you're looking for someone to write your breakup songs about, then baby I'm perfect."
 "End of the Day"
"End of the Day" is a perfect showcase of each members' vocals. For the first time ever, fans were astonished when Tomlinson hit the incredible high note at the end of the song because, he is usually never given the opportunity to do so due to his raspy unique tone. The song consists of such a beautiful sounding bridges and then takes a turn with an upbeat and memorable chorus alongside a catchy beat.
 "If I Could Fly"
"If I Could Fly" is 100 percent the most meaningful song on the album. The opening of the song has some Robbie Williams influence and it is just so sweet and calming. It is a complex and saddening love song that is sure to be on repeat for quite a while.
 " Long Way Down"
"Long Way Down" is one of those songs that you cannot help but sing along to. It is not an upbeat party song, it is more on the alternative side. A song you can blast without your eardrums being completely numb after. Long Way Down uses lots and lots of instruments such as the piano, guitar, cymbals and the piano that brings along a folky vibe.
 " Never Enough"
"Never Enough" was the most diverse song with different tunes on the album. The song is nothing like the songs on their previous albums. It was just a song that makes you want to just jump around and chant along to. "Never Enough" kept me on the edge of my seat, while listening to it for the first time, always wondering what sound would come about to surprise me next!
"Olivia"
"Olivia" is such a loveable and carefree song, alongside the slight Beatles influence. It's a quality song to skip around to and it always puts me in a great mood. "This song was so fun because it has a full orchestra we recorded at Abbey Road: four trumpets, four trombones, three french horns, flute, clarinet, harp. That was an incredibly adult, musically indulgent song that we all had a lot of fun making," Julian Bunetta told The Rolling Stone magazine.
  "What a Feeling"
"What a Feeling" is my personal favorite, a hypnotic tune that gives off a retro vibe. It is nothing like anything the guys have worked on before, the smooth baseline and addictive chorus calling for many future Grammys.
  "Love You Goodbye"
"Love You Goodbye" has such a strong resemblance to Timbaland and One Republic's 2008 hit "Apologize". It is made up of a slow intro and a very powerful chorus alongside beautiful harmonies.
  "I Want to Write You a Song"
"I Want to Write You a Song" is an acoustic tune with rustic vibes. It a great song to listen to when sitting by the fireplace. I cannot really dance or jump around to this song because of it is instrumental beat.
  "History"
"History" is a born hit, with deep lyrics about what being in such a popular band is like. The song is, in my opinion, an anthem that makes me want to sing along. I can just imagine how unbelievable this song would sound live with tons of fans singing along!
  "Temporary Fix"
"Temporary Fix" is a great song to have on your party playlist. It is one of my favorites to sing along to, as it resembles "No Control" off 1D's previous album Four. It is a feel-good song with upbeat and positive vibes.
  "Walking in the Wind"
"Walking in the Wind" is a smooth song with a sedate beat. The song has a very mature sound to it that is great to blast while in the car.
  "Wolves"
"Wolves" has to be the most fun and old fashioned song on this album. It is just everything you could possibly want a four minute song. It is such a cool song and you can tell it is written from experience just by listening to the lyrics.
  "A.M."
"A.M." is the PERFECT song to end Made In The A.M with. It is a song about just sitting around at the end of the night and opening up to someone about how you feel. The acoustic guitar lends a soft and sweet feel, and made me fall instantly in love.
Leave a Comment