A starman in the sky once more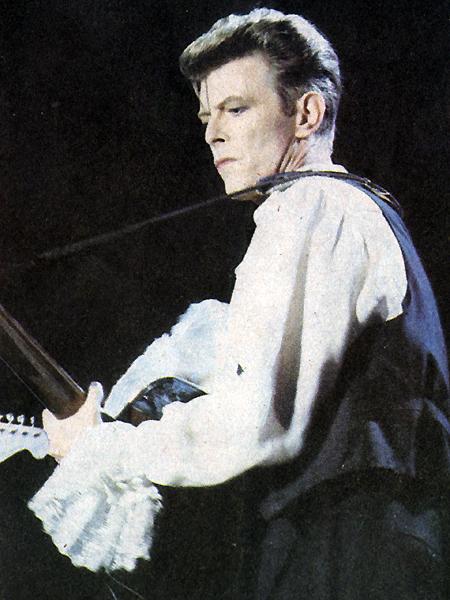 For more than 40 years, the voice of David Bowie has been a cultural constant around the world, as a husband, a father, a beacon, a card-carrying mime, an electrician, Ziggy Stardust and a thousand and one other things.
Born David Jones in Brixton in 1947, he became an electrician's mate after finishing school, rotating through various bands composed of school friends. His first album, an eponymous release in 1967, was a critically-disregarded commercial failure, and his second, Space Oddity, released mere days before the Apollo 11 launch in 1969, reached the UK Top Five. In 1972, The Rise and Fall of Ziggy Stardust and the Spiders From Mars was released, and Bowie became an international sensation as Ziggy, an androgynous character from Mars. Ziggy Stardust represented a blending of Bowie's 1970 album The Man Who Sold the World and 1971's Hunky Dory, and catapulted the latter to the charts alongside Ziggy Stardust.
Shortly after working on Lou Reed's Transformer, he released Aladdin Sane in 1973, reinventing himself as the title character, an Americanized Ziggy Stardust and a play on the phrase "a lad insane." In 1974, he moved to the United States, a choice that produced Diamond Dogs (1975) and Young Americans (1976), both of which featured a heavier influence from soul and funk music, as well as increasingly serious problems with cocaine addiction. Station to Station was released in 1976 and again restyled Bowie as the Thin White Duke. While promoting the album, Bowie's addiction problems spiraled wildly and he moved to Berlin in an effort to get clean. It was there that the Berlin Trilogy – Low (1977), Heroes (1977) and Lodger (1979) – was completed. Influenced by the minimalist German music scene, they became landmark albums in Bowie's discography and spawned some of his best-known songs. Bowie's time in Berlin was also the beginning of his collaborations and friendship with Brian Eno, who served as co-writer on the 1995 album Outside.
Bowie opened the 80s with Scary Monsters (And Super Creeps), which was considered to be similar to the Berlin Trilogy, although more direct, with a harder rock edge. In 1983, Let's Dance was released, and the accompanying music videos broke new ground with their sexually provocative nature and subsequent time on MTV.
In 1989, Bowie temporarily abandoned solo musicianship in favor of Tin Machine. Despite the goal that the band would reflect the interests of all members, it was primarily driven by Bowie himself, and fans chafed against the presentation of Bowie as part of a whole. Despite recording a second album, disagreements with the record company and within the band destroyed the relations.
In 1992, Bowie married supermodel and actress Iman, and in 1993, released his first album since the demise of Tin Machine, the hip-hop- and jazz-influenced Black Tie White Noise. Two years later, he worked with Eno on Outside, which featured characters from a short story authored by Bowie, and acted as the first piece of a story of art and murder. The latter half of the 90s was marked by re-releases, Bowie's 50th birthday and his induction into the Rock'n'Roll Hall of Fame. In 1997, he released Earthling, a wild commercial success.
While performing in 2006, Bowie suffered a heart attack, which led to a substantial reduction in his appearances, as well as the music he produced. In 2006, he was awarded the Grammy Lifetime Achievement Award, a testament to the barriers he shattered and the new ground he broke in music and performance art.
On January 8, 2016, Bowie's 69th birthday, he released Blackstar, an album that received widespread critical acclaim, and that became his last two short days later. "He always did what he wanted to do. And he wanted to do it his way and he wanted to do it the best way," longtime friend and producer Tony Visconti said on Facebook in the wake of Bowie's death. "His death was not different from his life — a work of art. He made Blackstar for us, his parting gift." Throughout his life, he broke new ground in multiple genres, and touched hearts with his music, his hope and his uniqueness. "David's death came as a complete surprise, as did nearly everything about him," Eno said in a statement. "I feel a huge gap now."
As he sang on the title track of 1973's Aladdin Sane, "Who will love Aladdin Sane? Millions weep a fountain, just in case of sunrise." Millions have loved David Bowie, and millions are weeping.
Leave a Comment