AFAC helps eliminate holiday hunger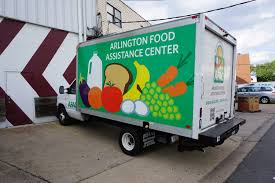 As the holiday season approaches, more and more people are going to and hosting family dinners and banquets. During this time, it is important not to forget about those who may struggle to provide food for their families during the holiday season. Non-profit organizations, like the Arlington Food Assistance Center (AFAC), provide food for those in need by collecting and distributing groceries, free of charge, to Arlington residents who cannot meet the financial standards needed to feed themselves and their families.
Although Arlington is one of the richest cities based on GDP in the United States, there are still a great deal of people in our very own community struggling to get food on the table. "It's hard to imagine that so many people in Arlington need food assistance," Director of Volunteer Services Laura Jackson said.
Several schools in the area partner and volunteer with AFAC. Even Ms. Jackson found out about AFAC through a food drive held at her son's school, Taylor Elementary. She joined the AFAC volunteer team and has been working with them for 8 years now. "I feel privileged to work at a well-run organization serving my Arlington neighbors," Ms. Jackson said. "Having hard-working, fun volunteers and co-workers is another bonus."
AFAC serves more than 2,200 client families each week and more than 35% of the people receiving meals from AFAC are children. According to studies conducted in 2012, a bit over 4 in 10 Arlington residents in the $60,000 and under income group do not have a stable food supply. This means roughly 31,500 people in Arlington are experiencing food insecurity. AFAC is still continuing to feed Arlington as they have done for the past 25 years. "AFAC will continue to serve all
in need of food assistance," Ms. Jackson said. "We will be renovating our building soon in hopes of making our space more efficient."
It is easy for students and adults to get involved with AFAC and donate their time and money to this worthy cause. Ms. Jackson said, "Most [people] feel good about the work they do for AFAC and have interesting stories to share."
For more information on how to get involved visit afac.org.
Leave a Comment