Rotten Tomatoes Changes Their System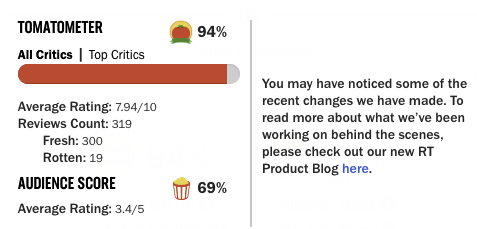 Due to a number of controversial and toxic reviews on Rotten Tomatoes, specifically for "Captain Marvel," the website is taking away the general audience's ability to rate films before they are released in theaters. However, this rule does not pertain to critics, who use the "Tomatometer" to rate movies, not the audience rating system.
Many of the reviews being posted were seen as an attempt to bring the overall audience score down so that people who were thinking of seeing the film would not do so due to its poor rating. This is a characteristic of all movie reviews, but these were a special case due to the fact that the film had not been released yet, so no one could have seen it. Reasons for people maliciously rating movies are vast; it is possible that people did not like that there was another Marvel movie coming before "Avengers: Endgame." Perhaps, they did not enjoy actors' or director's performance when they watched other films, sexism was also a large contributor to the negative atmosphere around the movie.
"I remember hearing that some of the comments being posted [on the "Captain Marvel" page] were kind of sexist," junior Mauricio Alarcon said.
Rotten Tomatoes also does not want pre-release ratings (the "Want to See" score) to get confused with post-release ones (Audience Score), which is why the "Want to See" score percentage is not visible for television shows or movies that have not yet been released. The same is true for comments on TV or movies that have not been released. The website has altered this section because of, as Rotten Tomatoes said, "an uptick in non-constructive input." However, once a movie or show has been released, the audience can rate and comment on the page.
"I think that [disabling comments and reviews until a film is released] would be beneficial because no one knows what happened in the movie until it actually comes out," junior Chase Hildebrand said. "It makes no sense to write a review before a movie comes out so I would say that it is a good idea."
The Tomatometer and Audience Score have received touch ups in the sense that they are now cleaner looking and easier to interpret. The "Not Interested" button that users click to indicate whether they are considering seeing a film or not has also been removed.
Leave a Comment