The Pickleball Craze
Why is pickleball becoming more popular?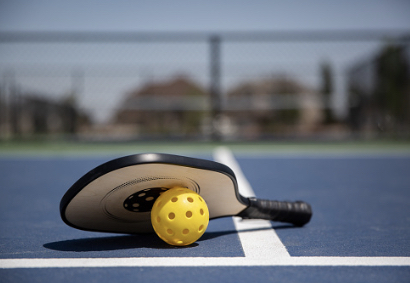 Pickleball has started  gaining popularity around the United States (U.S.)  because of its sports health benefits and its competitiveness. Recently, there has been a massive spike in the sport's popularity that is similar to tennis. NBA superstars like Lebron James and Draymond Green have become among dozens of celebrities who have invested in a professional pickleball team.
"When I first noticed the retired people playing [pickleball], I saw that they were really into it, and it looked fun, kind of like table tennis but bigger," senior Maya Jones said.
Jones is one of the founders of the Net Games Club. The Net Games Club is where students can come together to play sports involving a net, like pickleball. They meet once a month on Tuesdays and Cecilia Larsen sponsors the club.
"Basically, we play badminton, but we also sometimes play pickleball, tennis, or basketball, just like anything involving a net," Jones said, "My friend and I started it because we met in freshman year in P.E. class, and we really liked playing badminton and other games involving [nets]."
Jones learned about pickleball when she saw people playing at the Thomas Jefferson Community and Fitness Center.
"I first learned about pickleball from the community center at Thomas Jefferson [Community and Fitness Center] because I always saw the retired people playing pickleball there," Jones said. 
Pickleball coach George Dwyer works at the Young Mens Christians Association (YMCA) Arlington Tennis and Squash Center. He believes that pickleball has gained popularity because of the low cost.
"It's inexpensive, low barrier to entry and you can play learn quickly," Dwyer said,
Pickleball can be a very interactive and social sport. People are communicating with their opponents or doubles partners and having a fun time overall.
"It's the kind of game where people talk while they play, and not like chess where you don't say a word," Dwyer said. "You're talking to your partner, you're talking to the other people, you are having fun."
Dwyer believes pickleball can be an enjoyable sport for high schoolers to senior citizens. However, high schoolers benefit in particular because it is fast-paced and is a good way to stay fit.
"For high school students, it's a pretty good workout," Dwyer said. "You know, points happen very quickly, so you're moving a lot."
The basic equipment that people need for pickleball is a paddle, a ball, a good pair of shoes, and a court to play. Many places have been replacing their tennis courts with pickleball courts because they can make four pickleball courts out of one tennis court. In pickleball, the rules are very similar to tennis. 
"The main rules are like tennis: you got to keep the ball within the boundaries of the court and over the net," Dwyer said. "There are a couple of other line rules that make them both different, but definitely like these other sports [where] you have to hit the ball before it bounces twice."
Senior Bennett M is a pickleball player. He believes that one of the positive aspects of pickleball is the community it has.  Pickleball courts always have pickup games where people can hop on and meet new people.
"It's just very fun, and kind of action packed like there's always something exciting going on, and a big thing for me is I can just play with anyone," M said. "There's tons of pickup games, so I can just hop in games with random strangers that I've never met and just play with them."
M believes that pickleball is a fairly easy game to pick up. High school students already familiar with other net games would be able to understand the rules because they are similar. Also, pickleball is a relatively inexpensive sport, another positive aspect of the game.
"It's something fairly easy to get into, and I'd say pretty addictive once you really start getting into it and learning the rules," Mi said. "You know, it's pretty low barrier of entry also, if you have experience in tennis or badminton or really any net games, it will probably not be too difficult to pick up."
Currently, pickleball is still considered a fairly small sport. However, with the recent spike in popularity pickleball will only become bigger in a matter of time. According to the Sports and Fitness Industry Association (SFIA) over 8.9 million people played pickleball across the United States in 2022, which was double the number  of players in the United States than in previous years. 
 "I definitely think it will continue to grow. I mean, there's already right now a pro pickleball [association]. We call it the PPA, but it's still fairly niche and small," Msaid.
What did you think about this story? Do you have any suggestions for improvements or other articles that you would like to see? Please use the contact form to communicate with us! (Keep all information school-appropriate)
https://docs.google.com/forms/d/e/1FAIpQLSeRYRWwLLzvs2rqwHSGdr-DQRvxhUSx9UcaXypXxnvVuCqwyA/viewform
Leave a Comment