Hispanic/Latinx Heritage month
Hispanic and Latinx celebration, students and staff members share their cultures. 
Salsa music, reggaeton, pupusas, arepas and more; all belong to the cultures that are celebrated between September 15 and October 15. This is Hispanic Latinx Heritage month, where the United States celebrates the culture and history that Latinos have and continue to contribute to the nation.
For starters, these labels are complicated. Latino, Latina, or Latinx refers to a person who is from, or has roots, in Latin America (including Brazil). Hispanic, on the other hand, refers to someone who is from, or with descendants from a Spanish-speaking country. This label includes Spain, but not Brazil. Many people are Hispanic and Latino, but some only identify as Latino, while others as Hispanic.
As of 2020, the United States had a population of about 62.1 million Latino and Hispanic peoples, making them the largest ethnic minority of the nation.
Arlington has a population similar in diversity, with 15.6 percent, according to the U.S. Census Bureau, of the population identifying as Latinx. Hispanic and Latinx students make up about 30.9 percent of the school's population. The school also has several teachers and staff members who identify as Latino, Latina, or Latinx. 
Many are first generation, but there are also many students known as "recien llegados," who are new to the country. Many of these students are non-native English speakers, and therefore are placed in English Language Development (ELD) classes.
"[Essentially] it's English for non-native English speakers, " said Ms. Corey Meyers. "We read books [and learn the language], just like if somebody were taking Spanish 1 or Spanish 2 [except it's English being taught]." 
Ms. Meyers is not Latina or Hispanic, which could surprise some. 
"Ni una gotita de sangre Latina (Not one drop of Latina blood)," Meyers said. However, Ms. Meyers has traveled to several Latin-American countries.
 Her travel experience allows Ms. Meyers to have an easier time communicating and connecting with  ELD students, especially those from Latin America. 
"I feel like my role here is to be an advocate for my students, in terms of a parent would. Parents aren't necessarily in tune with how the system works or anything like that[I'm almost like] a surrogate mom," Meyers said.
In some cases, the students' parents are not here [in the country] with them, leading to the student being alone, and requiring a support system, which Ms. Meyers helps to provide. According to Ms. Meyers, her students have different and beautiful Latinx cultures. 
"Actually, for a lot of my students, Spanish is not their first language," Ms. Meyers said. "Instead, they speak Spanish and an Indigenous language." 
This specifically applies to many of her Guatemalan students, since Guatemala has about 24 Indigenous languages. She has a student that speaks Mam and another who speaks Kaqchikel. 
Many of these students face several obstacles, one being a lack of resources. ¶
"The complaints that get heard [in the school] sometimes are like teachers giving homework on holidays or weekends, and that kids are getting too much homework," Ms. Meyers said. "Whereas our complaints are like our kids don't have Wi-Fi."
Oftentimes, there appears to be a lack of emphasis on these students and their needs, whether it be regarding their resources or counselors, this is where Ms. Meyers' advocacy is demonstrated.
"So, I had a student back at Gunston… her mom was completely illiterate," Ms. Meyers said. "It took [the student] probably three years to get out of level one English. She now has a master's degree and is a social worker."
When Meyers was asked about more specific moments that have caused her pride in her students and their identities, she also listed a moment in which her students graduated and wore their traditional Guatemalan dresses to the ceremony.
"I don't feel enough people really go out of their way to reach out and include," Ms. Meyers said. "One might think they're okay, and think maybe, "Oh, they don't want to be included," but no, you need to go out of your way [and try to include them]. Again, put yourself in their shoes for a second. Pretend for one day."
Mr. Jimmy Carrasquillo, the Bilingual Family liaison and the school's varsity soccer coach offered further perspective.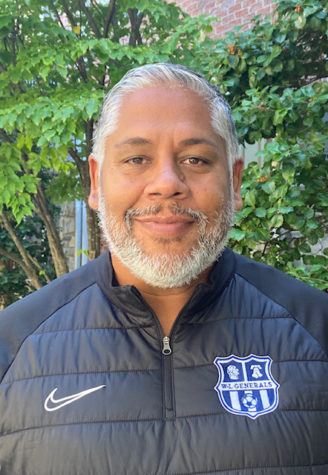 "[My job as liaison is to]  reach out to [non-English speaking] families, who are mostly Hispanic families, and we talk about the resources that are available in the building as well  community resources that are available," Mr. Carrasquillo said. "To make sure that there's communication and that [we are] bridging the gap between school and home." 
Mr. Carrasquillo is a first generation Latino, is Puerto Rican on his father's side, Ecuadorian on his mother's, and was born in the district. He has traveled to both countries since he was young. 
"I thank my parents for that [taking him to both countries], as it solidified, and just made me see what my culture and what my family background was, as far as not just the people, but the island itself, Puerto Rico and then the city itself and just the country of Ecuador," Mr. Carrasquillo said. "There's a bit of each culture that I fully embrace. I love salsa music, I love Latin music, which is big, obviously, in Puerto Rico, and reggaeton, a lot of Puerto Rican artists have contributed to that. On the Ecuadorian side, I play soccer." 
As a native of the district, Mr. Carrasquillo witnessed the population growth of the Hispanic/Latinx population in the area.
"It was a lot of Hispanic families, a lot of families that were first generation that were coming over," Mr. Carrasquillo said. "There wasn't a huge community… Then, a couple of community leaders got together and decided to start the first Latin American or Hispanic festival." 
He is referring to is the annual Fiesta DC festival held in the district. 
Mr. Carrassquillo witnessed the festival's beginning, in Columbia Pike, and its growth to the point where it had to be moved to downtown D.C.
Since Latinx people are considered a minority, they are more susceptible to discrimination than others. Mr. Carrasquillo faced discrimination when he was younger, specifically during the time of the carjackings in the nineties.  
"I was driving, being a person of color and there were two other guys in the back that were also of color," Mr. Carrasquillo said. In the passenger seat was his friend, the owner of the car, who was White.
 "I was driving my White friend's car, and it was a fairly nice one [car], said Mr. Carrasquillo. 
As they were driving, Mr. Carrasquillo and his friends were pulled over for no apparent reason. "As soon as we got pulled over, the police got us out of the car, and asked [my white friend] 'Are you okay?'… They didn't ask us [Passengers of color] that." 
This experience occurred during a time where crime was rampant in the district, specifically regarding cars being stolen.
Mr. Carrasquillo said that he definitely felt as though he was racially profiled in this situation. Illustrated through these events, discrimination often is something that many Latinx people experience throughout their lives.
However, Mr. Carrasquillo said that he uses his identity to connect and identify with other families who immigrated here with dreams like his family had.
"I do, I really do, try to make sure that I help [families] in any way possible," Mr. Carrrasquillo said. "I try to let them know that there is a light at the end of the tunnel… there will be other opportunities, because that's what's happened with my family."
Mr. Carrasquillo also discussed the importance of celebrating Latinx and/or Hispanic culture(s). 
"You know, although [most Latinx or Hispanic immigrants who come here] want to assimilate and they want to speak English and they want to do all those things, [it's important] to hold true [to the culture in one's country of origin]," Mr. Carrasquillo said. "Even though I wasn't born in any of the countries [my parents originated from],…       I still hold true to them; I still hold these countries and these cultures in my heart because that's a huge part of what has made me."
Mrs. Nitza Lord is another Latinx staff member. She teaches AP Government, U.S. history for EL students, and Economics and Personal Finance (EPF). Mrs. Lord is also the new sponsor of Latin American Association Club (LASA). 
She is a first generation Latina, Puerto Rican born and raised in New Jersey, in areas with a prominent Dominican and Puerto Rican population. Her father is from the city of San Sebastian and her mother is from Carolina. 
"My favorite part would be the tight sense of community, the food, and the music," said Mrs. Lord, regarding her favorite part of the Hispanic or Latinx cultures. "My favorite food is asopao de pollo and arroz con habichuelas (rice and beans), of course we had it every day [growing up]!" Her favorite type of music includes salsa and bachata. 
"A big part of the culture would be the multigenerational households. I used to live with my grandmother, aunt, and cousin for a while." Many Latinx families live with several generations; it is relatively common in the culture. 
Mrs. Lord believes her culture has been and continues to be a big part of her life. " [My Latin American culture] makes me who I am," Mrs. Lord said. ""It gives me identity and it reminds me that I'm a part of this special community." 
As previously mentioned, Mrs. Lord is the newest sponsor of the Latin American Association Club. She recently volunteered for the position.¶
Mrs. Lord's heritage makes student-teacher connections extra special and meaningful. "I try to make connections with all of my students, but it's especially nice and feels like home whenever I can make that connection with Hispanic families," Mrs. Lord said.  
As stated before, Latinx face a lot of challenges related to discrimination, in addition to harmful stereotypes. Many of these stereotypes are further perpetuated by the media. "[In TV & movies] They tend to play the role of maids, lawn care workers, or they're in the kitchens. It's upsetting to me that that's the first thing that comes to mind when people think about Hispanics in the workforce. There's absolutely nothing wrong with any of these professions, but it seems to be what comes to mind," Latinos and Hispanics typically get type casted," said Mrs. Lord. 
There are also several  moments throughout her life that caused her immense pride in her identity. "When the first Puerto Rican went to space, Joseph Acaba," said Mrs. Lord.  
In the back of Mrs. Lord's room, which is filled with posters relating to the government, near her desk, a poster of Joseph Acaba, is neatly hung.  "I just thought it was cool!" said Mrs Lord of the moment. 
As Mrs. Lord said, Latinx and Hispanics have been very successful in all aspects of the world, not just those that the media perpetuates. 
"Sometimes we forget that Latinos and Hispanics are CEOs, astronauts, community business owners, government workers, and work in all different types of fields," Mrs. Lord said.
When it comes to Mrs. Lord's pride in her Puerto Rican heritage, she is not only proud of Joseph Acaba.
"I am always proud of being Puerto Rican," said Mrs. Lord. "I am proud of the Puerto Ricans living on the island and the resiliency they've shown through numerous storms, their struggles with antiquated infrastructure and the regulatory whims of the U.S. government.  I am proud that they continue to persevere despite the unfair treatment of the U.S. government.  It hasn't been easy, and for that reason, I'm proud – proud of the people." 
Ms. Debbie Germosen has been at Washington-Liberty for 11 years and has recently moved to work in the library as the second librarian here at the school. Mrs. Germosen is half Dominican and half Salvadoran but because she didn't grow up with her father she feels more connected to her Dominican side.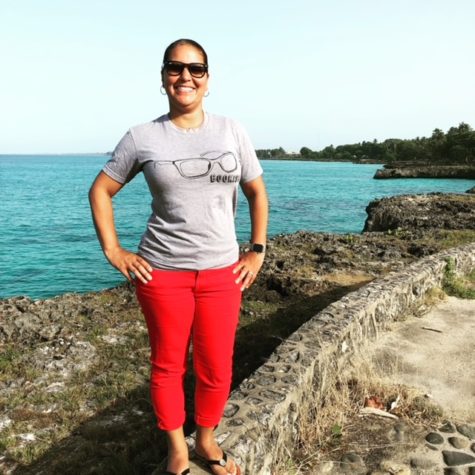 "So I feel more Dominican than Salvadoran, but I was born here in the United States," Mrs. Germosen said. 
Being born in the United States has made her feel half Dominican and half American. It was these cultures which were combined during the holidays such as Thanksgiving. Instead of just having turkey, Mrs. Germosen's family would also have Pastelitos and Flan, which may sound like an unusual Thanksgiving, but to her family it was a very traditional Thanksgiving.
Mrs. Germosen said that growing up in D.C in the 80's wasn't as diverse as it is now, but at the same time it wasn't all white but instead it was more of a mix since there were people in the neighborhood from Central America. ¶
"I mean, I love it," Mrs. Germosen said.. "That's why I love Arlington so much, even though it's little pockets [of Hispanics/Latinx] in there, but we know how to find each other."
The school has a population of about 30% Hispanic and/or Latinx students. The range of Latinx students in the school is diverse as there are people from all over Latin America. 
Latinx comes in all shapes and colors, as Latinx is not a race, but an ethnicity. Therefore, one can be of any race and still Hispanic. This is key because there is not one way a Hispanic or Latinx person looks as the community is too diverse to fit into one box.
"It's interesting, because I feel like I don't really look Mexican," sophomore Lucy Sanchez said. "I look way more American than Mexican, even though I'm literally half and half." Sanchez recently moved back to Arlington after having lived overseas for six years. She is a mixed Latina, with her mother being from the United States and her father from Mexico.
She has light hair and light colored eyes, and doesn't consider herself to "look" Hispanic and Latinx. 
"Most Latino people don't think that I speak and understand Spanish," Sanchez said, "So, I've heard people talk about me in Spanish, not thinking that I would understand what they're saying. I know exactly what they're saying." 
In regards to emotions caused by experiences such as those she said this:
"It's just kind of funny because I know I don't look completely Hispanic, and I guess I understand it. But it's interesting to me, because I guess I would do the same, like if I saw someone, I would kind of think the same. So I get both sides of it. There's lots of Latino people who don't look like the stereotypical Latinos." 
The stereotypical appearance for Latinos tends to be pale skin, dark hair and eyes. However, that's not always the case. Some Latinx are White, others are Afro-Latino, Indigenous, etc. Some have dark skin others have light skin, there is no single criteria when it comes to the appearance of Latinos.
Stereotypes such as these can cause a whirlwind of confusion and identity crises. "I think another layer to that is that I don't identify as being American as well, because the part of me that identifies as being American is because I've lived here, but I've also now lived overseas for almost half of my life. So it's like that has caused an identity crisis," said Sanchez. "I still kind of feel weird saying I'm Hispanic, because I don't feel like I look completely Hispanic, so people wouldn't believe me. That has kind of caused an identity crisis… I guess it has helped me start to realize that I can say that I am Hispanic because I am and I shouldn't be embarrassed about it."
Despite the identity crisis, Sanchez is still very connected with her culture. In regards to her favorite Latin-American traditions, and more specifically Mexican culture, she mentioned holidays such as Dia de los Reyes Magos (Known as Epiphany or Three Kings Day), a holiday celebrated on January 6 which commemorates when the three wise kings visited Jesus.
"It's actually a really cool thing [for all of] my Latino family, friends and stuff like that we all get together and do stuff. And that's something that has been really fun for me over the years… We would always get together and have some sort of party and just connect to that culture that we have," Sanchez said.
Another part of the cultures that Sanchez cherishes is the loving and affectionate nature. "It's quite different to American culture; when you see people you haven't seen in a while you should give hugs and kisses, and in American culture it's not as warm," Sanchez said. "Latin American culture, it's like, you can immediately start bonding with someone and have close relationships that would normally take a bit longer to form in different cultures, it's just more open."
Sanchez described an example of this cultural difference when she visited her family on both her mother and father's side, over the summer. "When we would have dinner with my Mexican family everyone's talking trying to catch up like 50 conversations at once everyone's just trying to catch up and talk to each other," said Sanchez. "But with my American family, it was kind of weird because no one would really talk at dinner and that was a big change because we had just come from my dad's side of the family."
In regards to discrimination that she has faced due to her identity, she said that she had been told several racial epithets. "When I've told people that I'm Latin American, I've been told, a couple years ago, to go back to your country," said Sanchez. "That's quite intense and I don't really understand why people would say that they need to know that Latin American people are American especially people like me who've been raised here their entire lives."
Latinx representation in the media is  rooted in stereotypes. "Sometimes we aren't represented as much as we should be, and that's kind of upsetting because there have been tons of accomplishments in our community that should be recognized," said Sanchez. She said that representation shouldn't only be about the aspects of discrimination that Latinx face, but also of their accomplishments, cultures, and successes.  
Sanchez is ultimately very proud of her heritage and culture, and she has several moments that specifically cause her immense pride in being Latinx. "My dad tells me a story about people when he told them that he was going to American college and that he got accepted. Some people doubted him and didn't think he was going to get in, because they were saying stuff like, 'no Mexicans will get in,' and he did, and people were surprised by it… It gives me pride because it shows that anybody can do that and it shouldn't be dependent on race or ethnicity," Sanchez said.
Born in Cajamarca, Peru, Carla Becerra came to the United States when she was just 11 years old. This is  something that has changed over time due to the fact that she attended an elementary and a middle school that was pretty diverse but a high school that wasn't as diverse, but is still able to appreciate the diversity of the school by being one of the UNICEF club leaders, as well as one of the co-leaders of LASA.
LASA has worked to make this month (Hispanic Heritage Month) special for the Hispanic/Latino/Latin x community at the school. LASA is a club that tries to represent the Latino community at Washington Liberty by doing fundraisers and coordinating events such as the Hispanic Heritage Month assembly and more.
Another Latina student at the school is LASA's president, Luz Argueta. Argueta is a senior at the school, who described herself as having dreams of becoming a psychologist, and who loves listening to music as a way to destress, specifically reggaeton. 
Argueta is a first generation Latina who is Mexican on her mother's side, and Salvadoran on her father's. Her family is from the state of Morelos in Mexico, specifically from a small city known as Juitepec, and from the Salvadoran state of San Miguel. 
Argueta said that she visited Mexico for the first time in ten years this past summer. She specifically said that she loved a specific moment. "I loved whenever I went to the market people were so kind as you could see their efforts to make a living," said Argueta. "In Mexico they were always like 'Bienvenidas, ven aquí, tenemos esto!' (Welcome, come over here, we have this!)." Arugueta liked going to the market because, "Everyone was so nice and my aunt knew everyone there cuz she lived there, and obviously the food!" 
Music and dance are huge in Latinx cultures, and Argueta cites this aspect as her favorite part of the culture.
"This might sound cliche, but I really like dancing. The bachata and the cumbia are really something I enjoy and I don't know why, it's just amazing to me," Argueta said. 
A cultural tradition that Argueta said that she loved was that of the Chinelos. "It's basically these costume dancers from head to toe, they kind of look like nutcrackers but more exotic in a way," said Argueta. "They have their face masks, they have a feather and like the huge feather and all that but I didn't know much about them. I just saw them on TV, or on Instagram, but what I like about them is the reason why it started," said Argueta.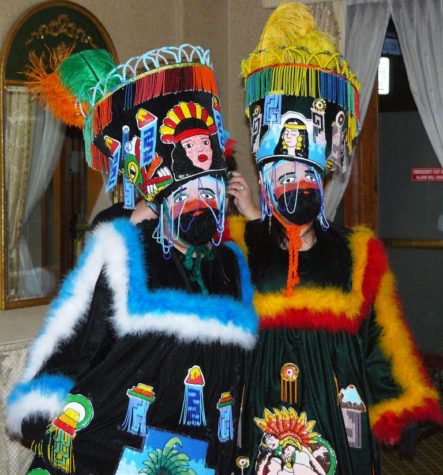 The tradition of the Chinelos goes back up to Spanish colonization of the Americas, specifically Mexico. "When the Spanish were conquering, it was a way to mock the Europeans for being so high class and rich and all that like stubborn, and it was a form of resistance," said Argueta. "They said they weren't going to, in other words, assimilate into the Europeans' culture and they weren't going to be conquered by the Europeans, " Argueta said. "I think that really resonates with me because I need to do things like dance, to remind me of my roots and not make my culture go away because that's how I represent my culture." The Chinelos is a tradition that is done in a few places in Mexico, one being the state of Morelos, where Argueta's family is from. 
In regards to her experience growing up Latina, she said that faced an issue with something that many Latinx experience: Assimilation. Argueta said that she attended a very undiverse middle school, where she was one of the only minority students.  ¶
"Everyone had this long, straight blonde hair and I just didn't, so I felt the need to conform to the point where I stopped taking my mom's traditional food," said Argueta. ¶
Another aspect of herself that she felt the need to change was her hair. "I damaged my hair, like you could tell because I always struggled with my hair, " Argueta said. "I hated my curly Lion's Mane, as I called it before, and so I hated my hair because nobody had curly hair." 
However, by middle school, she met someone who helped her overcome these challenges: Carla Becerra, the current co-president of LASA. "Through her, I found more diversity, someone to feel identified with, and so now since middle school, I slowly try to embrace my ethnicity instead of hiding it," said Argueta.
Argueta is the current president of LASA. She actually just took this position this year. According to Argueta, Beccera actually encouraged her to join LASA a couple of years ago, and that transpired into them developing a love for the club. "We went (to the meeting) and I started getting involved just as a member, I didn't do anything, and then I began having more personal connection to the officers," said Argueta. 
However, by her junior year, the pandemic had started and the club was not able to hold many meetings, and by that time, the officers in the club before the pandemic started had already graduated. "There were a lot of people, so I knew I wanted to continue this club," said Argueta. 
Argueta said the following related to the goal of the LASA club, "I want to make sure people fall in love with the arts, the music, the literature, dope dances, and anything that is created by Latinx people, and to ultimately be proud of fellow Latinos."
Senior Patricio Alarcon is also a member of the Latino community here at the school. Alarcon considers himself to be first generation since his mom is from Venezuela and dad from Chile, meanwhile he was born in the district. 
Alarcon has been a member of the LASA club since his freshman year. "I decided to join LASA because I wanted to get some sort of extracurricular credit. I also wanted to become interested and wanted to associate more with other students who were also Latino," Alarcon said.
In his time in the club he enjoyed several specific meetings, one being one of LASA's most recent meetings. "It was the first time I went to school and went to my last club meeting ever since quarantine more or less, and we also managed to make our paper flags. I made mine resemble the Colombian flag," Alarcon, currently a virtual student, said.
Being a student and person who is bilingual with Spanish being the first language he spoke has made him more social, meaning that he can interact with people that speak English as well as socialize and interact with people who speak Spanish.
"Most people who speak both English and Spanish might have a hard time trying to communicate with others, more or less with different languages. But since I can speak bilingual fluently, I actually made friends with other people who speak both languages like with the Spanish teachers, and with different people from both here and in Venezuela," Alarcon said.
Alarcon  says that his favorite part of the Latin X culture is that everything is so diverse when it comes to different types of music, dances and even sports, more specifically sporting events.
Finally, junior, Marvin Calzada is a student from El Salvador, and he immigrated to the U.S. when he was 15 years old. 
Calzada is currently learning English and is an ELD student of Ms. Meyers. Therefore, the following quotes have been translated into English. 
Moving is never an easy task, nor is learning a new language. Calazada has to do both.
"To be honest with you, when someone has recently arrived in this country, it's difficult. One, because of the language, and two, because one doesn't really know anyone," Calzada said.
Regarding his favorite parts of Salvadoran culture, he said that the food and traditional dances definitely are something he cherishes.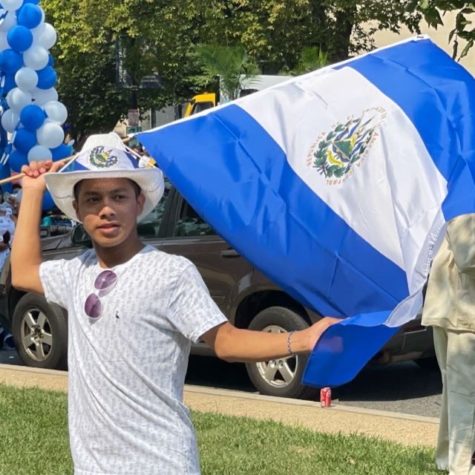 "To start with El Salvador, the food, especially pupusas because we don't only have one ingredient to make pupusas, " said Calzada.  "Also, there are some pupusas that are made here, but others only made in El Salvador. The only types (of pupusas) made here are of loroco (type of Salvadoran cheese) and ayote (squash), but in our country there are other types of pupusas that are made of different types of mote (varieties of boiled grains, also known as hominy) which can only be found in El Salvador." 
Another part of Salvadoran culture that Calzada favors are the traditional dances. "Es lo que nos representa a nosotros," (It is what represent us.) said Calzada. Specific dances in Salvadoran culture include el sombrero azul. ¶
El Salvador has a special annual celebration that Calazada mentioned: "There is a festival called El Carnaval de San Miguel (the Carnival of San Miguel), and it's celebrated in all of El Salvador, but more so in the state of San Miguel, and it has carrozas (floats), and stuff like that."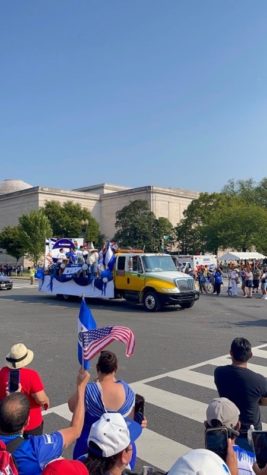 Calzada mentioned how he loved learning about different cultures, especially those of other Latin American countries. He said that he is really intrigued by the famous, Bolivian dish of sopa de mani, and would love to try it. ¶
"I like to go around participating in events like that which are celebrated," said Calzada. "For example, this year I went to the festival in Washington that they had about Latin American culture." 
If this festival sounds familiar, it's because it was mentioned by Mr. Carrasquillo. This festival occurs annually in celebrating Latin American cultures and each individual nation, and as previously stated Calzada attended.
"Well, to be honest, it was really beautiful and very organized; like Brazil participated, Bolivia, the Dominican Republic, and so many others," said Calzada. Attending the festival, according to Marvin, also caused him to have immense pride in his heritage. "When I went to the festival, I felt sort of incomplete because I didn't bring anything, not a hat, not a shirt, not a Salvadoran flag," said Calzada. However, his dilemma was promptly solved as he saw a man selling hats (with the name and flag of the nation) and flags. He said that he immediately went to buy a flag and a hat, which he can be seen sporting in pictures of him present at the festival. 
"When I saw El Salvador (in the festival), I was like 'Wow' because there was the float and everything,: Calzada said.
Despite being extremely far away from his family and home, he always remains connected to his culture. `Ya lo trae en la sangre uno, es como que uno ya lo siente, (It's already in one's blood, it's as if you one can feel it)," said Calzada. 
"Being Hispanic is something that we always have to maintain in ourselves as immigrants. I have always said that every person who immigrated from another country is like a representative for those countries, and we have to embrace our culture," said Calzada.
"Porque vengamos de donde vengamos nunca podemos olvidar de quienes somos, venirnos a este país es para superarnos pero nunca para olvidarnos de nuestras raíces ("Wherever we come from, we can never forget who we are, and coming to this country is to improve ourselves, but never to forget about our roots").  
Leave a Comment