Artists in the W-L Community
Creating art often begins with the stroke of an electronic brush, the prick of a sewing needle to the skin, the harmonization of melodies and chords. The possibilities of ways to create art, to many, are quite endless. During the late 60's and early 70's, environmental art sparked within the communities of wildlife and nature conservatives. Foreign Historic painters such as Claude Monet, Vincent Van Gogh and Frida Kahlo take the art world into what many view as a series of stories, scenery and emotion. Fast forward to now, and students at the school are taking their own ideas of art and transforming it into what they view as a more modern way of expression.
Junior Pia Cruz applies her Art III course expertise by creating electronic cartoon style drawings. While this particular method of creating art can cause controversy within older generations of artistic intellects, Cruz enjoys this generational advancement. Along with preferring to not use a physical sketch-pad, Cruz disregards the chance of creating art through realism.
"I'm not really a fan of realism," Cruz said. "Just because I think it can be really boring."
Inspired by the animation of cartoon shows and anime, daring color and exaggerated facial expressions characterize the artistic fields she finds comfort in. Sketching colorful drawings with her electronic pen translates the emotion she feels when drawing more so than the pragmatic dark and light greys of a pencil. Not only does she find happiness and cheer within creating such flamboyant art, but she sees it as an outlet of inspiration, an opportunity to bounce ideas off of her artistic peers.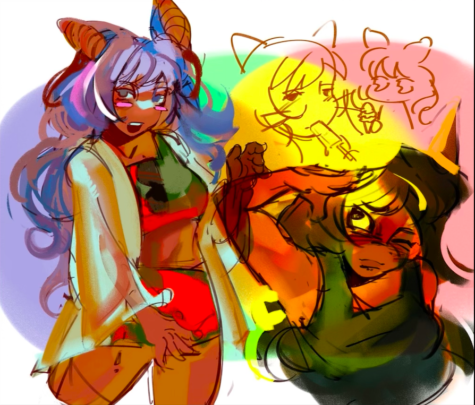 "I really like being surrounded by other people who like art as well, and being able to share [art]," Cruz said.
Although Cruz considers her creation of art a deeply personal hobby, she loves sharing her works and ideas with others in her Art III class and believes it is something that expands her abilities as an artist.
Cruz would like to continue creating art throughout her young-adulthood and plans on advancing on with her art by taking Advanced Placement (AP) art her senior year, and enrolling as an art minor her freshman year of college. 
Sophomore Evie Chandler, on the other hand, channels her artistic eye onto fabrics. Chandler spent the time within her pre-adolescent years as a figure skater, and, while she enjoyed skating, what mainly interested her were the skating dresses and skirts.
"I quit skating but I still wanted to do fashion design, and so I started making my own clothes," Chandler said.
With the use of a fabric app and the experience with creating patterns though oil pastel, Chandler can sketch out her desired pattern and have it ready to sew within just a few days. Her mother, who taught her how to use a sewing machine, also played a role in her desire to become a fashion designer.
"My mom can sew really well, and when I'd design my dresses, my mom would make them for me," Chandler said.
Chandler hopes to take her skills as a fashion designer into the world of high class fashion and create a label for herself someday. Her future label will consist of colorful abstractions and patterns based on her oil pastel works of art and target audiences with a similar artistic liking.
"I want to have a company," Chandler said.
Contrasting the primary visual artists mentioned prior, Junior Bemnet Mechal is a lyricist and rapper. He finds inspiration in various musical artists including Nathan John Feuerstein, most commonly known as NF, along with Adele, and NBA Youngboy. Mechal is drawn to these artists due to their lyrics. Rather than drawing inspiration from artists within a particular genre, he finds interest in whichever artists deliver the best song. Mechal believes the best song is always accompanied by the proper rhythm and unique flow.
"If it sounds beautiful, I'll like it," Mechal said.
Listening to these highly regarded artists ignited a flame of desire within Mechal.
"[I realized that] maybe i could do that too," Mechal said.
Believing that this kind of art is something that not many can fully devote themselves to, especially at an evolving time such as the adolescent years, Mechal sees himself as unique. At first, he began writing in pursuit of fame. However, upon reflecting on what this art truly meant to him, he realized his dishonesty. Being a lyricist cannot come from seeking fame, Mechal believes. 
"[Creating] your own art means you're starting from the bottom," Mechal said.
Reflecting on his past, Mechal remembers the moments he shared with his friends, messing around with beats and lyrics. Though now, during his limited free time in Generals Period (GP), Mechal is often in the studio room at the school spitting verses and listening to beats his friends have created. While he is focused on the future, Mechal is careful not to forget his past.
"Knowing how you came up is what's going to get you [acknowledged]," Mechal said.
With long term plans of becoming a known rapper in his future, Mechal is currently working on rapping up an unfinished album.
These three individuals perceive art in quite different ways, but what makes their stories similar is their passion for the subject.
"Even if I don't [become noticed] with my art, I have to keep going," Mechal said.
Leave a Comment