Small businesses during the pandemic
Arlington business owners share their struggles and triumphs throughout the pandemic
"Shop Small" signs can be seen in windows and inside various small businesses almost everywhere. The signs are placed with the goal of encouraging people to buy from local businesses that may be struggling due to the pandemic. Small businesses are so important; according to the Small Business Administration there are 28 million small businesses operating in the United States, and small businesses have generated 66% new jobs in America since 1995.
One small business, Hier and Haines located in McLean at 6236 Old Dominion Drive, a salon, was created fifteen years ago by Annette Haines and her business partner, the Hier in the duo, hough six years ago Haines bought the business out, ending Hier's association with the salon. 
"We were both in partnership with another larger salon in downtown McLean and we just decided that we wanted a smaller salon that could serve our community a little bit better," Haines said. "[At Hier and Haines], we provide haircutting, all types of coloring; highlighting, balayage-ing, one step color, fashion colors. We provide straighteners, semi straighteners, present blowouts, etc."
Hier and Haines also have various products that can be bought at the salon.
"The products that we carry are professional lines that work well with all types of hair; for fine hair, dry hair, straighter hair, curly hair, shampoos, conditioners, styling products," Haines said. "[We] even have a dog shampoo that one of our companies makes, and all the money goes to an animal rescue, which is awesome."
Another small business owner, Johanna Braden, began her journey as a gift shop owner eight years ago when she opened Two the Moon in Arlington at 6501 29th St N.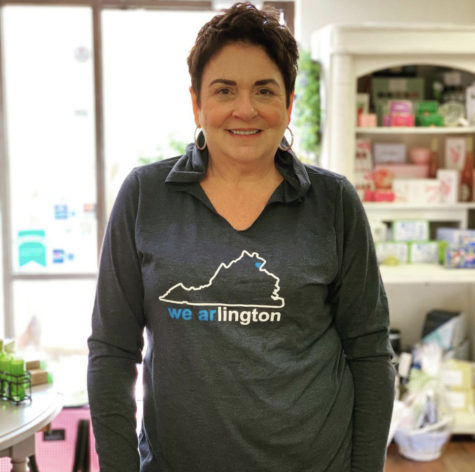 "I retired from nursing after 35 years and decided that I wasn't ready for retirement, and I had done some work in a small shop in Arlington before and decided back in 2014 to give it a go," Braden said. "We have food, jewelry, home, personal, baby decor, seasonal decor, candles, just a little bit [of] everything that you can imagine we have in the price ranging from a couple of dollars up to 600 dollars."
Similarly to Braden, John Nicholsan began his flower shop, Company Flowers, in Arlington 22 years ago with his wife, Marnie Nicholson, after his retirement.
"I got sick and tired of all sorts of business jobs; I worked in the Peace Corps, I worked up on Capitol Hill, I worked on all sorts of [projects]," Nicholson said. "I said to my wife once our kids were out of college, 'I think I'm going to retire and let's go buy a flower shop.' She likes to make flowers, so she said okay, and we did."
Company Flowers is located at 2107 N Pollard Street. Company Flowers also has gifts and sources their flowers from all over. 
"We have some gifts, lots of fun gifts for any age, but the most fun of all is all the unusual flowers," Nicholson said. "We get our flowers from Amsterdam. We get our flowers from people in California who go to [the] California woodlands just for us. We have people that are local and have flowers growing just for us. There are people in Florida who provide us with wonderful orchid plants from Florida. We get all sorts of wonderful flowers worldwide."
During the pandemic, small businesses have gone through many challenges.
"I asked different companies to change payment plans when we didn't have the money, and I took advantage of small business loans through the Paycheck Protection Program [The Paycheck Protection Program provides small businesses with funds to help support their business. It can be used to pay interest on mortgages, rent, and utilities]," Braden said. "It forces you to call your insurance company, call your garbage company, call your Comcast, call your security company to ask if [you] can get a better deal to try to save money in other ways. When your business is told to shut down and not a human can come in the store for three months, you have to figure out how to make money." 
Along with taking advantage of programs and finding better deals, Braden has also begun offering embroidery services at Two the Moon, which are available for all. To help the business succeed she also had to make changes to the shop itself and the method of selling products.
"We changed, we shortened our hours, shortened the staff; the number of people on and what time," Braden said. "We ordered less in the beginning and we did virtual shopping. We developed [a method] where you would call in FaceTime and we would take our iPad around the shop and you would choose what you want and we would drop it off at night. That was the only way we could stay alive to pay the rent and the taxes and everything else."
Similarly to Braden, Haines also had to figure out a way to make money during the shutdown.
"We did grab and go color [people would order dye to use at home and then pick it up at Hier and Haines] which was great and that really helped us through those nine weeks of being closed," Haines said. "We've made some changes to our hours, [such as not] getting up really early in the morning — we don't open our salon till 10, we used to open at eight. We [also] schedule our appointments a little bit differently now, so we don't have quite as many people in the salon at one time. I still feel like we have a health epidemic right now so we don't want to overcrowd our salon. We still have our stations so that we're still kind of six feet away from the next person."
Company Flowers also had to make changes.
"When we started out having masks and COVID, all of the wholesalers and all of the people in the flower business couldn't hire employees because they didn't have them come into their business without masks," Nicholson said. "We didn't know enough about [COVID], so everything shut down except for Company Flowers. We had contacts in California, people in California who were not only wholesalers, but also growers. Growers weren't regulated the way the wholesalers were so we were able to get flowers when nobody else had flowers." 
Even though Company Flowers was able to receive flowers, they still faced challenges.
"We had to cut back our staff in half, a lot of our business has dropped out and even today we operate at reduced staff," Nicholson said. "There are no commercial businesses like offices [having] lobby flowers and things like that. People aren't [having] big parties. Everybody used to have big parties and have flowers, they don't have that anymore. Consequently, we've still had to cut back but we keep trying, and eventually we think that the flower business will get back into full swing."
Another struggle that many businesses have is the current supply chain which has been affecting people globally. The problem began at the beginning of the pandemic when factories in different countries had to be shut down; some are still shut down, which led to shipping companies limiting their operation because there would be a great drop in demand. The shipping companies were wrong and demand actually went up. Because of that, factories produced more products, but there was still no way to ship them. The shipping debacle is most likely going to last through 2022. 
"We usually get lots of flowers from Amsterdam that are flown by Koninklijke Luchtvaart Maatschappij N.V. [KLM], a Dutch airline," Nicholson said. "KLM flies many flowers to Boston, New York, and to Washington. We get our flowers from Washington and KLM has decided that they are going to cut back because not enough people [are] flying internationally. They have restricted the flow of flowers from Amsterdam. That's been a disruption for our flowers, which means that we then have to go find people in California who normally don't supply us." 
Amsterdam has a large market that processes 30 percent of all the world's flowers, making it cheaper to purchase flowers from Amsterdam than California. California produces 75 percent of the United State's flowers and a much smaller world-wide percentage than Amsterdam. Unlike Nicholson, Haines was able to obtain products during the height of the pandemic through her regular supplier.
"We were shut down for nine weeks in 2020," Haines said. "My sales rep called me and told me that it was gonna be really difficult to get products. We had to end up over-purchasing color to end developers [developers that develop color and goes down to the end of hair], professional color, professional developers, and even foils, gloves, and masks. We had to over purchase a lot of that stuff even though we didn't have any income coming in, which led us then to unfortunately be in some credit card debt. We even had some of my fellow salon owners in McLean call me up when they opened and asked if we had stuff because they were so short, and we loaned them [hair supplies]." 
Even being able to get supplies early on, now it is harder to get supplies they were previously able to receive.
"We can't get a hold of curling irons, blow dryers, and there are some colors and developers that we're short on," Haines said. "Goldwell color colorline, the color line we carry…it's made and comes from Germany, so we're having a little bit of a tough time getting that hold of it."
Braden, owner of Two the Moon, has also observed a huge change in the product she is able to get.
"We have noticed a huge impact, people are coming in for something and they're leaving because we don't have it," Braden said. "2020 was bad enough when we were closed down for three months, then we had to only have a few people in the store, but at least we had products. Now we're missing products and we're having customers, but we can't get our products."
For the products she can get, Braden has noticed a raise of price in doing so. 
"If we can get our product, the supplier is charging me an extra price for the surcharge for the container charge," Braden said. "We are desperate, 40 percent of what we normally would have for Christmas has not arrived yet and normally that arrives in June. We are terribly affected by [the supply chain shortage]."
Another change highlighted by the "employees needed" signs and the number of people on the government unemployment check, is that businesses are struggling with a lack of employees. On the other hand, businesses also had to fire employees because of the pandemic. 
"We ended up losing three hairdressers, which was tough," Haines said. "Some people went on to not go back to work because they were home with their kids. Some decided to move away because of the pandemic and it's been hard to hire people."
Braden, on the other hand, lacks the trouble of hiring people due to returning employees from college and chooses to focus on other business aspects.
"People have trouble hiring, I've never had that trouble," Haines said. "I have girls that are in college now that have worked for me since eighth grade. I heard they'll all be back and  that's lucky for me. I like building something from nothing, and there's something special about that, and I knew if I failed, it wouldn't be for lack of trying."
In order to bring attention to their businesses, Two the Moon, Hier and Haines, and Company Flowers all  use social media to advertise, but get most of their business off of referral from previous customers.
"We do most of our business off of referral and our Instagram," Haines said. "We hope that people enjoy our Instagram posts and like what they see and want to come in and see us because of that. We are a very unique community, a small hair salon that people just enjoy coming to. We're very friendly, very family oriented. We have Gus, our little dog, who is there everyday; people enjoy him. I hope that people like coming here because it's just a nice comfortable place to come to and [because] I've got phenomenal hairdressers."
Company Flowers and Two the Moon also have found that word of mouth is the best advertising. Two the Moon takes advantage of social media for this purpose.
"Instagram, and Facebook have been great, it's free," Braden said. "Every kid that comes in here, I ask them to Tik Tok it out to their friends or Instagram it on their stories. I [also] do a lot of live videos, and people seem to like it. I've known 90 percent of the people that walk through these doors for eight years, I know them all and if I don't know them at the beginning, I'll know them at the end of the time they're shopping, so it's really word of mouth. We've become the go-to neighborhood gift shop."
Although owning a small business can be tough, according to Haines, there are a lot of great aspects about doing so.
"Our staff is amazing," Haines said. "I love them so much and [having them] gives me some freedom to do what I think is best for my employees, to not  be so hounding. I like to be able to give my staff freedom and artistic freedom, and I have that artistic freedom as well. I love that I get to work in the chair every day and do hair."
Haines also loves the creative aspects of her business.
"It's awesome to be a hairdresser and own a business because I understand the business," Haines said. "I love what I do behind the chair so it keeps me very creative every day. Managing a business is challenging, but we make it work." 
Nicholson has found joy in serving his community.
"I think the most enjoyable part is that… [what we are doing gives] great satisfaction for other people," Nicholson said. "We like to serve other people and we make our own decisions. Sometimes we don't make as much profit, that's the way it goes. At least we're giving the most satisfaction and the most fun for people by having good flowers."
Braden wants people to know the struggles of the business.
"I think people don't understand the difficulty that running a small business is," Braden said. "We started our eighth year this September, so obviously we're doing something right; however, [owning a business] is never ending problems, that's the truth. Nobody can say they do this because it's an easy job to own your own small business. People don't say, 'Oh, I'm gonna look for the easy way out on my own small business.' That's just not it."
Leave a Comment