Meet UNICEF Club President: Carla Becerra
Students work to provide food for international children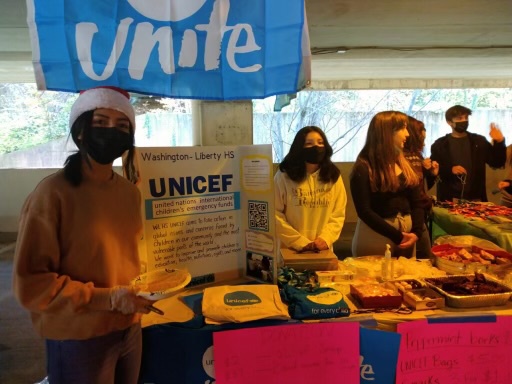 With a devotion to helping children in impoverished situations and having a strong sense of leadership, senior Carla Becerra is influencing the members of UNICEF (United Nations International Children's Emergency Fund) Club to do just the same. The club here at the school was created for people with the initiative to contribute to the UNICEF cause by helping children worldwide with their development and personal rights.
The club as a whole is helping and protecting children while learning the different situations each community experiences. The UNICEF cause has created several different projects to help children in need and Becerra herself has taken an interest.
 "After I graduate, I'd like to join the ambassador program and maybe pursue a career with UNICEF," Becerra said.
With origins in Peru, Becerra took an interest in social welfare programs due to the developing nature of the country. 
"Coming from a developing country I always wanted to help back and UNICEF did just that," Becerra said.
This gave her a strong sense of wanting to give back, and a duty to provide support for children across the world. Having joined the club her sophomore year, she has participated in several service projects, including her personal favorite, the Holiday Bazaar—an event where the community of Arlington and the students of our school exhibit and sell works of art and homemade food. 
Being a leader comes with multiple responsibilities and her main duties are organizing meetings, recruiting members, and connecting with UNICEF club leaders from other schools. Although Becerra is the UNICEF club leader, there are many officers who help her, often in connecting with members to create projects. 
After a successful holiday bazaar the club is looking forward to future service projects, such as the Valentine's fundraiser and other soon-to-be planned activities.
     "They help children in impoverished situations, which is something meaningful to me," Becerra said. "I hope to work after college with UNICEF in some way."
Leave a Comment