Catching up with Culinary Arts
Despite COVID-19 shutdowns, the culinary arts class continues to operate a full-service restaurant and food truck
A note: As freshmen in 2019, we met Chef Renee Randolph and the culinary arts class while writing our second ever article for Crossed Sabres: "Look what's cooking at the career center." Impressed by the program, we returned a month later to report on their new food truck – "Off the Pike" – and released the article "Culinary Arts and Sciences class rolling out the next big project." Coming up on four years later, we circled back with Chef Randolph and her students to catch up and learn how the class had fared through the pandemic.
"It's 9:00!" Chef Renee Randolph called out to her students. "If your salad's not molded by 9:10, you have to stop." 
Many students may be used to time calls while taking a test or finishing an assignment, but salad molds are not usually at the end of that sentence. However, food labs occur weekly in the Culinary Arts and Sciences Class at the Arlington Tech Career Center – a high school curated to hone interdisciplinary skills. It is up to Chef Randolph to keep the class moving between rolling, chopping, cooking and, yes, molding.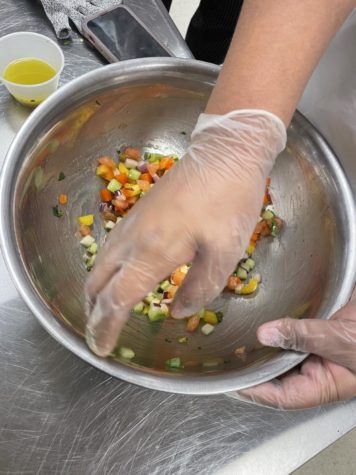 "There's just not enough hours in the day," Chef Randolph said. "Core subject teachers have their own struggles as well. They write lessons, they grade papers, they do extra study sessions and that sort of thing. I do all of that. I also go to Restaurant Depot, I also take a food truck to the football game on Friday nights. I'm also practicing for [a] competition."
The class is available to Arlington Tech students as well as those at the school (Yorktown and Wakefield, too) with back-to-back elective blocks – meaning they have time to travel to and from the Career Center. At the end of year two, students take the American Culinary Federation (ACF) Culinary Cooking exam, which certifies them to work in the kitchen at restaurants. For those who continue the class, the end of year three means taking an exam to become an ACF certified baker, this is a slightly longer test focusing on pastries and baking. Both of these certifications prepare students to take on management positions once entering the workforce. Even for those not looking to go into a culinary-based career (approximately 20% do), Chef Randolph and her students maintain that the course holds value in everyday life.
"You can become managers and higher level positions going straight into the workforce, rather than [just] starting out … that's pretty awesome," Arlington Tech senior Maya Scherlag said.
Like other classes, the Culinary Arts and Sciences course shifted online during the COVID-19 pandemic. Students continued cooking and were told to purchase the ingredients themselves or pick them up free of charge from Arlington Tech at the beginning of each week.
"[The class itself] had a lot more costs [during the pandemic] actually," Arlington Tech senior David Bruce said. "A lot of students didn't have the right equipment, so each student got their own scale to keep, and also all the ingredients and their containers." 
Chef Randolph expressed some distaste towards the virtual class period. However, several students found it relatively effective compared to other classes. 
"I was in Animal Science at the time – you can't take animals home – so it was definitely a challenge," Scherlag said. "I definitely learned from [the Culinary Arts and Sciences] class."
Despite conflicting opinions on the effectiveness of virtual classes, most welcomed the return of in-person classes. Just before the shutdown, the Culinary Arts and Sciences class had accomplished a major goal of purchasing a food truck. The truck remained unused for about a year. However, the class began to take it out again once hybrid learning began. This year, the Culinary Arts and Sciences class used the food truck almost weekly during home football games, typically at Wakefield.
"I don't think we brought in as much revenue during [the pandemic], obviously, because we didn't have a food truck, and a lot of catering orders were also canceled," Scherlag said. "[However, the food truck] had a lot less costs because our program just had to pay for the ingredients during the pandemic; we didn't actually have to pay for any equipment or upkeep [of the truck]."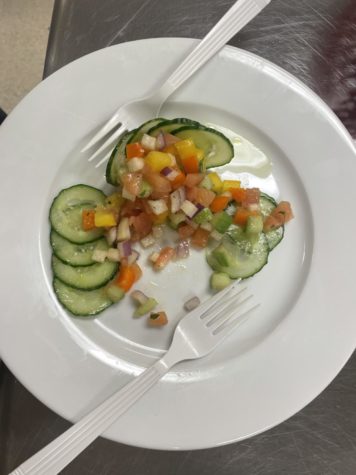 While the Off the Pike food truck provides students with on-site training and the ability to generate personal revenue through earned tips, there is a less mobile option for those unable to take shifts on the vehicle. The Career Center's pop-up restaurant of the same name is a larger scale operation that many students choose to participate in. Serving the local community, they prepare their signature bang-bang shrimp in the kitchen while others work in front-of-house positions. These include hosting, busing and waiting on customers to provide a holistic food service experience. This version of Off the Pike also took a hiatus during the pandemic, returning for the first time in December, 2022.
"Some of us were dining service, and some were [working in the kitchen], it was super cool," Scherlag said. "I think they were definitely both difficult jobs."
The program has an annual budget of $12,000. While that may seem exorbitant for those unfamiliar with maintaining a classroom and kitchen, the money would only last until about January if not supplemented. Due to the prices of equipment, seasonal food purchasing, and repairs on mechanical elements of the truck and kitchen, the class is reliant on these money-generating ventures to help fund labs and activities. 
"I don't complain," Chef Randolph said. "We're doing a little better than some of the other local programs. We have a nice budget, but it's still not enough for what we want to do."
The food truck alone cannot support the program, leaving Chef Randolph and Instructional Assistant Bethany Solano to organize ventures that allow all of their 60 students to enroll in the course. Catering Arlington Public Schools' (APS) functions and other small-scale community gatherings puts the entire class to work for the greater benefit of the program.
"Our truck is licensed only for hot holding and cold holding, we have to do the cooking here," Chef Randolph said. "We can go to events, and we can sell out, but that really only makes us a couple hundred dollars. Whereas if we had a truck that we could cook on, then we could make more and we could sell more."
Students also use these opportunities to earn credits towards travel, food, and housing costs during competitions. They plan to participate in Disney's "Cook Around the World," hosted in Orlando, Florida, this spring. There are limited slots available to students, but, for many, the chance to compete as a team was too good to pass up.
"The first time we went [to "Cook Around the World"] was 2017," Chef Randolph said. "There were 50 schools from across the nation there. We were scheduled to go the year of the pandemic and, unfortunately, it had to [be] canceled. So this will be our first time returning since the pandemic."
Despite the tumultuous nature of the culinary world and the added stress of COVID-19, Chef Randolph balances her many roles as a teacher, accountant, manager and chef through an appreciation for the industry. Unlike working in a full-fledged restaurant, Chef Randolph can  create a dynamic workspace to educate aspiring culinary professionals. With this comes reasonable hours and less demanding year-round responsibilities.
"I learned very early that although I love this industry and what I do, the work-family balance thing, I wanted to do it a little differently," Chef Randolph said. "That's why I'm here."
Leave a Comment