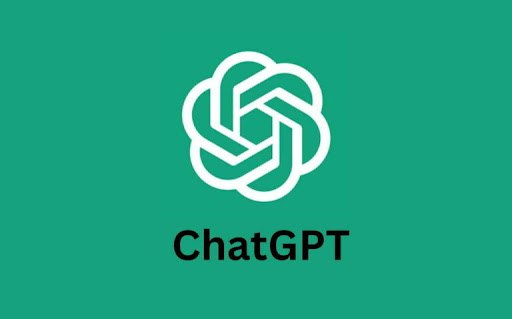 ChatGPT has tremendously impacted students and teachers since its release in the late fall of last year, and the platform is the subject of both frequent praise and frequent criticism. Ask what someone thinks about ChatGPT in schools, and they will likely bring up something about students using the platform to cheat on assignments.  Due to concerns about academic integrity, Arlington Public Schools joined other districts in the area to ban ChatGPT on all student devices. However, teachers still have access to this resource on their county-issued devices. 
Many teachers are trying to find ways to use ChatGPT to assist them in teaching their students.
"I know a lot of teachers have been trying to be really creative and try to figure out ways that they can utilize chatGPT to benefit students," said English teacher Ms. Candice Barbara, "[finding] ways that we can use it to teach rather than it… [becoming] this looming negative entity."
Some teachers at the school are experimenting with the technology to help with brainstorming, lesson plans and class activities. 
"I really liked that it gives me an opportunity to brainstorm," Ms. Barbara said. "I think it's really cool that it can take [what you put in] and help you get to the next step."
Ms. Jessica Phan, another English teacher at the school, explained that many teachers she knows are conceptually on board with utilizing ChatGPT to assist with their lesson planning. She  surveyed the English department and asked teachers if they wanted to use artificial intelligence (AI) in their classrooms.
The results "[were] really split between 'I don't use it right now, but I want to learn' and 'yes, I've been playing around with [ChatGPT]…' I think it's very clear that people are interested, but they don't know where to start,"  Ms. Phan said.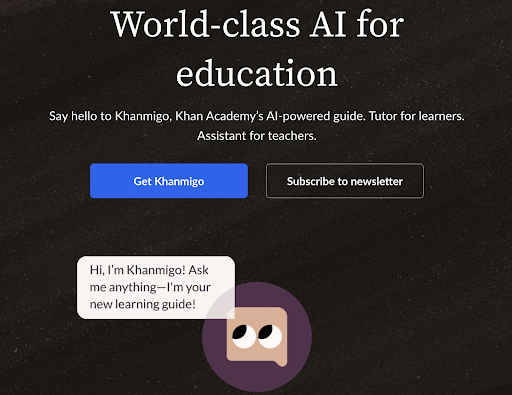 Ms. Keri Bongo, an AP Psychology and USVA History teacher, can see these AI technologies becoming valuable tools for teachers. 
"I [spend] hours and hours lesson planning and grading assignments and grading assignments," Ms. Bongo said. "If I had an easier, quicker way to do that that's still efficient, effective and accurate, that would be a huge timesaver."
All three teachers expressed a desire for professional development from the county to help teachers maximize the benefits of ChatGPT. 
"I don't think that that's going to happen because there are bigger fish to fry, of course, on a broader county level," Ms. Bongo said, "but as someone in the trenches, that would be great if we could learn how to use this for our benefit."
Ms. Barbara believes that this is not something that is going to go away, so people should learn to work with it.
"AI is here [and] it's gonna keep building," Ms. Barbara said. "I was definitely a little apprehensive towards it at first, but I think if we just embrace it and try to find the best ways to make it work for us, not against us, then that'll work." 
She said that if people already knowledgeable about these technologies in the county could provide professional development for teachers, it would be beneficial.
Not only could professional development be helpful for teachers, but it could also benefit students. 
"I would love for there to be actual training to help teachers understand it better, and… kind of a model for us, a framework for teachers to help students use it," Ms. Phan said. "I think it's a really important skill set, and we need to be taught, and students need to be taught."
However, it is unclear if and when the county will ever allow students to use ChatGPT on their school laptops again. 
"Actually, I had asked the higher-ups in the county about this, whether it's going to… be banned for a while or not," Ms. Phan said, "they said that for now, it's banned but you know, it's uncertain… but it could very likely change in the near future. So [in] maybe like three to five years or so [it will change], but hopefully sooner."
It is still unclear how much APS's blocking of the site will deter detrimental uses of it by students. The teachers all shared that they have felt concerned about students using ChatGPT to cheat in their classes but wished that students would not.
"The thing that I think a lot of us English teachers have been discussing is, it wouldn't bother us if [ChatGPT] was used as a tool to help guide or teach," Ms. Barbara said, "instead it becomes a copy-paste, and then there's no learning there… What makes it sad is I'd rather a student tell me 'I can't do this, I'm struggling' then just go into AI or something. Then, they miss learning the skill that they need. I can work with someone when I know where their writing is, but if I don't know and it's just an AI then I can't help you."
AI technologies that assist students in doing their work have existed for a while, but they were primarily for math classes. Now, with the advent of ChatGPT, students can use the technology to help them with writing-based assignments a lot easier. 
"I think we'll continue to stray from it and stray from it," Ms. Bongo said, "because it takes away learning, comprehensive thinking, critical thinking and critical writing." 
Teachers are concerned that students could lose important skills if students misuse ChatGPT. 
"For students right now, we don't have the leverage to make [ChatGPT] positive for them," Ms. Barbara said. "If they're not utilizing it right, it's only going to be a detriment to them. So until we      can teach them how to properly use it, it's a waste for them."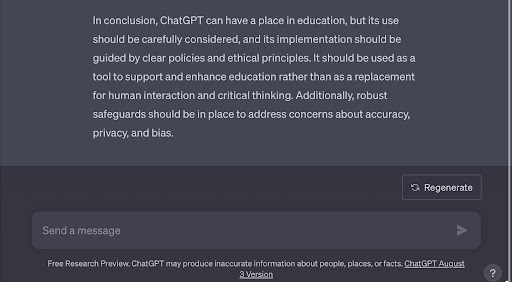 Ms. Phan actually designed a series of lesson plans for this year about ChatGPT that she had been hoping to use before the school blocked the platform for students. They included activities such as "debating the bot" and finding and pointing out some of the flaws in the AI.
"I think that's the biggest thing is that this is not going to go away," Ms. Phan said. "It's only going to probably be more advanced. So it's kind of irresponsible to kind of not talk about it, right?"