Migos lyric falls flat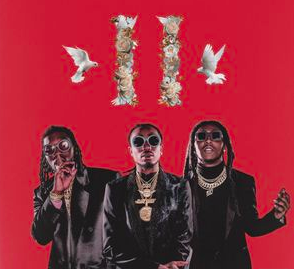 The rap group Migos released Culture II on January 26, a sequel to last year's popular Culture album. Migos, whose members are Quavo, Offest and Takeoff, is based in Atlanta, Georgia. They have seen commercial success in recent years as Culture was certified platinum by the Recording Industry Association of America (RIAA) in July 2017. However, the group has also faced allegations of homophobia and transphobia, which has made it more difficult for some fans to support them.
The album, which is 24 songs long, has not been as well received as Culture, with critics claiming that the sequel lacks the same organization and purpose as the original. "The album plays like a long and formless grab bag," Pitchfork writer Meaghan Garvey said.
Several students at the school were also disappointed by the album. "Culture II is underwhelming and it didn't live up to the hype," senior and rapper Ritavash Chowdhury said. "The only positive from the album is that Takeoff has been established as the number one member of Migos." Takeoff is the only member of Migos that hasn't been involved in a separate project recently, and some fans see him as the odd one out of the group.
Migos has risen to prominence in the world of hip-hop and rap over many years. They first broke out in 2013 with their single "Versace", and then saw viral success again the same year with the song "Hannah Montana". Their lyrics are typically designed to be more catchy than meaningful, as evidenced by the fact that "Hannah Montana" beings with Quavo saying "Hannah Montana " eight times, a refrain which is repeated six times over the course of the song. Still, their music is catchy and extremely popular. "Hannah Montana is a classic," Chowdhury said. "It may be a bit repetitive but it goes hard."
Migos is not universally loved, however. Activists have pointed out several instances in which the members of Migos have demonstrated homophobia. Their lyrics, for example, contain homophobic slurs. Offset caused controversy in January when he rapped, "I cannot vibe with q****s" on the song "Boss Life." After being called out, he defended himself over social media. "I didn't write that line about gay people," Offset said in a post on Instagram. "I mean lame people. Lingo that means strange or odd."
For some fans, this apology was not enough, in part because the accusations against Migos are not entirely due to their lyrics. For example, in response to allegations of homophobia, Quavo gave what was, to many, an unacceptable response: "I got a record with Frank Ocean. That closes my case," Quavo said. Frank Ocean is a bisexual alternative R&B artist.
"That argument is ridiculous," junior Benjy Kline said. "Having a friend from a marginalized group does not mean that you can't be an oppressor."
Another example of the group's homophobia, this one from an interview, came in February 2017. When Rolling Stone writer Jonah Weiner mentioned that fellow Atlanta artist iLoveMakonnen had received support after coming out as gay via Twitter, the Migos were incredulous. "They supported him?" Quavo said. Offset and Takeoff agreed. "This world is not right," Takeoff said.
This controversy has forced people to answer the question of whether they should continue to support an artist's work even if that artist is, for example, homophobic. "I don't see a problem with consuming art if the content isn't negative in itself," senior Sachi Cooper said. "It's wrong to actively support the artist themselves despite wrongdoing, but to a certain degree the art can be separated from the artist."
The Migos appear to be part of a larger trend across the entertainment industry. One example of this has been the Me Too movement in Hollywood, in which women have taken to social media to expose those of their (mostly male) peers who have sexually harassed or abused them. More and more, consumers of art are being forced to consider the character of the artists who create what they watch and listen to. "I think things like the Me Too movement are necessary, because people need to know when an artist does something wrong," freshman Hugh French said. "But I think when it comes to artists I like, I put it out of my mind. I like the music too much."
Leave a Comment