Lights, camera, camera, camera, action!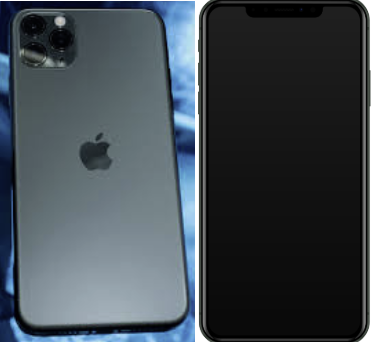 If you have been haunted by the "back to school" signs at your local Target for the last couple of weeks, know that there is a light at the end of the tunnel. September annually signifies the release of Apple's newest technological creations. Although in past years there have been some underwhelming new releases in the iPhone industry, this time around, Apple's iPhone 11 and iPhone 11 Pro are both chock full of major tech upgrades, including three times the camera quality (literally). 
On September 10, Apple officially announced its iPhone 11 in three different models: iPhone 11, iPhone 11 Pro and iPhone 11 Pro max. The standard iPhone 11 model features six different finishes: purple, yellow, green, white, black and red. Purchasing the red finish helps raise funds and awareness to help eradicate AIDS, which Apple has done in  past years. The iPhone 11 Pro models feature the more metallic side of the color spectrum, with gold, space gray, silver and midnight green finishes.
Both phones have had a full internal upgrade with longer battery life, the new A13 Bionic chip and a third-generation neural engine.The A13 chip has a quad-core graphics processor, an LTE modem, an Apple-designed image processor and an octa-core neural engine for machine intelligence functions that can run more than  five trillion operations per second. In less nerdy terms, this basically means the phone can process a whole lot of information, with a beautiful display at insanely fast speeds.
"This new chip is smarter, faster, and beefier, and yet it somehow manages to consume less power than its predecessor," according to Malik with an exclusive look at the chip for WIRED. " It's about 30 percent more efficient than last year's A12 chip, one of the factors that contributes to the extra five hours per day of battery life in the new iPhones."
Despite the numerous capabilities and potential the standard iPhone 11 possess, people's interests have been mainly focused on the iPhone 11 Pro and its otherworldly abilities. This includes but is not limited to the monumental leap in battery life, the toughest glass in any smartphone and, of course, the alien-looking tricamera system. 11 Pro responded to the public's constant desire for longer battery life by adding 4 more hours to 11 Pro, and five more hours with 11 Max, compared to recent predecessor iPhone models. The glass featured in the 11 Pro is precision milled and crafted from a single sheet of glass with dual ion exchange, basically meaning the glass is much stronger, and scratch and finger proof resistant.  
"Over the years I feel like I have progressively gotten less excited about Apple's new iPhones, due to the lack of real differences," said senior Evan Walker. "The iPhone 11 Pro features some really cool new stuff like the triple camera and it looks like it's going to break that cycle of underwhelming new iPhones."
Although relatively large in size compared to previous cameras, the triple camera system has a lot of advancements that will really push the limits for photographers using iPhone as their go-to camera. In fact, not only will the 11 Pro change the game for photographers and videographers already using their iPhone, but the phone is also capable of doing camera tasks that some digital single-lens reflex (DSLR) cameras cannot do.  
"Next-generation Smart [high dynamic range] HDR uses advanced algorithms to finesse highlight and shadow detail in your image," said Apple's new homepage. "And now it leverages machine learning to recognize faces in your shot and intelligently relight them. That means iPhone 11 Pro can automatically fine-tune detail in both the subject and the background. Even some DSLR cameras can't do that." 
Each of the three cameras the 11 Pro features specializes in three new photo modes: telephoto, wide and ultra-wide. The expanded field of view allows the user to zoom from telephoto all the way out to ultra-wide, for an impressive 4x optical zoom range. The tri-camera system is also capable of working seamlessly as one. Each camera is precisely calibrated to allow for different sensitivities, and essentially takes three  raw photos and meshes them into a single crafted photo, all in a split second, thanks to the A13 bionic. If that wasn't enough to send photographers head over heels, just wait til the videographers hear that the Pro 11 shoots beautiful 4K videos with greater detail and smoother motion, all at 60 frames per second. iPhone 11 Pro officially has the highest quality video in any smartphone.
"I am someone who definitely cares about good camera quality in a smartphone because your phone is really the only camera you can confidently say will be on you at all times," senior Christian Auth said. "The fact that a [piece] of technology that can fit in your pocket can do things a camera that couldn't fit in some backpacks [can do] is really something."
Leave a Comment