Remembering Vivienne Westwood: Juggernaut of the Punk Fashion Revolution
A short glimpse into the life of fashion designer, Vivienne Westwood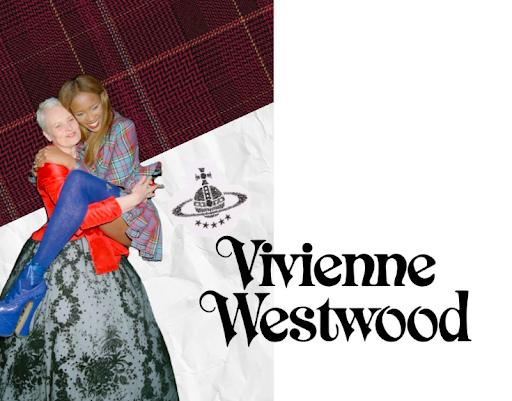 Born in the United Kingdom in the 1970s, the punk movement was an act of rebellion against the extreme social conditions at the time, showcasing angst towards the upper class's neglect of the rest of society. The punk subculture resulted in a mass increase in art, music, dance and especially, fashion. Designers and fashionistas used their clothing to stun mainstream culture and the powerful people who were against their movement. From the punk revolution came an influential and innovative designer, Vivienne Westwood. 
Westwood, who unfortunately passed away on Dec. 29, 2022, at 81, played a large role in the movement. Her clothing expressed the dialect of couture fashion while also focusing on identity and the rebellious theme of the era. As with all figures who make a difference in today's society, Westwood's powerful brand and life are commemorated.
Collaborating with her partner and The Sex Pistol's manager, Malcolm McLaren, in 1971, Westwood opened her first boutique in London: Let It Rock. Their store exhibited t-shirts with the Queen's face on them, safety pins, bondage, latex and Westwood's famous tartan, a woven material  consisting of several patterns of plaid. Although she was producing clothing for McLaren, she did not release her first collection until 1981, which was named "Pirate." The catwalk show exhibited loud, eccentric cultures, such as gold, orange and yellow. This outburst of bright colors revolutionized the London fashion scene and set the stage for her future collections. 
Setting the scene for a life full of many awards, in 1992, she received her first O.B.E. (Officer of the Most Excellent Order of the British Empire) from Queen Elizabeth II for her notable contribution to fashion. After her recognition from the Queen, Westwood released her "Café Society" collection, which transcended a sense of sexual liberation, showcasing Kate Moss licking ice cream topless. This release was a great turning point for her brand as it started making a common theme for itself: exhibitionism. Westwood geared away from clothing in 1998 when she released her perfume, Boudoir. "My perfume is called Boudoir," Westwood said as she revealed her perfume to the public. "A boudoir is a dressing room and a place to get undressed. It signifies a woman's space, a place where she is on intimate terms with herself, where she sees her faults and her potential."
In 2006, she visited Buckingham Palace, this time to meet with Prince Charles, to receive her Damehood for her services to fashion. She showed up without underwear. Not only was this a huge deal for the reason flashing journalists attracted lots of media attention, but it showed the public that she was capable of transforming England's classic way of life into a crazed and eccentric environment. Along with several other contributions, these major outcomes of Westwood's hard work exhibited her drive to create an atmosphere where people could express themselves and prosper within their individuality. Her last major collection was her 2023 Spring Ready-To-Wear Collection, which signified the end of an era and exhibited several parts of her old collections. All in all, the works of Vivienne Westwood have left the fashion industry with a definition of what it's like to step out of the regimes of society through creative expression. 
"My clothes have a story. They have an identity. They have a character and a purpose. That's why they become classics. Because they keep on telling a story. They are still telling it."- Vivienne Westwood
Leave a Comment