Getting lunch In order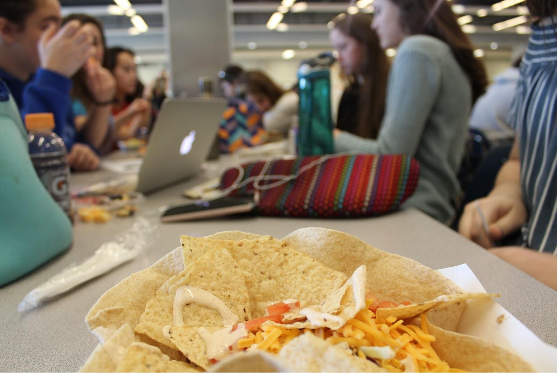 The school cafeteria has made some updates recently which were met with both praise and criticism from the student body. With the addition of the Cafe Teria and adaptations for preexisting meal options, Arlington Public Schools (APS) has made an effort to increase nutritious food options at the school.
"[Our original intention was to] increase participation and add more choices for high school students so that all students can have the opportunity to make healthy choices, eat more fruits and vegetables and to improve their overall diets," director of APS Food and Nutrition Services Amy Maclosky said. "The changes have been very successful."    
The popularity of the cafeteria food has increased since the reforms, and APS believes it is better supporting both Arlington students and the National School Lunch Program (NSLP) as a result.
"We have seen a 10 to 15 percent increase [in lunch meals served] across the system," Maclosky said. "It is the goal of the Food and Nutrition department at APS to support NSLP. We strive to offer a variety of choices. The more students we serve, the more options we are able to provide."
However, some students at the school would disagree with the statement that a variety of meal choices has been offered.
"The only thing I've eaten is the chicken sandwich. It's the only thing they have," freshman Jack Leonard said. "I bring snacks from my house or buy food from the vending machines instead."
Leonard, who orders McDonalds about twice a month in avoidance of the school cafeteria, is not alone. Students also turn to such services as UberEats and Postmates for food delivery as well as ordering directly from restaurants.
While ordering in is very popular, there are still many students who prefer to bring food from home simply because they like their own food better than that from a restaurant or the school.
"I don't really know what will be served [for lunch] that day until I arrive at school, and I don't want to risk not knowing what's for lunch and being stuck with eating it because I have no other choice," sophomore Lexi Dangel said. "I bring lunch from home because I just generally like the food at my house better. I do think the menu has upgraded, however, I think [bringing food from home] is just a matter of opinion."
While students are given the option to eat from a source of their choosing, the county would prefer that they eat at school. Ordering other food allows students access to unhealthy food options that the are not supported by the NSLP.
"In terms of nutritional standards, we have to offer two whole grains, fresh fruits, lean protein and milk," Maclosky said. "A pizza with whole grain crust and non-fat cheese with milk is different than a soda and a Domino's pizza."
The food offered in the cafeteria is important to Maclosky not only for student health, but also because her department is self-supporting and does not have its own APS budget. The more students who eat food from the cafeteria, the more revenue the program can generate, which in turn will provide the department the financial resources necessary to increase food options. Simply put, eating in the cafeteria now will make future cafeteria food better.
Whether students choose to eat their lunches from restaurants, from their homes or from the school is a personal decision. However, APS Food and Nutrition Services advises that the fate of the chicken sandwich is ultimately in their hands.
As Maclosky said, "I don't think the message gets out there that supporting the program doesn't so much help our [department] as it does help your school community."
Leave a Comment