Students lead showcase to raise money for cancer research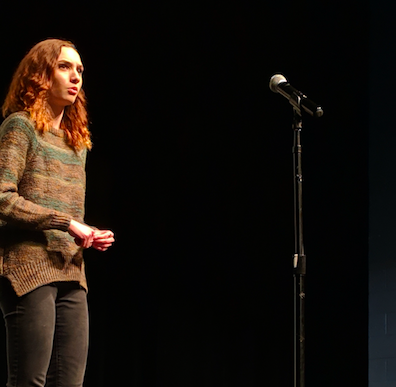 On February 23, seniors Grace Barnes and Julia Elman led a musical and film festival to raise money for their campaign for leukemia and lymphoma research. The two are co-presidents of the Cancer Education and Action club, and have been participating in a campaign to fundraise for the Leukemia & Lymphoma Society (LLS) since January 10.
This event was organized in honor of Juliana Clarkson, and a victim of leukemia and a friend of Elman and Barnes' who died just two weeks before the group started high school.
"We are doing this in honor of her because she would be graduating with us this year," Elman said. "She was a very active choir student, and she did all the school musicals at Swanson [Middle School]. We thought this would be the best way to honor her and to fundraise for our campaign was to do something she would love and she would want to be a part of."
In a national program called Students of the Year, groups of teens organize efforts to raise money for LLS. Elman and Barnes have set an overall "stretch" goal of $50,000 by March 2, and an actual target at $20,000. Their fundraising efforts have included a clothing drive and a fundraiser at Chipotle. They first got involved with LLS when they attended the organization's "Light the Night" event under the group name "Team Juliana."
["Light the Night"] is a walk around DC where everyone holds lanterns," Elman said. "It's beautiful, and everyone fundraises up to that point. That's primarily how the team got started in fundraising for LLS. We just had our fourth annual Light the Night."
Even though Clarkson was not yet in high school, she had already left her mark at the school.
"She was on the crew team, and she was a coxswain, because she was a very tiny person," Elman said with a laugh. "After she passed away they named one of the boats after her."
Barnes says she met Clarkson in choir in middle school, and they became close friends.
"She was amazing; one of the best voices I've ever heard, frankly," Barnes said. "She was adorable, and little, and she was absolutely one of the happiest girls I've ever met. She was always cheerful, always smiling. She was very smart, a great student, and a great friend. She was really accepting, and especially in middle school, not everyone was happy, but she always was."
The showcase was the final culmination of the campaign, and it included many students performances and other fundraising efforts.
"[We had] a bunch of IB Film students presenting their films, dancers, and a musical theater performance from the [cast of "Legally Blonde"]." Elman said. "[We also had a] concessions sales and a silent auction, [we] just did as much as we could do."
Students who participated the performances included Thomas Bolles and Ethan Spitalney with their films, company dancers from Perfect Pointe Studio and senior Hannah Dembosky, who performed the poem "Today" by Billy Collins from her Poetry Out Loud performance.
"When I heard about it, I thought it was a great cause," Dembosky said. "I also know Julia and how much work she and other people have put into it, and I wanted to help out in anyway I could. It seemed like a good way to use my skills and talent for a better cause."
Other events include a showing of "Time Troubles: Termination" by Thomas Bolles and films from H-B Woodlawn and Yorktown High School students. This was in an effort to include more than just the school's students.
"[We wanted to] get the whole Arlington community to be there," Elman said.
Clarkson's mother, Ms. Kimberly Clarkson, attended the showcase and spoke about her daughter.
"No one should have to go through what our family has gone through in the past three and a half years," Ms. Clarkson said. "No mother, no father, no sister or brother, no friend. That is why the work that Grace and Julia are doing for the Leukemia and Lymphoma Society is so very important."
Leave a Comment