Navigation station
Public transportation options for students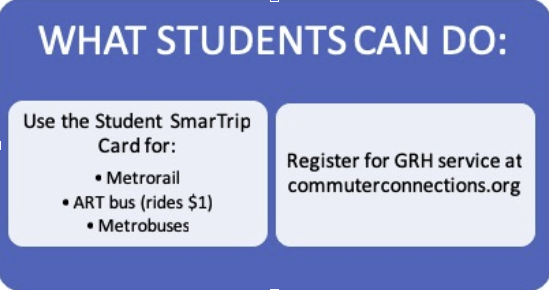 Most students have experienced the frustration of not having a ride, whether it's to reach their extracurriculars, jobs or even to return home. Although school buses are a very useful method of transportation, not all students are eligible to take them and they are not always available. When students have extracurriculars that are not within walking distance, and they cannot take a bus, they often rely on public transportation. 
Within Arlington, public transportation is not difficult to obtain, and there are many discounts and services available to students. One discount available to students is for the Arlington Transport (ART) buses. The ART website explains that students in grades K-12 can purchase a Student SmarTrip Card at any commuter store for $2, such as the one located nearby in Ballston. The SmarTrip Card allows students to pay the $1 student fare as opposed to the regular $2 fare whenever they ride the ART bus.
Senior Kathryn Stanley takes the Metrobus almost every day, and occasionally uses the ART bus to reach her internship in Alexandria.
 "[The student discount] definitely does add in, because if I'm going every single day there and back, then you know, even just 50 cents less can mean a lot in the long-term," Stanley said.
Money can be added to the SmarTrip Card online or at the Fare Vending and Add Value machines at any Metrorail station. The SmarTrip Card can be used when taking the Metrorail, Metrobus and ART bus, but the student fare only applies to the ART bus. The Student SmarTrip Cards can sometimes be purchased at school during lunch. Students can find them at round tables either in the hallway or inside the cafeteria.
"It's really nice that they do that because if I want a card, I don't want to have to go all the way to the Metro stop to get one," Stanley said. 
Another popular method of public transportation that students use is the Metrorail. Although junior Aaron Ky-Riesenbach takes the Metrobus to get to crew practice, he occasionally opts to take the Metrorail.
 "I actually prefer the subway,"  Ky-Riesenbach said. "I find the lines less confusing because it's just one line back and forth, whereas with the buses, there's different pickup and dropoff spots depending on which direction you're going." 
However, when Ky-Riesenbach takes the Metrobus he is sure to give himself a few extra minutes.
"I've definitely found that the buses are somewhat unreliable, so I usually have to leave a little more of a buffer than I prefer to to make sure I can definitely get a bus," Ky-Riesenbach said.
Stanley also said that public transportation can be unreliable at times, and that she has needed to wait for another ride when her bus never arrived. 
"I definitely have had difficulties," Stanley said. "But I would say it's good for when you need to get somewhere and you need to get somewhere [for] pretty cheap. I mean, everything has its downsides."
Apart from the Metrorail and Metrobus, another service that students can take advantage of is the Guaranteed Ride Home (GRH) service. 
"It's just simply that, when you're stranded in Arlington somewhere and you need to get a ride home, that they guarantee to get you home safely, so that you don't have to do something unsafe to get home," assistant principal Ms. Kimberly Jackson-Davis, the school's liaison to the Arlington Public Schools (APS) Director of Transportation, said. 
To use the GRH service, students must first register at commuterconnections.org. It is a free service and students can take advantage of it a maximum of four times per year. The GRH program is intended to be used for personal emergencies, sickness or unintentional overtime.
Ms. Jackson-Davis also wants students to know that if they ever have questions about public transportation discounts or services that they can take advantage of, she can be that resource to them. To make Arlington's public transportation options seem less confusing the ART bus website also recommends an app called Transit. Transit helps students determine the best route they can take to reach their destination, how long it will take to get there, notify them when their stop comes up and more. 
"I'm really happy with the public transportation system here," Ky-Riesenbach said. "You can get to most places in the DMV fairly efficiently without wasting a ton of time or getting lost or anything, so overall, it's a really great system."
Leave a Comment