Virginia 2021 – November Election
Arlington county continues to stray blue
The November 2nd general election shocked many viewers across America. In the gubernatorial election, where former Governor Terry McAullife faced off against Glenn Youngkin the Republican Party unexpectedly won. This was surprising as Virginians a state that has been credited as a new addition to the Democratic Party's swing state victories since 2008. 
Despite the state voting mostly for Republicans, Arlington county is an exception. Arlington County has historically been home to a more liberal population, resulting in Democrats continuing their hold over the county. This meant Democrats kept their majority in the County Board, School Board, and assorted local political positions. 
This comes as no surprise, as in recent years, the population has increased in the amount of minority residents. Democrats are known to have more support than Republicans over the minority population across America.
A question remains, how did the rising Democratic state suddenly fall back into Republican control? And what will Arlington's local representatives do to help keep the county going forward? Politicians discussed their plans to help the county with its day-to-day problems, and why they believe the Democrats lost control over Virginia. 
Arlington County Board member Takis Tarankonis believed that the Democrats were able to field a massive voter turnout, however his main problem was the loss itself. 
"We didn't express the progress of the last administration. It's a wake up call," Tarankonis said.
Takis himself was put up against three different Independent candidates, Audrey Clement, Mike Cantwell, and Adam Theo. He won against all three of them with 60% of the vote. 
Takis was put up against three different Independent candidates, Audrey Clement, Mike Cantwell, and Adam Theo. 
As a member of the county board, he is focusing on the pandemic. He also believes that even with federal support, unemployment is still an issue in Arlington.
"[Unemployment] still goes on, and is my first priority," Tarankonis said.
"The best thing in Arlington County is our people! We are the world in a zip code," Tarankonis said. "Arlington has its challenges, but it is a place that is welcoming," This statement connects as Tarankonis is of Greek ancestry.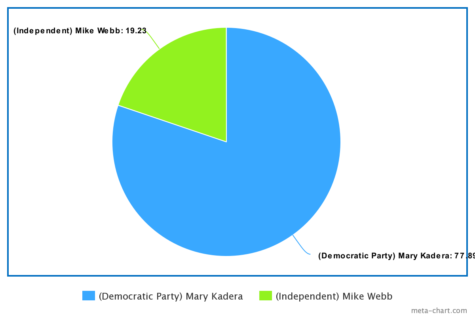 Arlington School Board member Mary Kadera believes that the democrats lost the race due to underestimating voter discontent with the school system. Mary was put up against Mike Webb, and won against him by 78% of the vote. 
During a heavily televised debate between the two candidates for Governor, Terry McAullife said: "I don't think parents should be telling schools what they should teach." This statement angered many parents and allowed the Republican candidate to work off of this discontent and lead to his victory in the race. 
"I think it [the election] was a surprise to many folks in the commonwealth," Kadera said. 
She also believes that Democrats didn't capture the imagination of newer voters, and  hoped that the nominee for Governor would have been something new and fresh for the Commonwealth. 
The focus of the board will be outreach to the community, handling the budget, and working on keeping Arlington Public Schools (APS) on track with teacher payment raises. 
"I would like for the students of Arlington to know that they are the school boards main constituents, students and their families deserve a real voice," Kadara said. "Students can and should be in a position to influence schools." 
There were also residents who lost the November race, most notably the Independent Mike Cantwell. As a third party, he was not supported by the establishment parties, meaning he had to find new ways to financially develop his own campaign. He ran for County Board against Tarankonis. 
He wanted a focus on political reform by moving away from the Democrats and Republicans dominating politics, a movement which he has been a member of since 2017. 
When asked why he ran as an Independent, and not going with the choice of the Republican or Democratic ticket, 
"It wouldn't be true to who I am," Cantwell said. 
As an independent, he believes that Arlington County has moved too far left, and that spending and taxation has gone out of control. 
"I think it's out of touch with people," Cantwell said. "Property taxes have doubled in the past six years." 
This property tax increase is primarily due to Arlington becoming a more populated destination in the past few years, as well as the new County budget which will see a steady increase in the tax according to the Arlington County Budget. 
Mr. Cantwell believes that Democrats being in total control of the government means no accountability can be provided, he cited the former Independent board member John Vihstadt's time. Vihstadt lost his seat in the 2018 election to Matt De Ferranti. 
"There were a lot more tough questions asked," said Cantwell.
Despite Cantwell losing the race, he shows an example of Virginia's changing tides of third party politics. 
He has been asked whether there will be a new Cantwell campaign for the next race for Arlington County Board. 
"A lot of people approached me on that, I think I really resonated with a lot of people. – Running for office is… really hard," Cantwell said. "Would I do it again? Maybe."


Leave a Comment