Silver diner changes addresses
Will it ever be the same?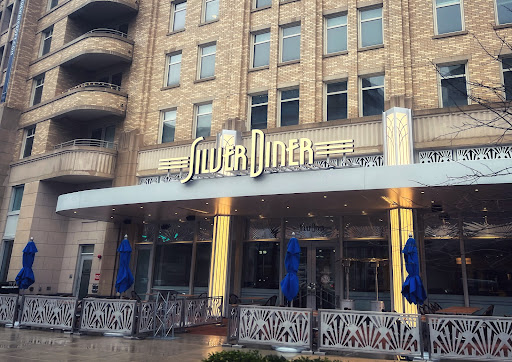 Change can be difficult, but it is often necessary for growth and progress. Adapting to new situations can be challenging, whether a change in lifestyle, career or relationships. 
Change also comes with mixed emotions. This is true with most things in life, including changes with a local restaurant.
 The Silver Diner in Arlington, Virginia, recently moved locations. It is a neighborhood restaurant that serves updated American classics in an authentic diner atmosphere. As of Dec. 14, 2022, the local Arlington diner is no longer located in Clarendon and has moved to the Ballston neighborhood. Even though this recent move is only a couple miles away , the change meant a lot to the restaurant's regular patrons.
In speaking with some of the Silver Diner's guests, it became clear that this location change greatly impacted some Arlington locals. 9th Grader Celia Demings, a consistent patron of the Clarendon Silver Diner, mentioned that the move would impact her memories from her childhood. 
"I've grown up going to the Silver Diner in Clarendon," Demings said. "My best friends and I used to go there a lot. Walk there, grab dinner, and just hang out together. And I've been going there since I was five years old, so I've got a lot of good memories there," Demings said. 
10th grader Bella Menn, another regular guest who loves their pancakes, has a similar experience to Demings. She grew up going to the Silver Diner after evening practices.
"The relocation is very upsetting for me because I used to go there with my preschool friends and there are just so many childhood memories there. From endings of sport games to late nights out at the old location of Silver Diner," Menn said. 
Even though the change in the location could offer a new and improved experience, there was still the fear of the restaurant not being able to provide the same atmosphere and quality of food. Several students stated that the changes to the diner might negatively impact their status of being regular customers. Menn and Anna Freeman commented that the new location has no parking and it is a struggle to get to the new one. 
"I live walking distance from where the Silver Diner used to be, but now we have to travel all the way to Ballston and I heard that there's no parking (whereas the old place had lots of parking)," Freeman said.  
Furthermore, Menn remarked that the whole diner experience has changed in the new location. 
"It is more of a fast-casual restaurant and not so much a diner.The new one looks more fancy rather than a traditional diner look and especially the removing of the jukeboxes takes away from the old vibe," Menn said. 
The Greek Philosopher Socrates spoke about how not all change is bad, and communities should focus on the new. The new location has not impacted the menu, which features classic diner favorites such as burgers, fries, pancakes, and the local favorite, milkshakes. Freeman agrees and will continue to eat the Silver Diner's pancakes and create new memories.
"I will definitely still eat at the new Silver Diner because of their fantastic food including, the triple pickle chicken sandwich," Freeman said.  
According to WJL AABC local news reports, the community was saddened by the move, but if Arlington can overcome the change, the Silver Diner will have an opportunity to uphold its promise of great diner classics in a family-friendly atmosphere. 
"New memories will be created in Ballston, and I'll always remember the old location and the fun I had," Menn said.  
"I cannot say whether things will get better if we change; what I can say is they must change if they are to get better," Georg C. Lichtenberg said. Many Students hope this is true with the local Arlington Silver Diner. Just do not touch the pancakes or milkshakes, because according to TripAdvisor, they do not need any changing!
Leave a Comment