Fabulous Flea Market
Flea market tips and tricks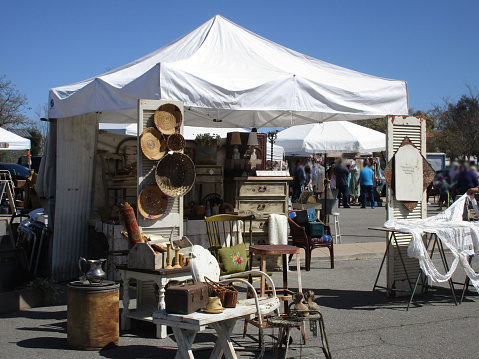 Did you know that there is a flea market at the school's parking lot? If not, you are in luck! After a two-year hiatus, one of Northern Virginia's biggest and oldest flea markets, the Civitan Flea Market, returned last summer. This article will have the best tips and tricks to make your first flea market experience successful. According to The Arlington Civitan website, from April through November, the flea market is open every first Saturday from 7 a.m. until 1 p.m.
With over 150 vendors, the flea market has many treasures and hidden gems. Unfortunately, there is a lot of garbage as well. I recommend passing on any clothing items when shopping at a flea market because you can find better prices at most thrift stores. If buying any electronics, check for missing parts, if it functions properly and if it is truly worth the price. It is very easy to get scammed by electronics sellers, so be wary. On the other hand, there is so much beautiful jewelry for low prices that is perfect for a new summer wardrobe. Speaking of wardrobes, you can find infinite pieces of cheap vintage furniture at the flea market just waiting for a makeover.
The best thing to do when trying to get the best deals is to bargain. There are many techniques and strategies to negotiate, including how to interact with the seller, ask for bundle deals, and set a lower price. When interacting with any seller, you should be polite and friendly, since you might get a better deal if the seller likes you. Bundle deals are great if you are trying to buy an item and the seller is unwilling to lower the price. Try to get another thing for free, so it is worth the money. You can also easily get a lower price for an item simply by asking for a very low price. You might get a good deal lower than you initially asked for.
Thinking when you go to a flea market is essential to a good experience. If you go early in the morning, be prepared to scavenge for the best selection. If you go later in the day, make sure to bargain for prices on everything you want to buy. Sellers will want all their stuff sold by the end of the day and will most likely take any bargain. If you are looking for a mix of both good deals and good finds, you should go right before or right after noon due to the rush that most flea markets get around then.
The flea market is a perfect way to spend a Saturday morning and buy unique items you would not find anywhere else, and it is a great way to be environmentally friendly by reusing old items. Overall, the Civitan flea market is a great resource for the community, and we are lucky to have it close to the school.
What did you think about this story? Do you have any suggestions for improvements or other articles that you would like to see? Please use the contact form to communicate with us! (Keep all information school-appropriate).
View Comments(1)