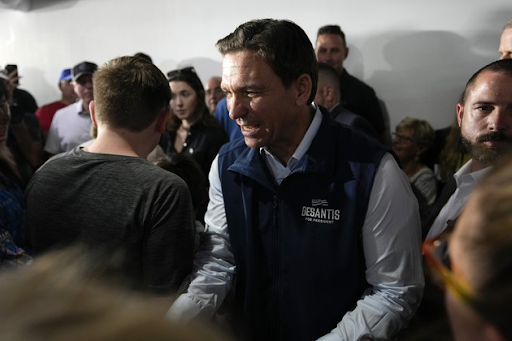 The upcoming presidential election has plenty of Republican candidates looking for support. One has been challenging incumbent Donald Trump head-on and creating some radical discussion. Ron DeSantis, the governor of Florida, has been quickly rising in the polls.
Desantis has issued executive orders over state-wide rules. His orders primarily impact Florida's Department of Education. He announced his presidential campaign this past May on social media. 
DeSantis's decision comes after months of speculation. However, Trump, his biggest opponent, has yet to begin his  announcement and efforts. While the election date gets closer and closer, DeSantis' repeated disdain for LGBTQ+ rights and teachings gains more and more traction. 
While Trump has stayed vulnerable because of his indictment, the multiple charges against him are taking up the majority of his media overage; yet, he has  still made attempts to "hammer" the Florida Governor.
 "[Trump]'s political action committee supporting him have spent millions of dollars [to deplatform the rival], and DeSantis' polling numbers have cratered, putting him in a deeper hole than he and his political affiliates had anticipated," Said Domenico Montanaro, Journalist for NPR. 
DeSantis, in the midst of his presidential campaign, has started to go head to head with queer studies in his state's public curriculum. In March 2022, the Florida Legislature passed HB 1557, the 'Don't Say Gay' bill, to prohibit instruction on sexual orientation or gender identity in schools before the 4th grade.
During a press conference following the bill's passing, DeSantis spoke up about specific  issues such as "sexuality and woke gender ideology" and how the school board is "sexualizing the education of very young children ". 
While these claims were made back in March of 2022, a developing new issue has arisen considering the Advanced Placement (AP) Psychology curriculum in high schools and how this might go against the bill. 
In early August of this year, "Politico"  reported that the AP Psychology curriculum, which has been taught nationwide for 31 years to public high schools, had been "effectively banned" due to the sexuality and identity studies within the course. 
"We are sad to have learned that today the Florida Department of Education has effectively banned AP Psychology in the state by instructing Florida superintendents that teaching foundational content on sexual orientation and gender identity is illegal under state law," said College Board
The AP course asks students to "describe how sex and gender influence socialization and other aspects of development. This element of the framework is not new". 
The Florida state government has said that "districts are free to teach AP Psychology only if it excludes any mention of these essential topics."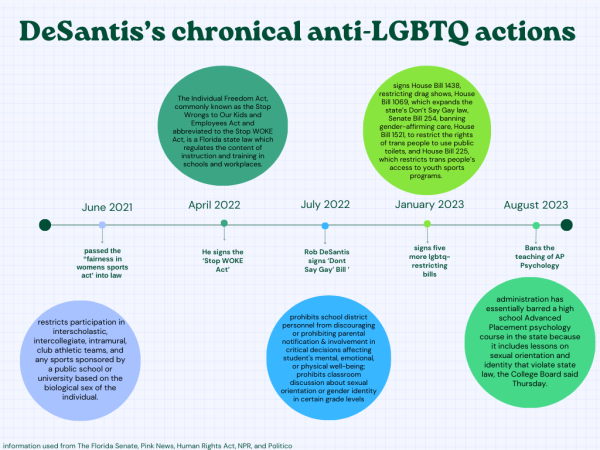 However, The American Psychological Association, which puts together the curriculum and monitors the subject itself, stated that if one were to be taught the class without these lessons, they would not meet the requirements to obtain the college credit, saying that it violates their guidelines for the course. 
DeSantis is familiar with challenging the College Board. Back in 2022, Florida questioned the legitimacy of 'African American AP Studies' because of it being "filled with Critical Race Theory and other obvious violations of Florida law," pointing to the "anti-woke" policies under DeSantis.
While the course is not entirely banned, as it is still listed in the "Florida's Course Code Directory for the 2023-24 school year", students and teachers on social media have said that there is "no point in taking the class" in regards to the class not being up to requirements and not meeting the expectations to get any AP or college credit
Understanding the underlying issue of the repeated bills passed against LGBTQ+ history in Florida is a major factor in DeSantis's reasoning for  singling out this initial topic. 
As the intense political race pace quickens  after Labor Day, the two major republican candidates, Trump and DeSantis, have seen both intense drops in support for differing reasons. DeSantis, however, has faced the most fall in numbers, even with his rival being under investigation. 
According to the Wall Street Journal polling, Trump held a 24-point lead over DeSantis in April, 48% to 24%. But now it is a 46-point advantage for Trump, 59% to 13% (though the rest of the GOP field has changed during this time).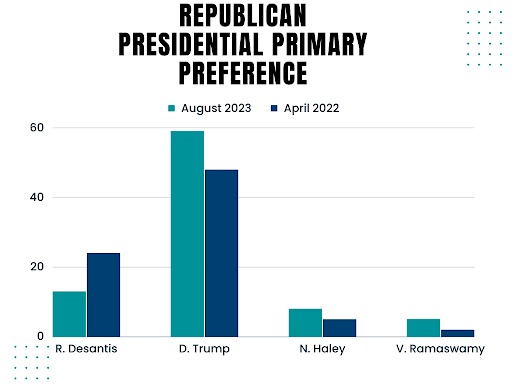 With election day coming quickly, the fate of the nation is up in the air. Considering 2021's insurrection following the last presidential election, there is much  uncertainty going towards Nov.