Open Letter to the School Board
Dear Arlington County School Board,
Hung on the walls of your building are your Core Values: "Excellence, Integrity, Diversity, Collaboration, Accountability and Sustainability." Last Thursday, you voted, in a unanimous 5-0 decision, to abandon all of these values with your passage of High School Boundary Refinement option four.
The school board has struggled for quite a while with the segregation of its schools. In earlier years, (all the way back in the 1950s and 60s), integration was difficult for your predecessors to achieve, as they were under "Massive Resistance" (a term used to describe a movement during which laws were passed that cut funding from integrated schools).  Now the issue of school segregation is subtly resurfacing again as schools are regressing to levels of segregation which are the highest they've been since their original integration. Just last month, the Commonwealth Institute -a think tank which analyzes Virginia governmental policy-called you out for inequality. It cited the fact that there are two schools in your district (Randolph Elementary and Carlin Springs Elementary) with 73 and 80 percent free and reduced lunch populations respectively, when the county average is 30 percent. Although the report did not go into detail, when comparing elementary school boundaries to a map of median income in Arlington, I found a disturbing trend of economic gerrymandering as pictured below.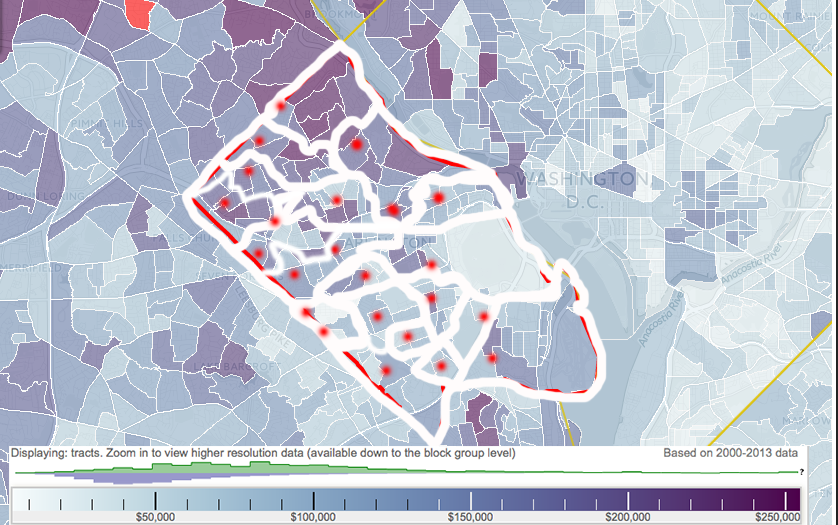 *Red dots represent elementary school locations.
Proximity to a school, the factor which was supposed to trump all others in this boundary selection, seems to have been neglected for the sake of economic homogeny. To simplify, you sliced up the county to put more wealthy students with other more wealthy students, and to put less wealthy students with other less wealthy students.  
According to the latest statistics on your website, Wakefield currently has 4 times more free and reduced lunch population (by raw numbers) than Yorktown. The percentage of students who qualify for free and reduced lunch among the three high schools are 46.92, 31.06 and 12.35 representing Wakefield, Washington-Lee and Yorktown respectively. For a school system that has diversity as a "core value" and maintains in its vision statement that it is a "diverse and inclusive school community," don't you find it a bit strange that you have the third least diverse school, in terms of percent white, inside the beltway (behind Langley and Madison)? Surely a school system that values diversity so much would be horrified by their levels of segregation, both racial and economic, and would take every opportunity they could to right this wrong.
However, this is not the case. With your passage of option four, you voted to move a cohort, of which 57 percent qualify for free and reduced lunch, to Wakefield, while moving a separate cohort of just four percent free and reduced lunch to Yorktown. Not because it was impossible given the circumstances; you had the option to move a cohort of 23 percent free and reduced lunch to Wakefield. Just look at a map of median household income with the area you could've selected versus what you did.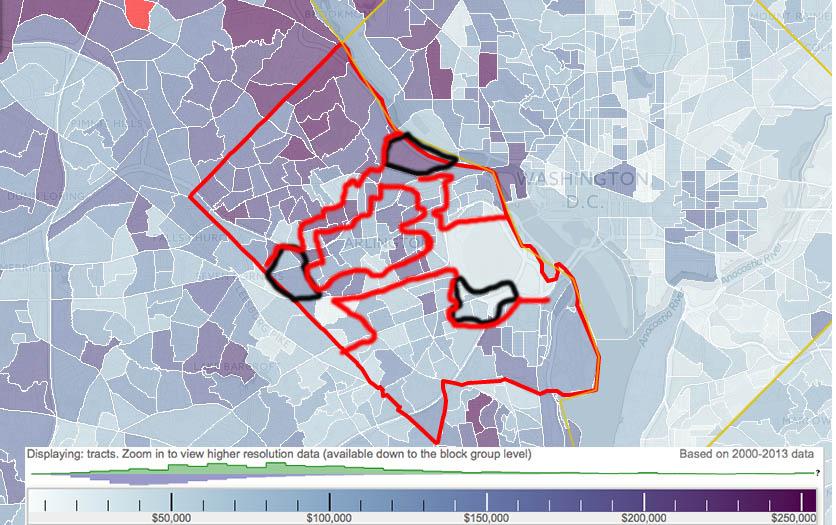 You know very well that free and reduced lunch kids do better in schools that are not overwhelmingly dominated by other free and reduced lunch kids. If not, I encourage you to view these studies from Fairfax County Public Schools, Montgomery County Public Schools and the Center For Public Education. However, you don't even have to look that far, as an analysis done by our very own Coalition of Arlingtonians for Responsible Development (CARD) pictured below will show you the same result. I would like to highlight the Fairfax report as it identifies a statistically significant tipping point — if 45 percent of the student body is in poverty, schools are very unlikely to achieve expected standards for achievement (also pictured below). This move will push Wakefield further over that point.
Furthermore, the socioeconomic makeup of a school has a profound impact on the opportunities students of that school are afforded. Just take a look at the PTA budgets of your three high schools (pictured below). Yorktown boasts 54,110 dollars, Washington-Lee spends 40,147 dollars, and Wakefield only spends 17,610. PTAs fund scholarships, academic trips such as tech expos, club events such as Model-UN conferences and much more. Yorktown's PTA spends over three times the amount Wakefield's does. This level of inequality in the public education system of such a small county should concern you.

Although you claim to "value all students, staff and families in our diverse, inclusive school community," when given the opportunity to help free and reduced lunch students, you consciously chose to do the exact opposite. Your stated mission is to prepare students to "be responsible and productive global citizens." Surely part of becoming a "global citizen" includes knowing how to interact with people that don't look like you.  Yet, this move in four years according to your own data will remove 27 percent of black students at Washington-Lee and send them to Wakefield, despite the fact that Wakefield's a black population is already larger (20.7 percent to Washington-Lee's 9.0). After this move, according to your data, Wakefield will have twice as many black students as Washington-Lee and Yorktown combined. Additionally, if your projections for this move are correct, Yorktown will pass James Madison and Langley to host the highest concentration of whites in one high school inside the beltway. Arlington is only 26 square miles but through negligence you've managed to become more racially segregated than all 406 square miles of Fairfax.
This brings me to my last and most personal point. Throughout this entire process you've used this image at the beginning and end of every single presentation on your boundary changes to highlight the diversity that you claim to value so much.
You probably don't know this, but the black student to the left is Jordan Hinkson. I know this because I've been good friends with his younger brother since 7th grade. I find this image ironic and symbolic because he lives in W-L's only historically black neighborhood: the one that you moved to Wakefield. If your current boundaries were in effect when he attended high school this photo, which you use to symbolize the diverse and inclusive community you claim to cherish, would never be possible. You undoubtedly will use the same photo when presenting the changes on December 12th at High School Information night. Because of this, I request you use this photo instead.
It would be more accurate.
Sincerely,
Matthew Herrity
Update: 12/11/16 1:08 pm: If you feel strongly about this, I encourage you to sign a petition about the school system: https://www.change.org/p/arlington-county-school-board-arlington-public-schools-integration
View Comments (87)