A day in the life of a varsity basketball player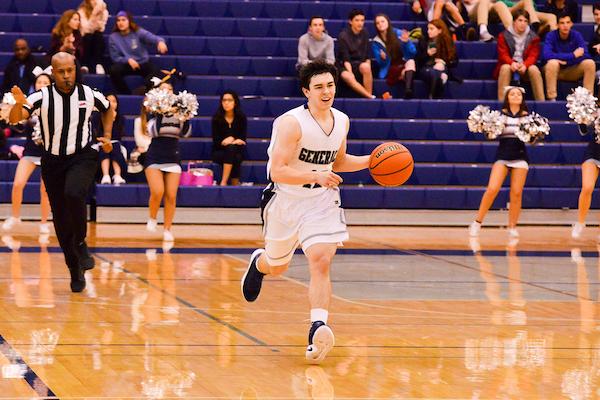 Meet Chris Ozgo, junior point guard on the varsity basketball team. He has been on the varsity team since freshman year, a feat very few can accomplish.
To be a basketball player can take a lot more than people imagine. For Ozgo, his practice schedule is hard. It gets even more difficult on game days, especially away games. If it is a game day, and they are playing at home, Ozgo's schedule can be hectic. According to Ozgo, "for a home game I would go home right after school and I'd try to take a one hour nap, then eat, then talk to the assistant coach, and go to TJ to get warmed up."  Then it's straight to the game, and then when the game ends at 9:30 p.m., he goes home and tries to do his homework so he can get some "solid sleep".
Not only are game days hectic, but the basketball team practices a lot, almost everyday, Monday through Saturday for one to two hours. According to Ozgo, he likes it, but that's because basketball is his favorite thing to do in his free time. It's a big commitment, without even a weekday off.  But the schedule works well for Ozgo. "Well I like it, because that's just what I do, I play basketball in my free time."
Ozgo also practices six days a week, year round. " I mean, I try to take one day off a week, but other than that I'm always out practicing in the gym" he said.
Conditioning, and getting a trainer is important. "I try to lift a lot, like lift weights, and then occasionally I'll do conditioning,  like running up hills and stuff." Ozgo said "I'll also get a trainer occasionally but that's just basketball stuff."
Being a basketball player can be a lot more than people imagine. Although it can be so worth it. Not only does it look amazing on college resumes, but it also is just fun. "I definitely think basketball has been worth it for me. While in the short term it takes up a lot of time and requires a lot of hard work to be successful, it has many benefits that I have enjoyed thoroughly throughout the time I've played and I believe it also helps instill important life lessons such as teamwork, leadership, hard work, and sacrifice." Ozgo said
It may only take the top percentage of basketball players to make varsity, but that is what allows us to win games. If you are like Chris, then basketball is probably your life.  According to Chris though, this is the year. "Overall my idea of the team this year. I've been on three W-L teams, and this team has me the most excited for this year." Ozgo said "So this is like the most excited i've been for like a team for WL and i think if we really put the pieces together we can make district championship."
Leave a Comment