Changes in the NFL Pro Bowl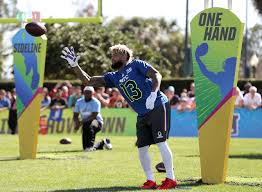 The National Football league Pro Bowl has recently undergone big changes after the criticism it has received over the past few years from being a slow game to avoid injury and with nothing to compete for. Since 2013, the Pro Bowl teams were picked by former NFL stars and the two teams would face off for bragging rights. Football is a physical sport and because the game does not affect anything, players decided not to give it their all. Over the past few years, the games were criticized by fans for not being exciting which had the NFL looking for ways to make it more appealing to fans.
Last year in particular was not popular among fans as NFL legends Michael Irvin and Jerry Rice chose teams that were not organized by conference (American Football Conference and National Football Conference) . Aloha stadium in Honolulu, Hawaii was only about 75 percent full last year. "The last few years were boring," freshman Harry Cantor said, "It was just a pointless game that wasn't even AFC versus NFC." This may have been the sign that the NFL needed to change their game plan.
This year, the Pro Bowl was held in Orlando, Florida this past weekend and it has been more than just one game. First of all, instead of team captains, teams were based on conference, AFC and NFC. Festivities lasted an entire week that concluded with the game itself as the AFC defeated the NFC by a score of 20-13.
To kick things off, there were many more community interactive events where youth football programs competed and learned from the Pros. The youth events aimed to teach kids of all ages about the game of football. On Saturday, the selected players competed in the first ever "Skills Challenge" which included many events to test players' catching, throwing, running and tackling abilities. "I liked the dodgeball game," sophomore Gus Nathanson said, "It's events like those that reaffirms the fact that the NFL is one big fraternity no matter what teams you don't like or call rival." The "Skills Challenge" and other practices was held at the ESPN Wide World of Sports Complex at Walt Disney World Resort simultaneously with youth football events and a fan fest.  The goal of all these new events was to attract more fans to this now week long experience and celebrate the game of football at all levels.
Any players on the winning team were also able to bring their former high school football or youth coach, a grant from the NFL Foundation to aid in the development of their football program. There was also a Pro Bowl-themed 5K run and a parade of Pro bowl players in the Magic Kingdom. "The pro bowl has been an overlooked part of football in recent years," Nathanson said, "All the festivities has gotten the event and the Pro Bowlers themselves a lot more publicity."
Leave a Comment