Nationals fans look forward to 2017 season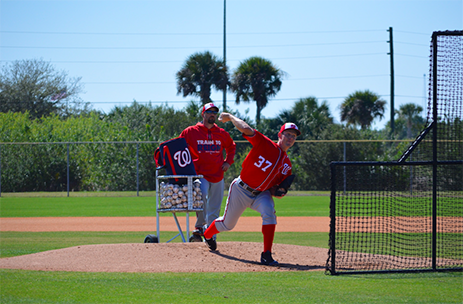 After an eventful offseason, Nationals baseball is back with some new faces on the field.
Over the winter, the Nationals traded away some big names, including top pitching prospects Lucas Giolito and Reynaldo Lopez to the Chicago White Sox for center fielder Adam Eaton. The Nats have also acquired two former All-Star catchers, Derek Norris and Matt Wieters, to replace the beloved Wilson Ramos, who has signed with the Tampa Bay Rays. They are still looking to acquire a closer to help out the bullpen, very possibly David Robertson of the White Sox.
It was a surprise to many when Lucas Giolito, the number one overall prospect in Major League Baseball, and Reynaldo Lopez, the number 48 prospect, got traded for someone who had never even been to an All Star game. Deals involving top prospects often involve an all-star caliber player like the deal involving number two overall prospect Yoan Moncada of the Boston Red Sox going to the Chicago White Sox for five time all-star pitcher Chris Sale. "I think it was a terrible move," sophomore Roman Dangel said. "We lost our two best pitching prospects for a .250 hitter."
With regards to catching, there was a lot of controversy over who would start in the 2017 season when Wilson Ramos became a free agent. With the acquisitions of Norris and Wieters, the Nats now have five catchers who have seen big league action: Norris, Wieters, Jose Lobaton, Pedro Severino, and Spencer Kieboom.  
It is quite possible that these catchers could be trade bait to fill the closer role. The Chicago White Sox are in the hunt for catching depth and they have former All-star Closer David Robertson. "We need to get a closer before the season starts," freshman John Edelstein said. "It is also important that we keep veterans like Jose Lobaton to show the new guys how to manage the Nats' bullpen."
In the field and on the mound, the Nationals are expected to have mostly familiar faces. The only other Nationals' veteran who will not be returning is utility man and six-year National Danny Espinosa. Espinosa was traded to the Los Angeles Angels in December for two minor league pitchers. "I think his time was up", freshman Harry Cantor said, "I think they had to trade him but they should've gotten more."
Many think that the Nationals have the tools to succeed and numerous baseball writers have picked them for a World Series win. Nats fans hope that if everyone can live up to their full potential, this World Series ring could come sooner than later. "Bryce Harper has to be as good as he was two years ago," Cantor said, "We are unstoppable if everyone can play well."
Leave a Comment