Taking aim in Rifle Club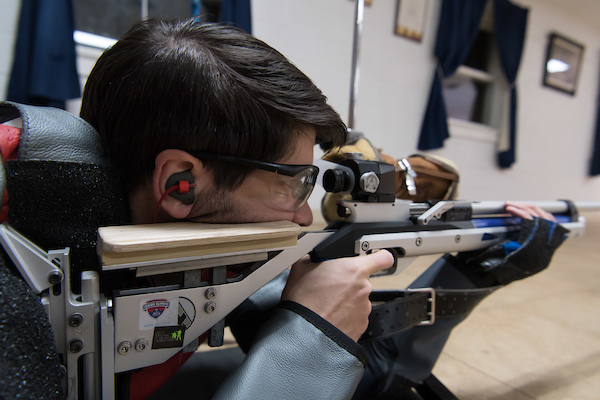 The Rifle Club is one of the lesser known clubs at the school, but has a growing population of people joining the club. Every week, a dedicated group of students go to Veterans of Foreign Wars building (VFW) to practice their shooting skills, on a set of targets. There are about 36 kids in the club, and they are starting to run out of slots for new members. It is important for the team to have an non-crowded atmosphere to maintain the precision and accuracy of the shots. 
In the low pressure and recreational setting of Rifle Club, members work on training themselves. The team shoots targets that they put their names on for the time slot, and they are later added up for their final score. The members shoot in a set of three different positions, kneeling, standing, and  prone which is lying down on the the floor. The coach scores them to see progression over time, despite it only being practice. At the end of the year they will host a match to compete against each other.
"We're usually allowed to pick any position we want for shooting," senior and co-team captain Aron Tinter said. "But generally it's standing or kneeling because you need to work on those the most."
In the club, practice is conducted using pressurized pellet guns with CO2 tanks using pellets about the size of a pea. Outside the club, there is the option for team members to use a more precise gun that has more power. They are shooting at targets consisting of 10 rings, smallest to biggest.  the rings consist of scores of 10 points to one point. The scores from all three targets are added together for their total score. "My best score for prone is 98, kneeling is 95, standing is 97. For high school we do three targets for 10 shots. My best for that is a 257," senior and co-team captain Zach Rivero said.
That is all just in the Rifle Club, but the school also has a Rifle Team that competes with other high school teams in the area. The Rifle Team only consists of nine members, and requires a try out. "I got involved because my friend told me about the club, but he got sick during the mandatory show up days, so unfortunately he wasn't on the team, but I continued," Rivero said. "Last year was my first year on the team. I got in from showing up and practicing, and getting good scores."
Once a part of the club, it is easier to get a spot on the team. The club practices while the team competes, but that means that club members do not necessarily have to try out for the team. If a member of the club shows interest and promising scores, they often are added to the team. "I've been in the club for five years now, because in eighth grade they let me join the club, but not the team," Tinter said. "The next year, I got [to be on] the team, and I have been shooting on the team for four years now."
The members of both the club and the team are very dedicated to their sport. While it is competitive and they all work hard, for them, shooting is a social activity and something to look forward to as well. "I really enjoy the club," Rivero said. "Just going out and shooting with the team is really fun."
Leave a Comment