Coach Shapiro: 17 years of leadership
A look back on the career of physical education teacher and varsity football coach Josh Shapiro
On the night of September 17, Jackson Nowinski, a sophomore wide receiver, scored the first touchdown of the game against  West Springfield and brought the score to 7-0. While the offensive line was celebrating in the end zone, lineman Chris McCants and quarterback Ryan Jones brought the excitement to the sideline by Coach Josh Shapiro, bodying him in celebration and almost bringing him to the ground. This spirit and love for football is something that Coach Shapiro has instilled in his players every season for seventeen years, making this a recurring moment.
Coach Shapiro is the head varsity football coach and physical education teacher. However, unknown to most, having this role was not his original plan. After studying physical education at the State University of New York-Cortland (SUNY) and playing baseball, Shapiro got his master's degree at East Stroudsburg University in physical education with a concentration in coaching; more specifically, he was interested in coaching baseball.  "I applied for a graduate assistant [baseball coach]," Shaprio said. "I got it, very luckily."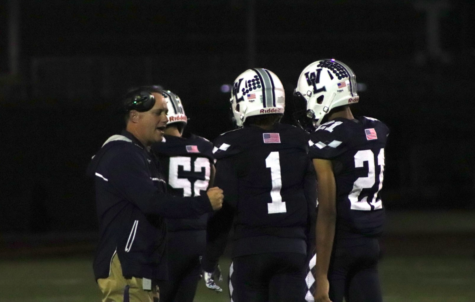 Coach Shapiro was hired for the baseball graduate assistant (GA) position at East Stroudsburg but was transferred to the football coaching position when it became vacant. 
"I thought I was gonna coach baseball collegiately for a career," Coach Shapiro said. 
Coach Shapiro played baseball throughout high school and played in college at SUNY. With only one year of high school football playing experience, Shapiro had much more knowledge of baseball, but found a calling for football coaching once he started as a GA. 
"I thought I was destined for baseball given more of my background, but I find football more mentally stimulating," Shapiro said.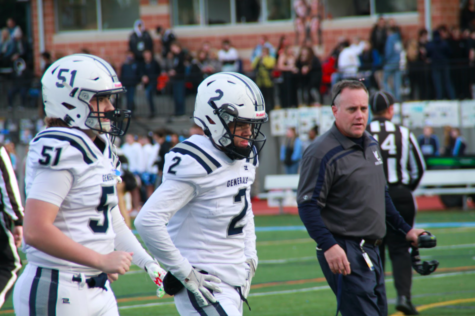 With a love of all things sports and coaching, Shapiro has coached everything, middle school soccer, middle school basketball, middle school and high school baseball and high school football.
"I like kids, and I've always been interested in sports," Shapiro said. 
For any sport, valuable qualities in a coach bring a team together, many of which Shapiro has learned in his career. 
"You have to be present, [have] work ethic, you have to be able to relate to your team and your kids. You have to be able to listen," Shapiro said. "[More] importantly is letting the kids know that you're there for them." 
After working at the school for seventeen years, Shapiro has led the football program through numerous rule changes in the sport that affected his coaching style and forced the team to adapt in different ways. "They've legislated the game to be safer, the percentages of contact in practice are much different than it was 17 years ago," Shapiro said.
In the past ten years, rule book adaptations have created heavier restrictions on tackles and blindside blocks. This has led to a change in the way the game is played, with a greater focus on pass plays and less demand for tackle-based plays on the high school level. 
"When I first started coaching, we hit everyday practice," Shapiro said. 
With this, Shapiro had to change his strategy to accommodate these new rules.
"Less run oriented, it was more 'inside the tackle box' and now everybody's running a spread offense and there's much more emphasis on passing," Shapiro said.
A spread offense is a strategy in football that is used to create a much wider playing field and force the defense to focus on individual players, instead of having a full lineup, which is easier to defend with bigger tackles.
Most players that enter the football program have minimal playing experience as freshmen and gain knowledge through each year of playing. 
"You are part of the community, [seeing] the kids grow from their freshman year to their senior year," Shapiro said.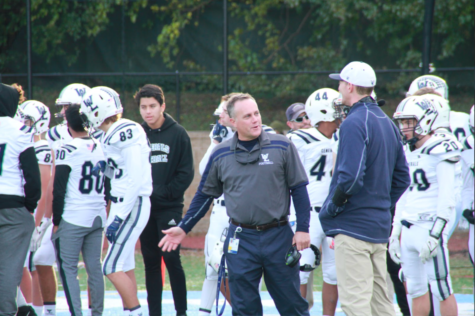 In the 2013 season, Coach Shapiro and the varsity football team won their first district championship together. 
"They were special, they had a lot of talent," Shapiro said. "They probably weren't the most talented team we've ever had here, but we had a bunch of kids that hated to lose that worked real hard. We didn't even have a division-one kid off that team."
Coach Shapiro has produced sixteen collegiate football players from his football career, not always correlating with a successful season. To him, leadership is more valuable. 
"The captains set the tone and they set the standard for behavior in the locker room and on the field," Shaprio said. "[The] kids we had there were leaders, they're just straight leaders who don't need a lot of direction from me." 
Seeing his players go off to play in college has been a great joy for Coach Shapiro, with each new roster teaching him more about the game. 
"You learn a lot as you get older and you start seeing the kids in a different light. You become more compassionate and you see the world and the game through their lens," Coach Shapiro said.
The early spring 2021 season offered new challenges to the team, with no fans being allowed at games and athletes having to play with face masks.
"It was tough coming out of COVID, we didn't get the year in the weight room that we needed," Coach Shapiro said.
In this past season, new precautions were taken for the November 6 Yorktown game. Due to the intense rivalry with a tendency to get out of hand, past seasons have seen conflict between the fans and some of the players, creating a need for more precautionary measures. This included restricting the student capacity in the stands, having more security, and holding the game on a weekend afternoon. Coach Shapiro does not see the rivalry as negatively affecting the players.
"Between the athletes, I think it's a great game. They enjoyed playing it," Coach Shapiro said. "It means a lot to them, the kids and the community, so that's a good rivalry."
Picking a favorite memory from his coaching career is difficult for Coach Shapiro.
"One year we were 0-9 record-wise playing a 0-9 team for the last game of the season and we were down 14-0, it was pouring rain," Shapiro said. "A lot of teams would have just said forget it, we're going 0-10. We rallied back to win. That team wasn't good record-wise, but what they showed from a character standpoint is pretty cool."
Coach Shapiro does not plan on retiring from coaching any time soon, not yet done making an impact on as many kids as possible. After 17 years at the school, Coach Shapiro is looking forward to more. 
"[I] look back and I feel like most players had a good experience here," Coach Shapiro said. "To see them as men now, doing things in their lives, [having] professional careers and families, that is the absolute best part of my job."
Leave a Comment