A guide to the 2022 Winter Olympics
The Winter Olympics take shape in Beijing, China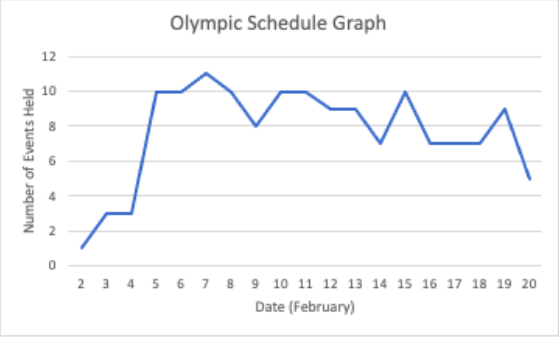 The Olympic Games are one of the most truly global events in the history of humanity. They began as a competition solely for freeborn Greek men thousands of years ago, but now dozens of nations from across the globe can compete, with even 45% of athletes being female—a new record. This year the Winter Olympics are being held in Beijing, China, the first city to host both the summer and winter Olympics. 
109 events will take place, divided into seven sports. This includes biathlon (a combination of cross-country skiing and rifle shooting), bobsledding (a race on sleighs through downhill routes), curling (accurately throwing stones on ice), hockey (similar to soccer, but with sticks and a metal puck), luge (a downhill race where people lie down on their sleighs), skating (races and dance-like performances on ice skates), and skiing (both races and jumping). Luge and bobsledding may sound similar, but bobsleds are larger and car-shaped compared to the skinny luge sleds, and have a mechanical steering mechanism. The opening ceremony will begin on February 4, and the games will continue until the closing ceremony on February 20. You can read the full schedule here. The events will be broadcast on NBC and can also be watched on their streaming service, Peacock.
Some of the most skilled and popular competing athletes include Francesco Friedrich (a German bobsledder who has the world record for the most gold medals in his support), Yuzuru Hanyu (a Japanese figure skater who has broken world records nineteen times), Suzanne Schulting (a Dutch speed skater who won every event she competed in last Olympics), and Natalie Geisenberger (a German luger who is the most awarded women in her sport ever).
However, the global nature of the games can also lead to great controversy. This year, many have criticized the choice of China as host. Due to allegations of human rights violations in the Xinjiang region and genocide of the Uyghurs (a Turkish ethnic group), no government delegations from fourteen countries (including the United States of America) have been sent this year, though their athletes will still compete. The last time the Olympics host country faced such widespread disapproval was in the 1980s. In 1980, 46 countries, including America and China, boycotted the 1980 Moscow Summer Olympics in protest of the Soviet invasion of Afghanistan, with no American athletes even entering. Russia and thirteen of its allies then boycotted the 1984 Los Angeles games in protest. 
Several have disagreed with the recent boycott in their press conferences. For example, "I don't think we should politicize these topics, especially if it's to take steps that are insignificant and symbolic" French President Emmanuel Macron said.
Some athletes have voiced similar views.
"It's not my job to decide where the Olympics are" was luge racer Tucker West's justification for her choice to compete.
Similarly, the Chinese government is clearly not happy with the boycott.
"The Winter Olympic Games is not a stage for political posturing and manipulation," Chinese Foreign Ministry spokesperson Wang Wenbin said. "The US and Australia will pay a price for their erroneous actions." 
The question of whether you still wish to support the Games for their athletic greatness and entertainment value is up to you. 
Leave a Comment