Life on the Ice: The Washington-Liberty Community Hockey Club
A Closer Look Into the Washington-Liberty Community Hockey Club 
The school-associated community hockey club  has been very successful recently. The team won the Capital Scholastic Hockey League (CSHL) Virginia State Championship in 2019 and 2021. The team practices at MedStarCapitals Iceplex in Ballston Quarter, close to the school. They used to have partnerships with other schools in order to have a full roster. In the 2007-2008, the team only had five Washington-Liberty (W-L) players, so it partnered with Fairfax High School. For the 2008-2009 season, Fairfax had a full roster of Fairfax students, so the club  started a five-year partnership with the T.C. Williams hockey club. As of now, most of the W-L community hockey club  is composed of W-L students. 
Although the W-L community hockey club  is not officially  affiliated with W-L, members of the hockey team have mixed opinions on it.
"It's a little frustrating sometimes, but at the same time we do have benefits to it," senior Kyle Wilson, captain of the W-L community hockey club, said. "[There is] no administration at our games, the games are free to go to [and] we don't get canceled when school gets canceled; which is all nice, but it is a little sad that [we] don't have that legitimacy. We wish we could hang a championship banner when we win one [at] the school."
Junior Laura South, member of the community hockey club , was also able to find some benefits of the team not being official.
"It means there's an associated cost with it because the school isn't funding it, but we do get the liberty of being able to play in multiple seasons," South said. "We start our season in September and we finish it in March. We don't have to go with the normal fall, winter, spring season. Also last year, we were able to play with pretty much no COVID restrictions." 
Compared to the official school sports, the community hockey clubs have fewer practices. 
"It's probably different from playing other sports; but at the end of the day you still get to play hockey, people still show up [and] you still feel like you're playing for the school," sophomore and member of the community hockey club , Oliver Black said. "Besides the fact that we have less practice than everybody else, it's more or less the same." 
Sometimes being a leader could be stressful or hard, but Wilson found that being the captain of the community hockey club  enjoyable.
"It's not as much of a burden as some people might think," Wilson said. "I know for different sports, the role of the captain is different; but for hockey it's really just about making sure that people are on the same page, that people want to be there, and they're motivated to play the right way and to do the right things as a team. I would say it's pretty fun and rewarding, and you get to wear a cool little letter on your jersey."
When school sports were canceled during the first two weeks of school after winter break, the community hockey club was not canceled because it is not technically a school sport.
"[COVID-19] affected hockey a lot less [than other sports]," sophomore and member of the community hockey team Isaac Lavan said. "MedStar stays open so [hockey] won't get canceled. Except last year [hockey]  did get canceled because the rink closed [due to COVID-19]… the locker rooms were closed, so last year we had to get dressed outside, but now they're open."
On the ice, COVID-19 has not seemed to make as much of a difference than off the ice.
"We have to wear masks in the locker room and stuff like that," Wilson said. "For a while we didn't [have to wear masks], but then we had to go back because of the whole new spike." 
A common theme was that students and the general public could not watch their games.
"We missed fans at our last two senior nights [the past two years], which was really hard on those seniors that graduated," Wilson said. "With any luck, we're on track to have fans at our senior night [this year], which I'm looking forward to because it's been two years since we've played and in front of a crowd that big."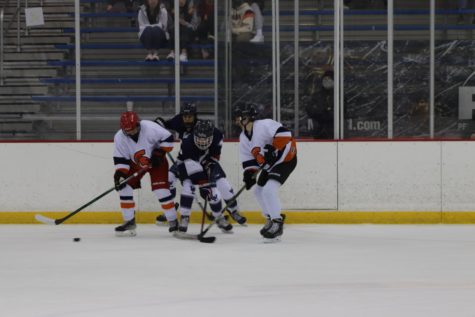 Wilson drew attention to how playing for a school-associated club  can be more exciting and genuine than playing an away travel hockey game.
"COVID just kind of removed one of the best aspects of high school hockey, which is playing in front of your friends," Wilson said. "Everyone on our team that plays travel hockey, when you play at six in the morning in Philadelphia with 15 parents in the stands is less exciting than when you have all your peers cheering you on on a Friday night, so COVID [has taken that] away. " 
The community hockey club  won states last year for the CSHL Virginia State Championship.
"That was nice, but I didn't play that much in it," Lavan said. "It was just fun to play and we got a cool trophy." 
The championship game was played against the West Potomac High School hockey team. The W-L community hockey club won five to two.
Black also thought it was fun.
"It was a really fun game," Black said. "I got the privilege of playing first line and embarrassing myself in the opening ceremony. It was a ton of fun to be able to go out there and play for the championship. I had a good game that game, I scored. It was a lot of fun." 
South focused on other highlights of winning the championship, which was the first championship she won with the school-associated club.
"It was really exciting, I think it's something that many of the kids on our team had been aiming for for the entire year," South said. "The main goal of the year is to win states, and beating Yorktown [High School]. [Winning states was] the culmination of all of our efforts, all of our teamwork the entire season. It's really good when all of our effort gets put together and comes with the outcome that we wanted and expected. We set very high expectations for ourselves as a team and it's really good when we exceed those expectations."
Even with the challenges that the pandemic brought, the team still had a good season and was able to win the state championship last season.
"What [happened] last year was great," Wilson said. "It was COVID year obviously, so we were not going to school in person. Then we were playing games on a Friday night, so the whole team wouldn't see each other and we couldn't get dressed in the locker rooms. It was almost like you show up on Fridays and you see what happens… Winning was like validation for the whole year being like a total mess. We ended up coming out on top, and we ended up beating a team that kind of destroyed us in the regular season in the championship, so that was a nice finish to the year for sure." 
Wilson was also a part of the club  when they won the CSHL state championship in 2019.
"That was my freshman year, [and] that team that we had that year was really, really good," Wilson said. "We had a lot of top players and not a lot of ice time to go around…I just really enjoyed [being on that team] because I got to get my foot in the door at W-L with people that I wouldn't have met otherwise. Then winning it as a freshman, it's almost like you can check it off the box. Like you want it to happen again; but if it never happens again, at least you had that one chance."
The community hockey club  has continued to be successful this year, so winning states may be there in their future once again. 
"I definitely think all of us expect to win states this year," South said. "We're a very strong team and all of our individual skills work together very well. We have 12 seniors this year… I think they're going to do everything they can to get a win in their last year, they don't want to go out without a win." 
Along with the club's success in the championships, their games this season have also been in their favor. 
"Some [games] are blowouts and by the third period, you're sitting because the fourth line is going and that's not fun," Black said. "The close games are fun and the beginning of games are fun. It's faster than I'm used to because there's a lot more older kids out there, obviously they are faster and better at the game so you [have] to play smarter to keep up." 
The different skill levels between players have an effect on how the games are played.
"The games are interesting," Wilson said. "Every team in our league has top good players and then every team has players that are still getting better… Freshmen are a little younger and a little less strong, [so there are]  sort of like two different games being played at once: where you have top players going against top players, then you have people that are lower on the development ladder playing against each other. Games for us are great because we win, like all of them, so that's nice."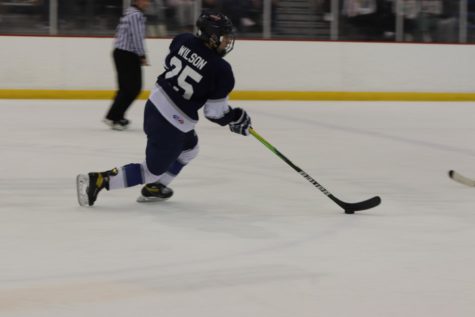 South found the hockey team to be welcoming.
"I don't think it's that much different than being a guy on the hockey team," South said. "They all treat me just the same as they would treat any other guy on their team which is one of the reasons I feel so accepted on the team. It's a great dynamic."
Sometimes the best times are the simple ones with no pressure.
"I think the best parts of hockey are just when there's no pressure and you're just having fun with your buddies, with a puck by yourself on the ice just shooting…" Wilson said. "That is what I'll remember when I'm done playing hockey in the future. Hopefully it's not for a while; but all the wins, losses and stuff is fun, but just being able to just go out there and ignore everything else [is] the best part [of hockey]."
South is just proud to represent her team. 
"I think my favorite part [of being on the team] is being able to wear the W-L jersey. I've played other sports at W-L before, but being able to put on a jersey for the team and have my name on the back and my team on the front. It's very important to me to play for my high school and I'm glad that I get to do that and the sport that I've been a part of for so long." 
Leave a Comment