2022 Washington Commanders, the Good, the Bad and the Ugly
How can this team improve next year?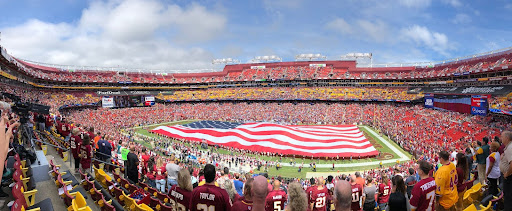 As the National Football League (NFL) season starts to wrap up, it is about time we review our local NFL team: the Washington Commanders. I, along with most other Commanders fans, would call this season a step back from last season, even though our win-loss record was better than last season. Last year was 7-10 (.412 winning percentage), and this year was 8-8-1 (.500 winning percentage). In this article, I will give my thoughts on this season, what went well, what went as expected, and what failed horribly.
Starting with what went well, we ran the ball reasonably well. Our two running backs, Antonio Gibson and Brian Robinson Jr, averaged close to 3.8 yards per carry. Some of that success came from the two having a combined 354 attempts for 1,343 yards and eight touchdowns (rushing and receiving). We also, from time to time, used one of our wide receivers, Curtis Samuel, like a running back, with him getting 38 attempts for 187 yards and a touchdown. Combined across the team we had 538 attempts for 2,143 yards and nine touchdowns. Moving forward, The Washington Commanders' offense prioritized running the ball over passing.
Overall, our passing game with our original starter Carson Wentz was horrible. Even with the two other quarterbacks who started games for us this season, Taylor Heinicke and Sam Howell, our passing game took a noticeable step forward. This season we ranked 21st in the league, averaging 204 passing yards per game, with the best team averaging nearly 300 a game. To start the year, we began with Wentz who we acquired in the offseason from Indianapolis. He was painfully mediocre when he played, throwing 11 touchdowns to nine interceptions. Wentz also had a habit of choking during the worst possible games. 
A great example is when he had zero touchdowns and threw three interceptions in week 17, a win-or-go-home game against the Cleveland Browns. The Washington Commanders ultimately went on to lose 24-10. Watching this failure was the most gut-wrenching loss I have ever experienced.
On the better end of the passing game, you have fan favorite Heinicke and maybe our rookie Howell (Howell only started one game, but he looked great). Heinicke started every game between week seven and week 16 and threw 1,859 yards and 12 touchdowns to six interceptions. That 12:6 touchdown to interception ratio was much better than Wentz's 11:9 ratio. Another knock against Wentz is that Heinicke and Howell seemed to get the team behind them, meaning the team actually got along with the two. Unlike Wentz, the team looked uninspired when he played.
One last successful thing from this season was that our receivers played very well when they needed to. Our leading receiver Terry McLaurin caught 77 passes for 1,191 yards and five touchdowns. Interestingly, one of McLaurin's touchdown catches came on Howell's first pass attempt. McLaurin also caught several clutch passes to win our games, including this catch with us down by six with 30 seconds left to set up the game-winning touchdown. Our other receiver was Jahan Dotsont out of Pennsylvania State University, who we selected with the 16th overall pick in the previous year's draft. Even though Dotson missed five weeks due to a hamstring injury, he put up 35 receptions for 523 yards and seven touchdowns. This is insane because that means 20% of his receptions went for touchdowns. Jahan Dotson was also pretty clutch with two huge catches against the New York Giants in week 13 and week 15, even though in the end, our week 13 game was a 20-20 tie, and in our week 15 match, we lost 20-18.
On the defensive side of the ball, we were excellent with allowing the third least yards per game with 304. The best only had 300. The real stars of this defense were the defensive line: Daron Payne got 11.5 sacks and Jonathan Allen got 7.5 sacks. Also, one of our cornerbacks, Kendall Fuller, played very well, getting three interceptions, two of which went back for touchdowns. One of our safeties, Darrick Forrest, a huge bright spot on this team, caught four interceptions.
Sadly, the ugliest part of this team was kicking field goals, where kicker Joey Slye struggled. Slye went 25/30 on his kicks, which is historically bad. When punting, we were the opposite. Punter Tress Way  punted an impressive average of 47 yards per punt. Way's longest punt went 68 yards. Where Way was best, though, was pinning the opposing teams down when they were close to their own end zones, with 37 of his punts (45%) going inside the 20 yard line. Overall, Way is arguably one of the players that we need to keep around when his contract is up in 2025. Slye will most likely be gone after this year, and we will most likely draft his replacement and trade him away for whatever value we can get which will probably be a fifth round pick.
Overall, this season was mediocre at best, with high points like beating the 8-0 Philadelphia Eagles, and low points, like losing to the New York Giants after two very controversial calls against us. The first controversial call was on star receiver McLaurin being offside. It is controversial since McLaurin checked with the referee to ensure he was not offsides. After McLaurin asked the referee, the referee told him he was not offside, yet he still was called offside. The second controversial call came a few plays later when Giants Cornerback Darnay Holmes covered Commanders receiver Samuel. We had to score on this fourth down play or the game was over. The play resulted in an incompletion after Holmes held Samuel. Usually, this would be called for defensive pass interference, giving us a first down, meaning four more plays to try and score. The messed up part was that Holmes was not called for defensive pass interference, essentially ending the game. On the bright side, the future looks very promising, with Robinson playing well and Howell dismantling an excellent Dallas Cowboys Defense in the one game he started. Next year I can see our ceiling being 11-12 wins and our floor being 5-6 wins.
Leave a Comment