#Committed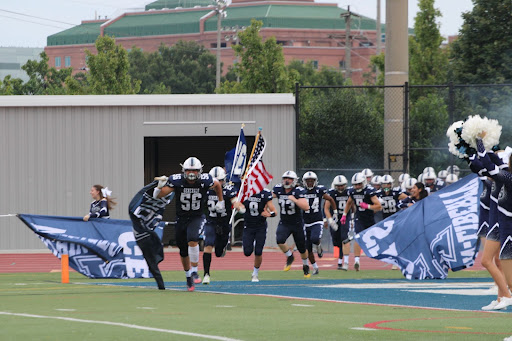 Elijah Hughes, a talented athlete, has been a valuable member of the school's athletic program. As he departs from our school, he eagerly anticipates the fresh opportunities and challenges that await him with his University of Southern California (USC) scholarship.
As we observe Hughes practicing on the school football field and with his team, dedicating significant effort toward improving his game, we cannot help but wonder about the origins of his impressive skills and who served as his inspiration. 
According to Hughes, "I developed an interest in football because of my older brother and dad. My dad used to play in college, and my brother had always wanted to play tackle football which motivated me to give it a shot."
Hughes is a talented athlete interested in investing in a proper education and finding his way to pursue a football career. 
"I aim to receive a quality education to prepare me for a successful career beyond football," said Hughes. "My goal is to maximize my time as a football player and extend my skills as much as possible." 
With multiple offers from prestigious colleges, what led to his decision to choose USC, and were there any other colleges in mind?
"I chose USC because, in my mind, it was the best combination of academics, football, coaching, and location," Hughes said. "I'm not sure exactly what to expect because sports are unpredictable, but I am hopeful that we will have a great season, and yes, I was interested in other colleges such as Virginia Tech and Stanford."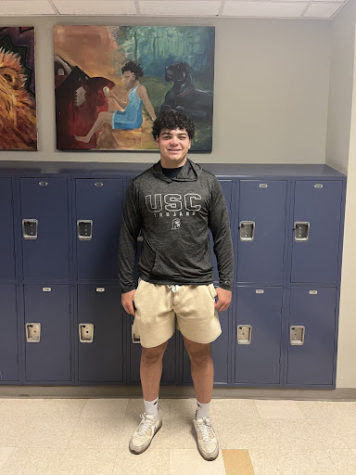 Recruiting athletes can be a complex and lengthy process. Hughes provides insights to assist future students in understanding the process.
"The recruitment process was fun, busy, stressful and a dream come true," said Hughes. "I started the recruitment process by setting up a recruitment profile on Twitter, sending my film to coaches, and attending football camps held by the colleges I was interested in. My coaches, including Mr. Shapiro, were a major help; being seen by colleges at first was difficult, but as the recruitment process continued and my name got out there, being seen by different schools got easier." 
Elijah Hughes has lots of experience with sports and athletics and has future advice for upcoming academic athletes. 
"It's important to focus on the small details, maintain discipline throughout the year, avoid slacking off, and remember to enjoy the journey," said Hughes. 
Being an athlete can be incredibly rewarding. The sense of accomplishment you feel after pushing yourself to your limits and achieving your goals is indescribable. Whether playing a team sport or competing individually, being an athlete teaches valuable lessons about perseverance, teamwork and leadership. Not only that but being active is also great for your physical and mental health. It is  a great way to relieve stress and stay in shape. Whether you are  a professional athlete or enjoy playing for fun, being an athlete is a fulfilling and exciting way to challenge yourself and achieve your dreams. We witness our school-praised athlete Hughes, who has battled many obstacles and trained to get to where he is today, making it through many years of enduring work. Hughes would like to thank those that brought him here today.  
"I owe it to my incredible support system of friends, family, and coaches I've had with me through life's journey," said Hughes. "I want to thank my younger brother Ben for always keeping it real with me, my older brother Sam for encouraging me, my mom, my dad, coach Shapiro, coach Ward, and coach Dobson. My coaches and family have been with me throughout this process, helping me grow as a player and a person throughout my life." 
Leave a Comment